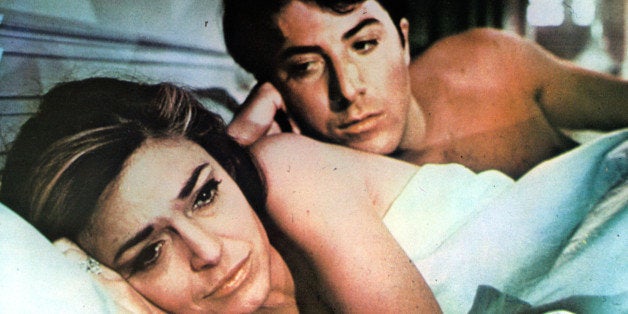 Oscar-winning director Mike Nichols died Wednesday at the age of 83. The film, television and stage director was responsible for some of the most acclaimed movies released over the last 50 years, including "The Graduate," "The Birdcage," "Who's Afraid of Virginia Woolf?" and more. To remember the Hollywood icon, here are some of Nichols' most iconic scenes:
The ending of "The Graduate" is something everyone knows, whether they've seen the movie or not. Dustin Hoffman's Benjamin Braddock running to the chapel on foot, banging on the glass and calling out for Elaine (Katharine Ross). The two lovers riding away together in the back of a bus unsure of what the future holds. It's a sequence that may never leave our cultural consciousness.
"Who's Afraid of Virginia Woolf?"
From start to finish, "Who's Afraid of Virginia Woolf?" is a non-stop adrenaline injection of the powerful dynamic between Elizabeth Taylor and Richard Burton. In this scene in particular, Martha (Taylor) begins spouting insults at George (Burton) about his youthful lack of ambition, intentionally fueling his anger until he finally smashes a glass on the mantlepiece.
Picking out just one sequence from the "Birdcage" is a rather unjust act since the film is filled with some of the best moments from Robin Williams and Nathan Lane. There's Williams' "Fosse Fosse Fosse" and Lane's dramatic "I'm hideous," but the truly unforgettable "Birdcage" scene is when Williams teaches Lane to walk like John Wayne: "Just get off your horse, and head into the saloon."
Nichols' 2004 drama about the infidelity and deceit is full of vulgar language and tense dialogue. While Clive Owen and Julia Roberts' shouting fight is undoubtedly a memorable moment, Natalie Portman's stripper scene stands out as iconic. As Alice (Portman) teasingly circles Larry (Owen) to the sound of Prodigy's "Smack My Bitch Up" the sexual tension and sad desperation continues to grow. There's also the famous line: "Lying is the most fun a girl can have without taking her clothes of, but it's better if you do," which even became the title of two Panic! At the Disco songs.
Nichols' 1983 film told the true story of Karen Silkwood (Meryl Streep), a nuclear power whistleblower and union activist. In the film, the shower scenes were intense moments as plant workers were subjected to hot, disinfecting showers after possible radiation exposure. After the film came out, however, the term "Silkwood Shower" became a popular comedy trope referenced in everything from "Seinfeld" to "30 Rock."
The entirety of Nichols' award-winning HBO miniseries is powerful, but it is most heartfelt when Louis (Ben Shenkman) visits Prior (Justin Kirk) during a dream sequence for one last dance together.
The confluence of an autobiographical screenplay by Nora Ephron with performances by Meryl Streep and Jack Nicholson, under the direction of Mike Nichols, gives "Heartburn" some show-stopping moments. For instance, as Streep gives a quintessential monologue about the realization that her marriage is flawed, she unexpectedly slams a pie in Nicholson's face.
Calling all HuffPost superfans!
Sign up for membership to become a founding member and help shape HuffPost's next chapter
BEFORE YOU GO
PHOTO GALLERY
Entertainers We've Lost In 2014