Modern life hardly encourages simplicity. And yet, that most modern invention, Instagram, is awash with clean lines and dichromatic palettes. We scoured the platform's most pared down accounts to find our favorite documentarians of the simple life. From the candy-colored to the just plain stark, there's a feed to suit every design snob on the Internet.
1. Patricia Romero: A Venezuelan living in Madrid, Romero has mastered the art of minimal minimalism. Her painterly shots make ingenious use of white space to highlight the action.
2. Dennis Schoof: If a vicarious stroll through the river-bounded Ruhr region of Germany sounds good to you, this feed's your ticket. Schoof photographs a range of shots, often featuring his bicycle (#bikeporn).
3. Janske Kaethoven: The Belgium-based photographer takes sweeping outdoor shots that may as well be in magazines.
4. Valentina Loffredo: Shooting in the geometric paradise that is Hong Kong, Loffredo favors minimalism with a healthy dose of color.
5. Jan Ove: The Norwegian designer captures unreal panoramas using only his iPhone.
6. Mariana Ito: All the usual suspects populate this feed: kitties, children, and food. But Ito's shots stand apart from the crowd thanks to her skill at interweaving the colors of Brazil, where she lives.
7. Davide: Going only by his first name, Davide fills his feed with clean slices of European architecture.
8. Andrew Zonzini: The Italian graphic designer likes to pair bright backgrounds with quirky subjects.
9. Serge: The Lebanese lawyer somehow finds time to discover strange and beautiful buildings around Beirut.
10. @palomaparrot: Companion to another photographer on our list, Dennis Schoof, this Ruhr-based Instagrammer stages surrealist shots often featuring herself.
11. Matt Crump: The creator of #candyminimalism delivers a feed that's bigger than the sum of its parts. Together, the neon-tinged images merge into the ultimate dream of summer.
12. Killerminimal: Created by @rarabro, the account's mantra is simple: "Feature a variety of killer minimals from #killerminimal."
13. @wejude: It's mostly monochromatic architectural shots, but it's all beautiful.
14. Irini Giotopoulou: Based in Greece, architect Giotopoulou favors the many shades of white, with a few powdered blue pigments mixed in.
15. @otije: A physicist and self-professed photography lover, this account is full of minimalist facades, and more facades.
16. Tony Hammond: Take it from Hammond: "I like minimalism. I only use an iPhone. I'm in the UK."
17. @wk.ai: The biography is as stark as the account. If you're looking for art and architecture reduced to its necessary elements, you've come to the right place.
Related
Before You Go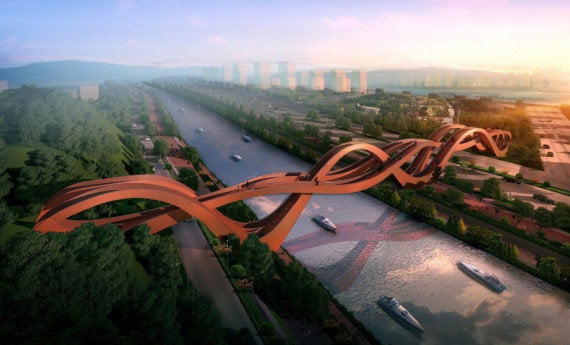 Architecture Of The Future
Popular in the Community