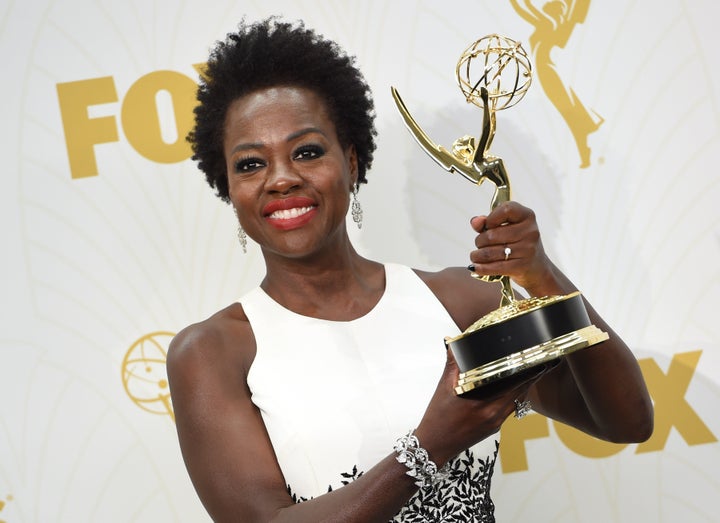 Despite the fact that professional awards show hosts Amy Poehler and Tina Fey should host every award ceremony forever, the 2015 Emmys managed to deliver some greatness. Badass women took home awards (oh hey there, Viola Davis, Jill Soloway, Amy Schumer, Uzo Aduba and Julia Louis-Dreyfus, to name a few), and those women used their platform to draw attention to people whose voices are often not heard.
Here are 10 of our favorite lady love moments:
1. Andy Samberg called out Hollywood sexism within the first 10 minutes of the show. "The wage gap between men and women hired in Hollywood is still an issue," Samberg said in his opening monologue. "Wait, sorry, I misread that. The age gap between men and women hired in Hollywood is still an issue. Wait, I'm sorry I misread again. It's both, still both."
2. Julia Louis-Dreyfus celebrated "funny, powerful women." "I love funny women. I love funny, powerful women," the "Veep" actress said when accepting her Emmy for Best Lead Actress in a Comedy. All we have to say is Hell. Yes.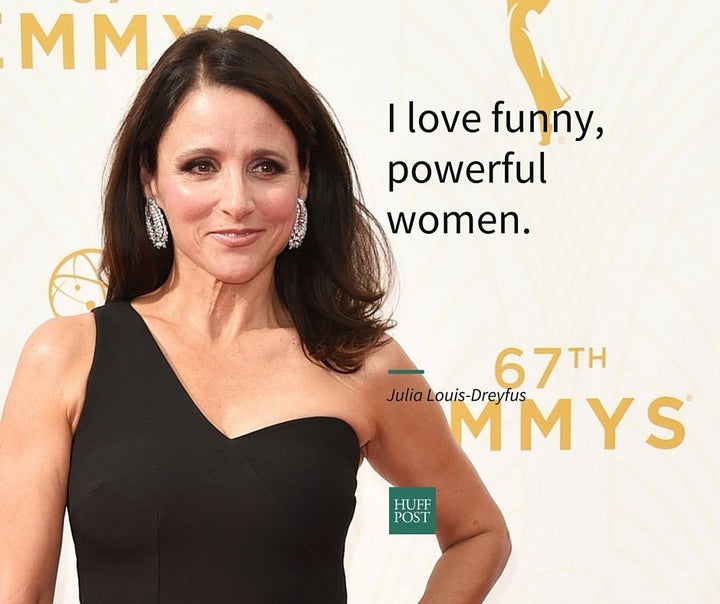 3. We were all reminded that funny women are just -- gasp! -- funny people. "Amy Schumer is really, really funny. You know, for a person," said Andy Samberg. 
4. Jill Soloway used the Emmys stage to bring attention to the discrimination trans people face on a daily basis. "We don't have a trans tipping point yet. We have a trans civil rights problem," she said. 
5. Taraji P. Henson and Regina King shared a moment of sisterly love. After thanking her mother for teaching her the "power and blessing of being a woman," King got a "Yaaassssss!" and a huge hug from the "Empire" actress following  her Supporting Actress win. 
6. Amy P. and Amy S. teamed up to take over the world -- and call out the bullshit female comedians face. #AmyAmy2016 "What an exciting two to four hours for women in comedy," Poehler said. "Let's not forget what tonight is about: celebrating hilarious women and letting the Internet weigh in on who looks the worst," Schumer chimed in. Too real.
 7. Amy Poehler was a badass, even if she didn't win the Best Actress In A Comedy Series award. She did not give a f**k. And we loved it. 
8. Richard Jenkins accepted his award for his role in "Olive Kitteridge" by thanking the "incredible women" who made it happen. "There were about a hundred thousand of them," Jenkins added, before naming just a few, some of whom -- Jane Anderson, Lisa Cholodenko, and Frances McDormand -- also won awards for their work on the show. 
9. Amy Schumer beat out a billion dudes for Best Variety Sketch series. "This show fights for what we believe in," Schumer said. 
10. Viola Davis's acceptance speech for Best Lead Actress In A Drama Series was moving -- and important. She reminded us why awards shows can be great sometimes. "The only thing that separates women of color from everyone else is opportunity. You cannot win an Emmy for a role that isn't there." Amen. Give all the things to Viola.  
PHOTO GALLERY
Emmys Red Carpet 2015
Calling all HuffPost superfans!
Sign up for membership to become a founding member and help shape HuffPost's next chapter