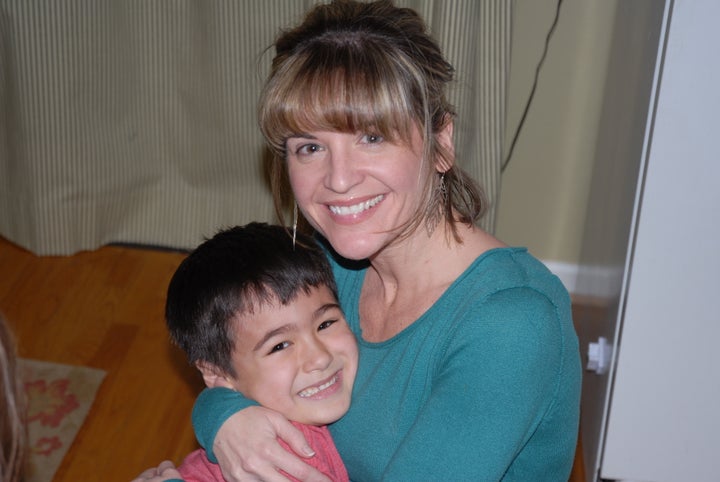 Last weekend, Chase and I were grocery shopping in the produce section and he was having a blast weighing each new bag of vegetables I collected. I handed him a bag of tomatoes and he walked over to the scale and waited patiently in line. As I watched, an elderly man walked up behind Chase, scowled at him for a moment, and stepped in front of him, bumping Chase out of the way. Chase looked shocked and scared. I left my cart and walked over to Chase, stood by him and said loudly, "Are you all right honey? I saw what that man did to you. That was very, very wrong and rude." Chase said nothing, the Grumpy Old man said nothing. Chase and I held hands and waited.
When the man was finished weighing his bag, he turned around quickly and all of his onions spilled out of his bag and on to the dirty floor. The three of us froze for a moment. Then Chase looked up at me and I motioned toward the floor. Chase and I got down on our hands and knees and started collecting onions while the old man grouchily and grudgingly accepted them from our hands and put them back into his bag. After Chase and I retrieved the last onion, the old man walked away. Chase and I did too, and we didn't discuss the event until we got back in the car.
On the drive home, Chase said through tears, "Mommy, I've had a frustrating day. That man cut right in front of me and that was wrong. And we had to help him pick up his onions! Why did we do that? That didn't make any sense."
I took a deep breath and said, "Chase, that man was acting horribly wasn't he? He seemed to have a very angry heart. I'm so sorry that happened to you. But if we didn't help him with his onions, do you think we would have made his heart softer or angrier?"
"Since we did help him, do you think that might have made his heart softer?"
"But you know what, Chase? I understand how you feel. I didn't want to help that man with his onions. You know what I wanted to do?"
"I wanted to kick him really hard in the shin. I was very angry with that man for treating you badly. But sometimes doing what we really want to do, if it's going to add more anger, isn't the right thing to do. Even if it feels good at the time. If we wouldn't have helped that old man, we might have felt good for a second, but then I bet we would have felt really, really yucky about ourselves for a long time. You and I, we have a lot of love to share. Maybe that man doesn't have much. Maybe we offered him some today. People who behave badly still need love. "
And then this brilliant smile broke out on Chase's face that was the smile of a heart recognizing the truth. It was a smile of a promise kept. It was the best smile I have ever seen, on any of my children. It was a smile that said: Oh, I see. Sometimes we actually do what we talk about doing. And this is how it feels.
God, it was a good moment. It may have been my best mommy moment ever.
Thanks, Grumpy Old Onion Man.
Popular in the Community