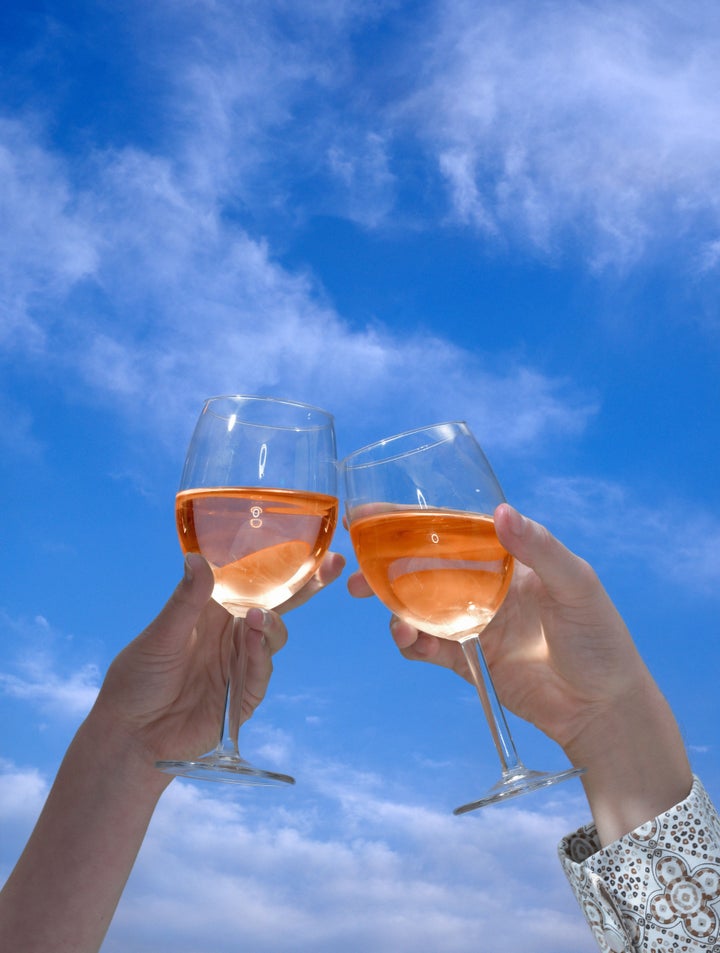 America's in the midst of a much bigger wine phenomenon than the sudden upswing in Pinot Noir sales following the 2004 release of the movie Sideways. Sales of slightly sparkling sweet wines with underlying acidity made from the Muscat grape have exploded over the past two years among younger buyers, especially Millennials -- the 21 to 30 age group.

Some of these wines, especially from Italy's Asti region, are terrific. Others, produced by huge wine conglomerates on an industrial basis looking to cash in on the latest trend, are truly dreadful. This post will help you find the truly enjoyable wines and avoid the swill.
Muscat is one of the oldest grapes used for winemaking -- well known to ancient Greeks and Romans. Several varieties of Muscat are used, but the best quality wines are made from Muscat Blanc à Petits Grains, also known in Italy as Moscato di Canelli. It is Italy's fourth most planted white variety. The type most widely planted in California is Muscat of Alexandria, a much lesser grape.
The term Moscato is simply Italian for Muscat, and it's a label applied to a wide range of wines, from non-sparkling dry whites to fully sparkling wines to very sweet, dessert wines. The wines usually have a perfume that tends toward floral, orange blossom and peach.
The best, lightly sparkling versions come from an area in Italy's northern wine producing region, the Piedmont, around the town of Asti. They are called Moscato d'Asti, and they're made by halting fermentation once the alcohol level gets to 5.5% by quickly lowering the temperature. Their natural fizziness derives from the carbon dioxide released by fermentation -- some of which goes into the air while the rest dissolves into the wine. The wine is then filtered to remove the yeasts, so that it won't continue to ferment in the bottle.

Moscato has become a huge cultural phenomenon in the rap and hip-hop worlds in the past few years. Mention of Moscato in songs by Kanye West, Drake, Lil' Kim, Soulja Boy, Gucci Mane, Roscoe Dash, Waka Flocka Flame and Kendrick Lamar naturally led to interest among fans of these artists. Those prompted by songs and videos to seek out the wine found it low priced, low in alcohol, and with enough fizz to give a sense of occasion and celebration. For a fascinating debate amongst hip hop fans as to whether Moscato traditions are being distorted by hip hop music, see this
Nielsen tracks sales data for many food and beverage products, including wine. They reported U.S. sales of Moscato increased over 200% between 2009 and 2011, and that they rose again by 78% in 2011, exceeding $300 million in sales for that year.
Sales of Moscato d'Asti have increased by about 50% during that time, but the biggest market share belongs to Gallo, whose Barefoot Cellars Moscato was introduced in 2008. Barefoot and Gallo Family bottlings currently have 43% of the market, while Trincher's Sutter Home Brand claims 27%.
What's fascinating to me is that these sales are happening without any particular merchandising push at the major sources for such wines, stores like Trader Joe's, Costco and BevMo.
The amount of Moscato grown in Italy is limited, and companies like Gallo have been buying it up, raising prices for the grape to their highest level ever. It's also being planted at a fast clip in Australia, Chile, France and California's Central Valley, but those new plantings will take at least three years to come on line. To generate as much volume as possible, mega producers are reportedly adding French Columbard and other neutral whites in with the Muscat.
Moscato is a good choice for an inexpensive, lightly sparkling, sweet wine with good acidity that not only works as an aperitif or an accompaniment to dessert, but that also pairs nicely with many of the same foods that go well with Riesling, like spicy Asian dishes, savory courses, tapas and cheeses.
To find the best, most complex and food friendly Moscatos, stick to Italy and the Moscato d'Asti designation. And don't confuse Moscato d'Asti with Asti Spumante, which is a fully sparkling and higher alcohol wine also made from Muscat in Northern Italy. The region's best and ripest grapes are used for Moscato d'Asti, which is made by smaller producers who often also produce great red wines -- Barolos and Barbarescos. Asti Spumante is made by cooperatives and huge producers on a more industrial basis, from grapes not good enough to go into Moscato d'Asti.
Great producers of Moscato d'Asti include Bera Vittorio, Boro Margliano, Ceretto, Fratelli Barale, La Spinetta, Marchesi di Grésy, Saracco and Vietti. Wines from these producers can take some seeking out, but some of them can be found locally at K&L and Beltramo's, ranging in price from $12 to $20.
The best California Moscato I've tried is Heidi Barrett's La Sirena Moscato Azul, made from fine Muscat Canelli grapes. It's fairly dry and very flavorful, but also retails for at least twice the price of most Moscatos d'Asti.
Moscatos to avoid include those produced by the giant wine conglomerates: Gallo (Barefoot Cellars), Trinchero (Sutter Home), Constellation Brands (Woodbridge and Robert Mondavi), The Wine Group (Cupcake) and Australia's Casella Wines (Yellow Tail). The Yellow Tail version is, in fact, so bad -- more like lemon-lime soda pop than wine -- that I'm not sure I would ever have identified it as wine if I hadn't poured it out of a wine bottle myself.
For my detailed tasting notes, and suggestions on food pairings, based on a tasting of nine Moscatos currently available from BevMo, see the full report on my blog here.

Related
Popular in the Community