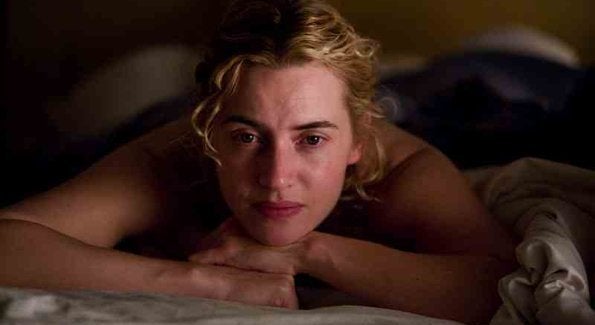 Just a week remains till this year's fabled Oscar night, and the tension is building. For the first time in several years, we actually have a handful of strong titles in contention, which should make the ceremony's predictably long run time at least count for something.
The very first Academy Awards began much more humbly (sanely, some might say) at Hollywood's Roosevelt Hotel on May 16, 1929. The winners had all been named prior to the event, so nobody had the jitters. People seemed more concerned with the menu, which was elaborate. There was even dancing.
No windy acceptance speeches threatened the evening's bonhomie (ah, for the old days!), except for some brief remarks from Darryl F. Zanuck, who deserved a little airtime, since he'd just introduced the industry to sound pictures with "The Jazz Singer". And the star of that film, Al Jolson, got the first big guffaw in Oscar history when he observed, "For the life of me, I can't see what Jack Warner can do with one of these awards. It can't say yes."
Eighty years later, the Oscars endure, fueled by more hoopla and hype than Barack Obama. Love them or shun them, you can hardly avoid noting their approach. And inevitably, fans root vocally for their favorite stars and films, helping build suspense all the way to the cracking of that envelope seal...
While many thrive on the nerve-jangling expectancy leading up to the event, I personally favor the Monday morning quarterbacking that comes when the lights finally dim on the Dorothy Chandler Pavilion. It's then I get my small chance to pinpoint any and all instances when Academy voters fell down on the job and backed the wrong horse.
Given this milestone year, I thought it might be fun and revealing to go back over all those Oscar ceremonies, and focusing on past recipients of the three major awards (Best Picture, Actor and Actress), identify- with full benefit of hindsight- just when Oscar fell down on the job.
So here's my own not-so-humble list. Feel free to correct, amend, and add your own perspectives.
1936- Inexplicably, "My Man Godfrey", one of our finest screwball comedies, wasn't nominated for Best Picture and should have been, though the film did get nods (but no wins!) in all acting categories. (Another William Powell film, "The Great Ziegfeld", won top prize.) In her only Oscar nomination, Carole Lombard lost out to Luise Rainer. For her work in "Godfrey", she should certainly have won. Worse yet, Chaplin's "Modern Times" received no nominations!
1944- Billy Wilder's "Double Indemnity" should have triumphed over "Going My Way" in the Best Picture category. For that film, Barbara Stanwyck should have won the Oscar, and her co-stars, Fred MacMurray and Edward G. Robinson, should at least have been nominated.
1952- Cecil B. DeMille's "The Greatest Show On Earth" was a lousy choice for Best Picture. Watch it today and see if you don't want to strangle Betty Hutton and shoot Cornel Wilde. What about the iconic "High Noon" ? Oh, that's right- it was too controversial, drawing parallels to the rampant blacklisting of the time. Phooey! And "Singin In The Rain" should have been nominated (for Best Picture).
1956- "Around The World In Eighty Days" should not have won Best Picture over "Giant". Also, I'd have awarded James Dean a posthumous Oscar for his final film over Yul Brynner's work in "The King and I". Finally, John Ford's "The Searchers" should have been nominated for Best Picture, and from it, John Wayne for Best Actor.
1960- Best Picture winner "The Apartment" should have swept the three top categories-both Jack Lemmon and Shirley MacLaine were wholly deserving of Oscars that year. Instead, statuettes went to Burt Lancaster who played it broad (even for him) in "Elmer Gantry", and Elizabeth Taylor in the forgettable "Butterfield 8" .
1964- Not that I dislike musicals, but Stanley Kubrick's inspired "Dr. Strangelove, or How I Learned To Stop Worrying and Love the Bomb" should have won Best Picture over "My Fair Lady". Also, for his brilliant work essaying three roles in that film, Peter Sellers should have received Best Actor over "Sexy Rexy" Harrison. (Sweet revenge: Julie Andrews, who'd been passed over for "Lady", won the Oscar that year for a different movie: "Mary Poppins". Studio chief Jack Warner had considerable egg on his face over that one.)
1973- I love "The Sting", but as the more memorable and groundbreaking film, think "The Exorcist" should have garnered Best Picture. For her gut-wrenching work in it, Ellen Burstyn should also have snagged Best Actress over Glenda Jackson, slumming it pleasantly in "A Touch Of Class". Also, Peter Bogdanovich's "Paper Moon" should have been Best Picture nominated.
1976- I'd have favored "Taxi Driver" over "Rocky" for Best Picture, and DeNiro over the late Peter Finch in "Network", for Best Actor.
1989- I'd have chosen "My Left Foot" for Best Picture over "Driving Miss Daisy", or failing that, even "Field Of Dreams".
1994- "Pulp Fiction" should have triumphed over "Forrest Gump" in the Picture category, and likewise for Actor, "Comeback Kid" Travolta should have trumped "Box Of Chocolates" Hanks. (I never got the appeal of "Gump"...am I alone?)
1996- I believe "Fargo" should have beat "The English Patient" for Best Picture.
1997- Top of the world, my eye. More like bottom of the barrel. Either "As Good As It Gets" or "L.A Confidential" should have netted Best Picture before the bloated, dumbed-down "Titanic". Not a proud moment in Academy history. I'm still mad over that one.
1998- For me, 1998 was a year when foreigners ruled. For Best Picture, I'd have picked "Life Is Beautiful" over "Shakespeare In Love". I'd also have given Fernanda Montenegro from "Central Station" the Best Actress award.
2000- Come on, you savvy film folks: Steven Soderbergh's "Traffic" was the best film of that year, not that effects-laden, sword and sandals re-tread, "Gladiator". I also thought Ed Harris warranted Best Actor for his incredible work in "Pollack". And for Actress, I'd have picked Joan Allen in "The Contender" over Julia Roberts's cheesy "Erin Brockovich".
2002- Would have tapped "The Hours" over "Chicago" for Best Picture. Not a stellar year anyhow.
2004- The often sappy, formulaic "Million Dollar Baby" was overrated, in my opinion. Of the nominees, I favored "Hotel Rwanda", though my favorite film of the year, "Vera Drake", wasn't even nominated. Its star, Imelda Staunton, also deserved Best Actress, I think.
2005- For Picture, give me "Capote" over "Crash" any ol' time. Another uninspiring year, I thought.
2006- "The Departed" as Best Picture? With respect to Mr. Scorsese, the original Chinese film on which it was based, 2002's "Infernal Affairs", was both leaner and meaner, with no hammy Jack Nicholson performance to distract you. Either "Letters From Iwo Jima" or "Little Miss Sunshine" would have worked better for me.
This year, I'm rooting for "Milk", "Slumdog Millionaire", and "The Wrestler", in that order. Ladies and gentlemen, place your bets!

Calling all HuffPost superfans!
Sign up for membership to become a founding member and help shape HuffPost's next chapter