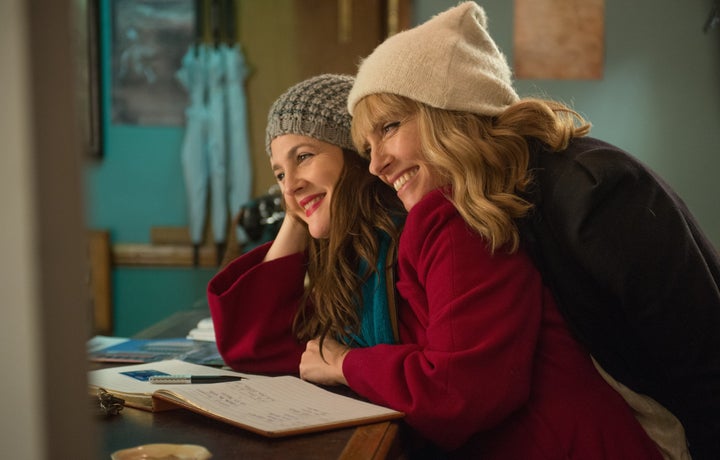 Long story short: There are no good movies opening in wide release this week. Or next week. I'm here to help.
August in general ― particularly the second half ― tends to be a dumping ground for mediocre films. The summer blockbuster deluge fades, but Oscar season hasn't yet hit, which can render August something of a nonstarter for quality entertainment. This year's crop is especially disheartening.
Plenty of holdovers worth seeing are still in theaters, like "Dunkirk," "Girls Trip," "Logan Lucky" and "The Beguiled." In case you already caught those, or if you'd rather enjoy some celluloid from the comfort of your sofa, here's a smattering of recommendations available on Netflix and Hulu.
If you want to get groovy
"Jimi: All Is By My Side" (2014)
Most music biopics underscore the after-effects of fame, but "Jimi: All Is By My Side" ends right as Jimi Hendrix goes from cool cat about town to burgeoning rock 'n' roll powerhouse. It's an impressionistic portrait that treats Hendrix like the mythological figure he's become. Outkast's André Benjamin ― better known as André 3000 ― is impeccable in the role, using soft hippie upspeak and philosophical weariness to conceal the icon's combustibility. 
Available on Netflix and Hulu
If you want a bittersweet swoon
Before directing and producing the HBO series "Looking," Andrew Haigh made this delicate romance. A chance encounter between two men (Tom Cullen and Chris New) at a bar in the London suburbs sparks a profound connection, right before one leaves town. It's about two strangers flitting in and out of each other's complicated lives, leaving behind a taste of euphoria. Haigh is a staggering screenwriter, able to capture the subtleties of human interaction almost as if living in a dream.
If you want a dependable cry
"Miss You Already" (2015)
If you aren't interested in seeing Drew Barrymore and Toni Collette share the screen, what is the point of having movies at all? "Miss You Already" follows familiar beats, but the these actresses' charm works wonders. They play lifelong BFFs, one of whom receives a cancer diagnosis that sends them reeling. There's ample humor on hand, and director Catherine Hardwicke ("Twilight," "Thirteen") adds a joie-de-vivre visual flair, but if there's anything you can count on, it's a bounty of tears. 
If you want a biting social comedy
"Slums of Beverly Hills" (1998)
Natasha Lyonne's first starring role came in Tamara Jenkins' wry satire about a lower-income Jewish family that moves from apartment to apartment in Beverly Hills, attempting to maintain the facade of wealth so they can access good schools. It's a coming-of-age comedy fixated on a teenage girl who doesn't know what to do with the breasts she's just sprouted or the odd social conditions forced upon her. Lyonne is sensational opposite Alan Arkin, Marisa Tomei, Kevin Corrigan, Carl Reiner, Rita Moreno, Mena Suvari and Jessica Walter. 
If you want a spooky documentary
As an urban legend, Cropsey haunts Staten Island, the outer-most borough of New York City. He's a child-abducting boogeyman, or at least that's the way the story goes. This gossipy documentary extends the mystery, exploring the way communities latch onto eerie lore. Nestled in the intrigue is shocking footage that snakes through abandoned buildings and exposes the cruel interior of a hospital where patients are rendered walking cadavers. 
If you want a delightful slice-of-life drama 
One of 2016′s best, "Little Men" is the most recent movie from "Love Is Strange" and "Keep the Lights On" director Ira Sachs, a master of dramas that illustrate the everyday human experience. Set in gentrifying Brooklyn, "Little Men" depicts two teenage boy's touching friendship as their parents become tangled in a business dispute. It's gentle and bittersweet, like a warm bath that washes away your woes.
If you want a powerful coming-of-age story
You know "Pariah" is a must-see because Meryl Streep praised its lead star, Adepero Oduye, in her 2012 Golden Globe acceptance speech. If you need further motivation, know that you'll see a lot of director Dee Rees this year, as her new movie "Mudbound" is a surefire Oscar contender. Rees' prize-winning debut is a sensitive story about a Brooklyn teenager working her way out of the closet as her parents refuse to accept her sexuality.
If you want to expose the kids to an old favorite
Long live the moments in which our finest actresses turn into devils. Like Anjelica Huston, whose jet black hair and domineering stature makes her one of the big screen's great witches. This horror-fantasy-hijinks hybrid based on Roald Dahl's novel of the same name modernizes the age-old notion of enchanters hunted by society's squareness, proffering a brilliant premise in which Huston and her cronies are high-society ladies hiding their witchy ways behind charitable glamour. 
If you want a beautiful foreign drama
"The Diving Bell and the Butterfly" (2007)
One of the 21st century's finest films, "The Diving Bell and the Butterfly" appears on multiple best-of lists, yet it still doesn't seem to have earned its cultural due. Julian Schnabel brings his painterly sensibilities to the wrenching but life-affirming story of Jean-Dominique Bauby, a French magazine editor who suffered a stroke that rendered him physically paralyzed but mentally sound. Able only to blink his left eye, Bauby, portrayed by Mathieu Amalric, became determined to rediscover his spirit in the face of misfortune. The movie is elegant and dazzling.
If you want guaranteed laughs
You'll enjoy "The Overnight" more if you don't know much about it, so allow this synopsis to suffice: Two Los Angeles couples carouse during their young kids' playdate. Substances are involved, and things don't unfold quite as expected. Adam Scott, Taylor Schilling, Jason Schwartzman and Judith Godrèche are top-notch in these roles, foregrounding the subtle and complicated knowingness of years-long relationships. It's a comedy of manners with a sly twist.
If you want to remember a better president
"Barry" (2016) and "Southside With You" (2016)
2016 gave us two thoughtful films about a young Barack Obama. "Southside With You" depicted his first date with Michelle during a fateful summer when they worked at a Chicago law firm. And "Barry" dramatized his arrival at Columbia University at 20 years old, where he struggled with his racial identity and expressed disdain for politics. Each takes liberties with Obama's biography, but they both make erudite statements about a young luminary with no idea what the future would hold.
If you want an all-star cast in a corny teacher dramedy
So it is written in Hollywood law: Every great actor must portray an inspirational teacher. That includes Julia Roberts, who played a progressive Wellesley art history instructor. It's 1953 in "Mona Lisa Smile," so she tries to instill modern womanhood in her one-dimensional, husband-hunting students (Julia Stiles, Kirsten Dunst, Maggie Gyllenhaal and Ginnifer Goodwin). The results are broad, saccharine and highly palatable. You will cry, then you will regret crying, then you'll give the movie five hesitant stars on Netflix because another actor got her inspiration-teacher wings. 
If you want an expertly made psychological thriller
"We Need to Talk About Kevin" (2011)
Tilda Swinton should have earned her second Oscar nomination for this tense domestic horror about a mother grappling with her macabre teenage son (Ezra Miller), who's in jail for a school shooting. The movie opens with a blood-soaked nightmare, but most of Lynne Ramsay's chiller explores the pair's fragmented psychology from an impressionistic lens. Old memories ― signs of the boy's dark proclivities ― haunt Swinton's once-successful travel writer, who is now the town's primary gossip item. It's a story of claustrophobia and dashed hopes.
Calling all HuffPost superfans!
Sign up for membership to become a founding member and help shape HuffPost's next chapter
BEFORE YOU GO