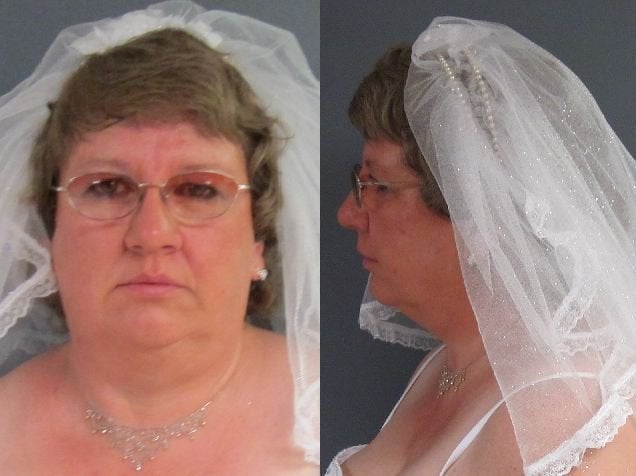 When the camera inevitably comes out for a rowdy ringing-in of 2012, we suggest you take measures to ensure that your best photo isn't taken by a cop.
Luckily, even if you do party 'til you get booked, it's going to be difficult to break into our list of 2011's top mug shots. From smiley faces to superhero impersonations, the year has offered no shortage of bizarre, disgruntled and brilliant suspects.
For starters, Oneal Morris, Florida's infamous butt injection "doctor," just barely squeezed through the door after her tale of enhancing tail, using a mixture of cement, mineral oil and flat-tire seal, broke in late November.
Sometimes the story behind the photo makes the whole thing that much better. Take the fashionably inept Jonathan Huntley. Police in South Carolina had little trouble tracking down this home invasion suspect after discovering a T-shirt featuring a prior Huntley mug shot left behind at the crime scene.
PHOTOS: Best Mug Shots (story continues below)
And if a photo is worth a thousand words, a tattoo on your mug can only help get the message across. In another outstanding year for inked faces, 2011 offered the generally offensive "F*** You" forehead tattoo as well as its more pointedly insulting counterpart, "F*** The Police." Being nasty doesn't lead to lenient sentencing, however, which is why Robert Norton Kennedy, a 51-year-old South Carolina native, gets the nod for our favorite tattooed headshot, thanks to his timeless "Please forgive me if I say or do anything stupid. Thank You!" imprint.
In the "How could she?" category, one 92-year-old gunslinging granny took charge of her love life -- by opening fire on her neighbor's house after the much younger resident refused to give her a kiss. If it's any consolation, the mug shot is almost priceless.
Ultimately, not even the most threatening senior citizen can compare to perhaps the scariest mug shot ever, complete with before and after photos documenting one man's terrifying transformation from everyday mug-shot subject to the mug-shot hall of fame.
Scroll through the slideshow to find out which mug shot took the number one slot and to see many more that just barely missed our top 11!
CLASSIC DUMB CRIME VIDEO: Nude Car Chase
Calling all HuffPost superfans!
Sign up for membership to become a founding member and help shape HuffPost's next chapter
BEFORE YOU GO