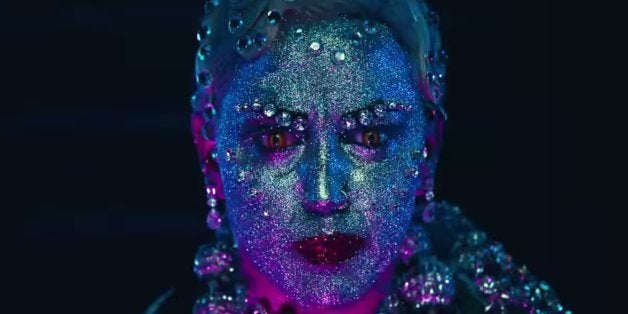 Get ready to waste an hour or four, because today we're bringing you the 30 most delicious, innovative and bizarre music videos of 2014.
We've combed the internet for the best combinations of sight and sound -- music videos with the rare ability to transport us from a YouTube page to a self-contained world for a brief and wondrous three-minute trip. This year we've got videos with 10,000 hits to selections with 376 million views, jam-packed with pop stars, celebrity cameos, iconic dance numbers, classic movie tributes and the occasional furry monster.
Enjoy our picks for the 30 best music videos of 2014, in no particular order, and let us know what we missed in the comments.
1. St. Vincent -- Digital Witness
Best reason to unplug.
2. Brooke Candy -- Opulence
The most convincing (and terrifying) argument as to why you better recognize opulence.
3. FKA twigs -- Video Girl
Best last meal.
4. Yung Jake -- She Don't Need To Know
Best low key product placement.
5. Mac DeMarco -- Passing Out Pieces
Best salad-filled nightmare to make you opt for soup.
6. Perfume Genius -- Queen
Best computer bashing since "Office Space."
7. Jenny Lewis -- Just One Of The Guys
Best use of Anne Hathaway ever.
8. SZA -- Babylon
Best hypnotic fishing trip.
9. Warpaint -- Disco//Very & Keep It Healthy
Best use of dudes as background eye candy.
10. Beyonce -- 7/11
Best time ever had in a hotel room with a camera phone.
11. Animalia -- Stifling
Best shape-shifting face freakiness.
12. M.I.A. & The Partysquad -- Double Bubble Trouble
Best worthwhile headache you'll get today.
13. Lykke Li -- No Rest For The Wicked
Best gripping love story in under four minutes.
14. How to Dress Well -- Repeat Pleasure
Best great escape.
15. Childish Gambino -- Sweatpants ft. Problem
Best army of Donald Glovers.
16. Arcade Fire -- We Exist
Best truck-driver-sexy choreography.
17. She & Him -- Stay Awhile
Best invisible dance partner.
18. Ariel Pink -- Picture Me Gone
Best video to not watch right before bed.
19. tUnE-yArDs -- Water Fountain
Best surprise appearance by a fuzzy monster!
20. Henry Wolfe -- Encino
Best ode to the suburbs.
21. Tom Rosenthal -- Watermelon
Best use of a grown man in a watermelon suit. (*Close call though.)
22. Rick Ross -- Sanctified
Best emoji overload.
24. Shura -- Touch
Best foil to that viral kiss video.
25. Iggy Azalea -- Fancy ft. Charli XCX
Best homage to Cher Horowitz.
26. Zebra Katz -- 1 Bad B*tch
Best champagne brunch gone horribly wrong.
27. Kiesza -- Hideaway
Best "Westside Story" moment.
28. FKA twigs -- Two Weeks
Best goddess slaying it.
29. The Pains of Being Pure at Heart -- Until the Sun Explodes
Best animated, intergalactic adventure.
30. Sia -- Chandelier
Best.
Calling all HuffPost superfans!
Sign up for membership to become a founding member and help shape HuffPost's next chapter
BEFORE YOU GO
PHOTO GALLERY
Best Music Videos of 2012