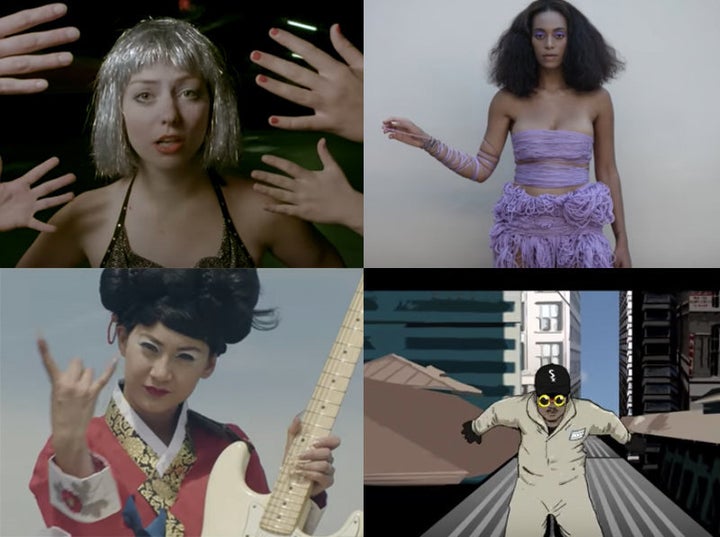 Most can agree that 2016 sucked in nearly every respect, but the music videos this unholy year hath wrought were actually pretty damn great.
From Beyonce's staggering "Lemonade" videos to David Bowie's final goodbye "Lazarus," many of our favorites from this year are, perhaps, some of the best ever made. And thank goodness, because we needed them. 
HuffPost's Arts & Culture and Entertainment writers teamed up to pay tribute to the best music videos of the year, from the unexpected slow jams that bring tears to your eyes to the club hits that make you immediately get in front of a mirror and watch your butt bounce. We've compiled the lot below, in no particular order, along with some very unofficial superlatives.
Put on your headphones and hit replay until this most trying 2016 has come to an end. 
1. Mitski, "Your Best American Girl"
Best makeout session with a hand. 
2. Anohni, "Drone Bomb Me" 
Best devastating political commentary delivered by a supermodel icon. 
3. Carly Rae Jepsen, "Boy Problems"
Best stylish sleepover party. 
4. Sigma, "Find Me ft. Birdy"
Best surprise return of Eleven, sans Eggos. 
5. Frank Ocean, "Nikes" 
Best surprise appearance by a talking chihuahua. 
6. Bat for Lashes, "Sunday Love" 
Best bride in the headlights. 
7. The Rolling Stones, "Ride 'Em On Down"
8. Big Baby D.R.A.M. featuring Lil Yachty, "Broccoli"
9. DJ Shadow featuring Run The Jewels, "Nobody Speak"
Best instance in which a crusty politician declares someone a "bag of dicks." 
10. Pussy Riot, "Straight Outta Vagina" 
11. Jenny Hval, "Conceptual Romance"
Best nude body painting experience that is actually cool. 
12. Solange, "Cranes in the Sky"
 Best heaven-sent color palette. 
13. Angel Olsen, "Shut Up Kiss Me"
Best excuse to crash a 12-year-old's roller skating party. 
14. Japanese Breakfast, "Everybody Wants To Love You"
Best geisha tearing up the town. 
15. Neon Indian, "Annie"
16. David Bowie, "Lazarus"
Best Bowie being his genius self for us mere, unworthy mortals. 
17. Chance The Rapper featuring Saba, "Angels"
Best use of a flying rapper. 
18. Blood Orange, "I Know"
Best Dev Hynes being a stunning modern dancer. 
19. Rihanna featuring Drake, "Work"
Best chemistry that will leave you thinking, BUT ARE THEY IN LOVE? 
20. Chris Stapleton, "Fire Away"
Best way to cry your eyes out in under five minutes. 
21. Hurray For the Riff Raff, "Rican Beach"
 Best Jenny Holzer tribute. 
22. Kanye West, "Fade"
Best Teyana Taylor/cat woman mashup. 
23. Bruno Mars, "24K Magic"
Best way to have unrealistic expectations about your upcoming Vegas trip. 
24. Beyonce, "Hold Up" 
25. Land of Talk, "It's Okay"
Best portrait of a life in a moving vehicle. 
26. Grimes, "Kill vs. Maim" 
REAL LIFE. REAL NEWS. REAL VOICES.
Help us tell more of the stories that matter from voices that too often remain unheard.
BEFORE YOU GO
PHOTO GALLERY
Solange Knowles' Style Evolution