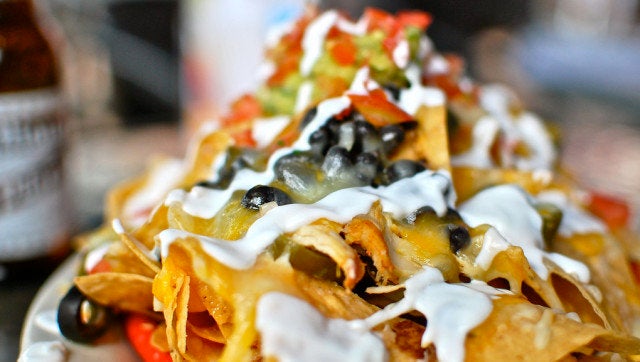 The secret to great nachos? The architecture. Andrew Knowlton shares his guide to the layering, balancing, and copious amounts of cheese behind the perfect Super Bowl snack.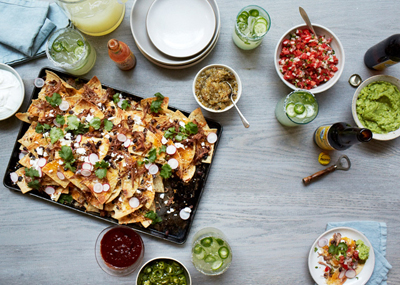 (Credit: Christina Holmes)
Nachos may flourish in sports bars alongside jalapeᅢᄆo poppers and chicken tenders, but I give them the consideration of a four-star meal. You can't just dump chips and cheese together and expect crunchy-melty-salty-spicy excellence. After years of experimenting for my annual nacho party (held during one very big football game), I've landed on a few rules for each component.
The Five Keys To Reaching Nacho Nirvana
THE CHIP
The ideal specimen is medium-thick. Greasy, thin versions--like the ones some restaurants fry in-house--won't hold up here. I'm into Tostitos Simply Natural chips.
THE CHEESE
Liquid cheese, the kind that comes in a side compartment at the concession stand, tastes like candle wax. Gruyere? Save it for grilled cheese. I go for a blend of sharp yellow cheddar and Monterey Jack; they melt well and aren't overpowering.
THE MEAT
You want shredded or pulled meat for easy building and eating. Pork is my gold standard--it crisps up nicely but remains juicy under blasts of cheese-melting heat. Try our carnitas, or buy pulled pork from a barbecue joint. Omitting the meat is fine, too; just don't anger the nacho gods with tofu.
THE FIXINGS
As with any dish, balance is paramount. Meat and cheese beg for heat, freshness, and acidity. So I finish with radishes and cilantro and set out jalapeᅢᄆos, salsa, guacamole, and sour cream for garnishing.
THE STRATEGY
Nachos leave room for personal preferences (switch up the fixings, use a different chip), but proper assembly is nonnegotiable. Start with a baking sheet: You need surface area, plus it makes a statement to present a tray of nachos that generous. Spread out a layer of chips, followed by an even distribution of meat and beans, then lots--I mean lots--of cheese. Complete coverage guarantees you don't commit the cardinal sin of nacho making: the sad chip with no topping. Repeat until you have an impressive tray a few layers high, then bake. Pour yourself a Margarita, let guests yank out a cheesy chipful, and watch them go nuts.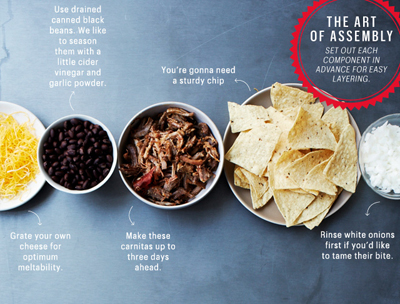 Nachos with All the Fixings
Recipe by Chris Morocco
12 servings
Active: 1 1/2 hours
Total: 2 1/4 hours
Ingredients
Nonstick vegetable oil spray
3 9-ounce bags tortilla chips
Beer-Braised Carnitas
2 15-ounce cans black beans, rinsed
1 large white onion, chopped
3 pounds shredded cheese (such as sharp cheddar and Monterey Jack)
8 ounces Cotija cheese or feta, crumbled
1 bunch radishes, thinly sliced
1 fresh cilantro leaves
Preparation
Preheat oven to 350ᅡᄚ. Coat 2 large rimmed baking sheets with nonstick spray. Dividing evenly between baking sheets, layer chips, carnitas, beans, onion, and shredded cheese, mounding in the center. DO AHEAD: Nachos can be assembled up to 1 hour before baking.
Working with 1 sheet at a time, bake until cheese is melted, 20-25 minutes. Sprinkle with Cotija cheese, radishes, and cilantro. Serve with desired toppings.
This story originally appeared on Bon Appᅢᄅtit's website.
Popular in the Community