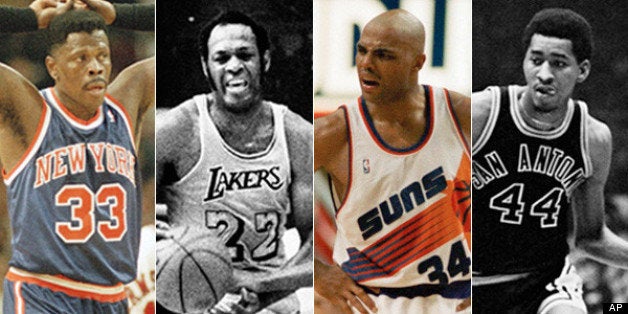 Either Gary Neal or Chris Andersen will lift the Larry O'Brien Trophy and be fitted for a championship ring after the conclusion of the 2013 NBA Finals.
Whether it's the San Antonio Spurs or the Miami Heat that emerge victorious from the ongoing "Battle Of The Big Threes," one of these two role players will join an exclusive fraternity of NBA champions that includes Bill Wennginton, Carl Herrera, Jeff Lamp and Mal Graham.
Among the superstar players who came and went through the NBA without scaling the heights of Wennington (although several likely scaled him and dunked on him) are Hall of Famers Elgin Baylor, Charles Barkley, Patrick Ewing and John Stockton. The final three players in that group were stymied in their quests to win an NBA championship by Michael Jordan. Casual fans may remember him as one of Wennington's teammates.
While the list of NBA players never to win an NBA championship includes some of the most talented and dominating forces in the sport's history, no player came closer to the mountaintop without reaching the summit than Baylor. The versatile 6' 5" forward was a 10-time All-NBA First Team selection during an illustrious career that spanned from 1958 to the early days of the 1971-72 season. Eight times he played in the NBA Finals. Eight times he lost. Seven of those losses came to Bill Russell's Celtics. Baylor's final Finals defeat occurred against the New York Knicks in 1970. Two seasons later, the Lakers would exact revenge against those Knicks but Baylor would not be on the floor, having retired after playing just nine games earlier in the season.
From Pistol Pete and George Gervin to Steve Nash and Karl Malone, here are 30 of the best players in NBA history never to win an NBA title. A few of the players included are veterans who are still active and have every intent of playing -- or watching, in Tracy McGrady's case -- their way off this list.
PHOTO GALLERY
30 Great NBA Players Never Win A Title
Calling all HuffPost superfans!
Sign up for membership to become a founding member and help shape HuffPost's next chapter