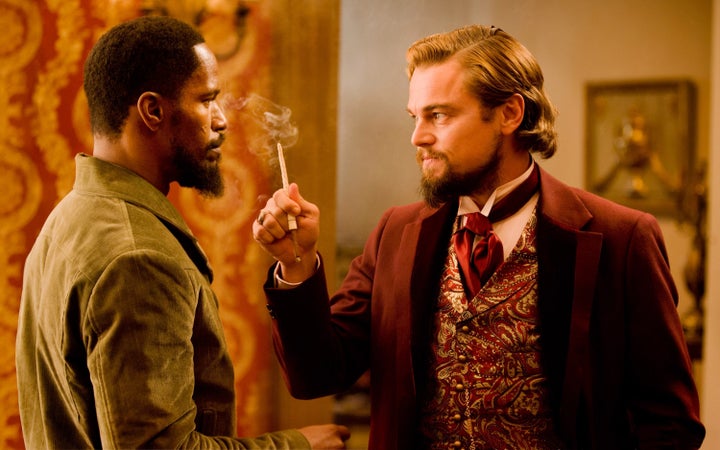 Premise: In this documentary, the story focuses on the owners of Circus of Books, a prominent gay porn store, distributor and cruising spot throughout the 1980s. The owners were a straight couple with kids whom they tried to keep in the dark about the business. During the AIDS epidemic, the couple helped provide support for the gay community.
Setting: The store was located in Los Angeles
Netflix Descriptors: "Provocative," "investigative" and "emotional"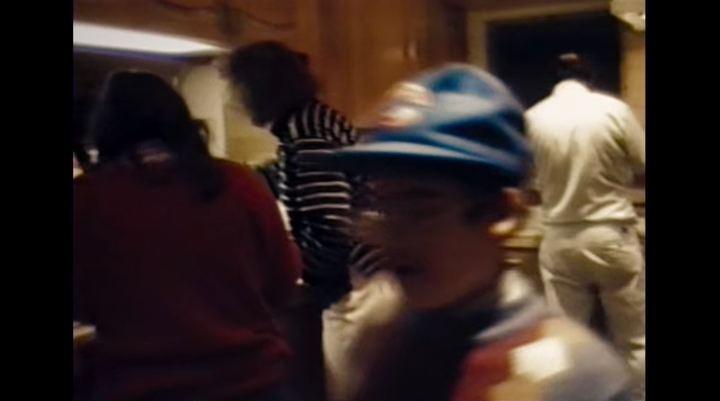 How it starts: A telephone rings over grainy family footage. A kid in an oversized Cubs hat (which I find relatable, given childhood photos my parents recently sent) walks right in front of the camera.
"Mom, turn around!" another kid yells. "Mom, turn around, you're on 'Totally Hidden Video'! Say hi! Scream!"
Runtime: 1 hour, 32 minutes
Bonus: Here's an interview a local news station did with the Circus of Books owners back in 2019 about the store's closing.
Premise: In this animated comedy based on a book by Lois Lowry, neglected siblings plot to get rid of their adventure-seeking parents. Once they trick their parents into leaving them for a global trip, the kids learn that an evil-seeming protective services agency will force them out of their house if they don't have a family. The kids then go on a global adventure of their own in search of a new family.
Setting: A quirky house tucked into a tall, sleek city
Netflix Descriptors: "Cynical," "offbeat" and "quirky"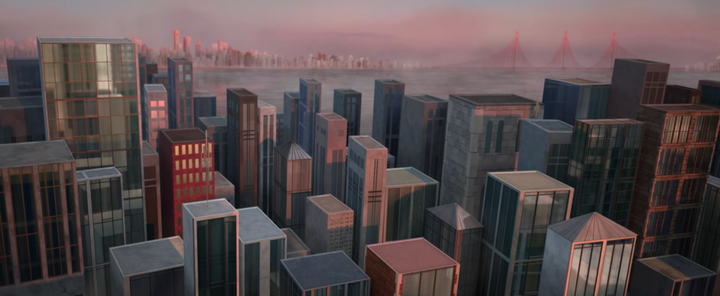 How it starts: A voice (Ricky Gervais' voice, to be exact) speaks over a black screen with rolling credits. He says:
"If you love stories about families that stick together and love each other through thick and thin, and it all ends happily ever after, this isn't the film for you. OK?"
A drumroll starts, and an overhead shot of a skyscraper-filled city along a body of water appears.
Notable Voice Cast: Alessia Cara, Terry Crews, Ricky Gervais, Jane Krakowski, Will Forte, Maya Rudolph and Martin Short
Runtime: 1 hour, 30 minutes
Bonus: Netflix released a making-of video:
Premise: In this revisionist Western written and directed by Quentin Tarantino, an enslaved man teams up with a bounty hunter to kill criminals in the pre-Civil War South. The two ultimately join forces to save the former man's enslaved wife from a cruel plantation owner.
The movie earned two Academy Awards out of five nominations. Tarantino won for best original screenplay, and Christoph Waltz won for best supporting actor.
Setting: Southern United States in 1858
Netflix Descriptors: "Violent"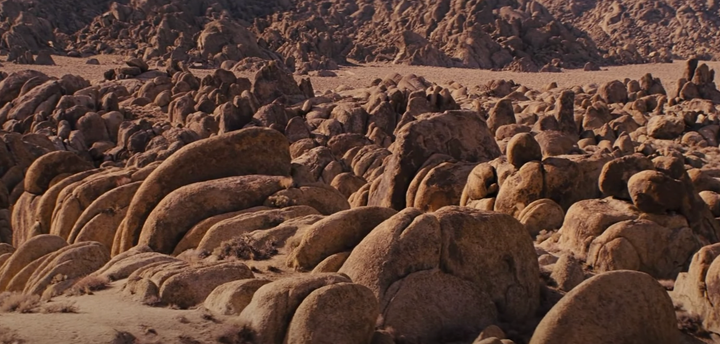 How it starts: Blood red credits roll over the landscape of a rocky desert. The song "Django" by Luis Bacalov plays. The camera lingers on the rocks until it ultimately swings down to reveal a marching line of shirtless Black men with deep scars on their backs.
Notable Cast: Leonardo DiCaprio, Jamie Foxx, Samuel L. Jackson, Christoph Waltz and Kerry Washington
Runtime: 2 hours, 45 minutes
Bonus: Here's DiCaprio, Foxx and Tarantino talking about the movie together with ABC News:
A few other highlights:
Premise: In this comedy written and directed by Joel and Ethan Coen, a fixer at a big movie production studio races around Hollywood to keep his stars happy and in line. Twin gossip reporters (both played by Tilda Swinton) try to uncover the truth behind the fires that the fixer keeps snuffing out.
Meanwhile, a secretive, slap-dash communist plot develops within the writing and acting communities in town. A growing number of Hollywood workers feel underpaid and underpraised by the big studios, so they mobilize in a starry-eyed partnership with the Soviet Union.
The movie earned one Academy Award nomination for Best Production Design.
Setting: Hollywood in 1951
Netflix Descriptors: "Deadpan"
How it starts: Voices perform religious chants over a black screen. The chants continue as the camera focuses on a statue of Jesus on the cross. The camera cuts to a close-up of Jesus' face. The camera then goes to a man in a suit sitting in a confessional and clutching a rosary with a mini crucified Jesus dangling from his hands.
"Bless me, father, for I have sinned," the man says. "It's been, uh, 24 hours since my last confession."
"Son, it's so late," the priest responds.
"Yeah, father, work has just ... " the man responds and trails off.
Notable Cast: Josh Brolin, George Clooney, Alden Ehrenreich, Ralph Fiennes, Jonah Hill, Scarlett Johansson, Frances McDormand, Tilda Swinton and Channing Tatum
Runtime: 1 hour, 46 minutes
Bonus: Here's an extended scene featuring Scarlett Johansson's character performing in a synchronized swim routine.
Premise: In this drama written and directed by Alan Yang, a Taiwanese man decides to make a risky move to the United States. He is forced to leave behind a woman he has fallen in love with and instead marries someone he has little in common with, personality-wise. Throughout his life, he reflects on the choice with regret. He ultimately opens up to his daughter, who shares many of his traits.
Much of the dialogue is in Mandarin and Taiwanese, with English subtitles.
Yang has won an Emmy for his screenwriting work on the Netflix show "Master of None."
Setting: Taiwan and New York City
Netflix Descriptors: "Understated" and "intimate"
How it starts: A man's voice speaks in Mandarin over a black screen.
"My father died when I was a year old," the voice says. "My mother did her best to take care of me on her own, but after she lost her job, she couldn't afford to provide for me anymore. She left me with my grandparents, who lived in the rice fields, while she looked for work so we could be together again."
Runtime: 1 hour, 31 minutes
Bonus: Here's Yang and stars from the movie recommending other movies in Asian cinema:
Premise: In this biographical drama, Mark Zuckerberg creates Facebook with other students at Harvard University. In the movie, Mark has unnerving ambition and shaky morals ― he ruthlessly stabs various friends in the back as the website becomes popular.
Setting: Harvard University in the early and mid-2000s
Netflix Descriptors: "Cerebral"
How it starts: In a voiceover, Jesse Eisenberg as Mark Zuckerberg says, "Did you know there are more people with genius IQs living in China than there are people of any kind living in the United States?"
The camera reveals that Zuckerberg is on a date and conversing with a woman. He mentions he got a 1600 on his SATs and won't stop talking about himself. He repeatedly talks over the interjections of his date.
"Are you like, whatever, delusional?" Zuckerberg asks his date after he misunderstands her.
Accolades: The movie earned eight Academy Award nominations, including for Best Picture (which it should have won, in my opinion). It won three Oscars: Best Adapted Screenplay, Best Original Music Score and Best Film Editing.
Notable Cast: Jesse Eisenberg, Andrew Garfield, Armie Hammer, Rashida Jones, Rooney Mara, Max Minghella and Justin Timberlake
David Fincher directed the movie, and Aaron Sorkin wrote the screenplay.
Bonus: Here's Sorkin talking about the writing process for the movie:
Premise: In this psychological thriller, a heart surgeon believes he has begun mentoring a teenage boy whose father died years ago in a car crash ― but the teen's father actually died during an operation performed by the surgeon. The boy begins torturing the surgeon's family in mysterious ways and threatens to kill them all.
Setting: Contemporary Cincinnati
Netflix Descriptors: "Cerebral" and "dark"
How it starts: Orchestral music plays over a blank screen. After a few seconds, the camera cuts to a graphic close-up of a beating heart. The camera slowly zooms away from the beating heart to reveal surgeons working on the organ.
Notable Cast: Bill Camp, Raffey Cassidy, Colin Farrell, Barry Keoghan, Nicole Kidman, Alicia Silverstone and Sunny Suljic
Yorgos Lanthimos directed the movie and co-wrote the script.
Runtime: 2 hours, 1 minute
Bonus: Here's Lanthimos and Farrell talking about the creation of this movie:
All the movies that have joined Netflix this month so far:
"40 Days and 40 Nights"
"Bloodsport"
"Cadillac Records"
"Can't Hardly Wait"
"Cheech & Chong's Up in Smoke"
"Deep Impact"
"God's Not Dead"
"Just Friends"
"Killer Klowns from Outer Space"
"Lethal Weapon"
"Lethal Weapon 2"
"Lethal Weapon 3"
"Lethal Weapon 4"
"Minority Report"
"Molly's Game"
"Mortal Kombat"
"Mud"
"Promised Land"
"Road to Perdition"
"Salt"
"School Daze"
"Sherlock Holmes"
"Soul Plane"
"Sunrise in Heaven"
"Taxi Driver"
"The Death of Stalin"
"The Girl with All the Gifts"
"The Hangover"
"The Matrix"
"The Matrix Reloaded"
"The Matrix Revolutions"
"The Perks of Being a Wallflower"
"The Roommate"
"The Runaways"
"The Social Network"
"Wildling"
"The Good, the Bad and the Ugly"
"Violet Evergarden: Eternity and the Auto Memory Doll"
April 3
"Coffee & Kareem" (Netflix Film)
"Money Heist: The Phenomenon" (Netflix Film)
April 4
"The Killing of a Sacred Deer"
April 10
"LA Originals" (Netflix Documentary)
"La Vie Scolaire" (Netflix Film)
"Love Wedding Repeat" (Netflix Film)
"The Main Event" (Netflix Film)
"Tigertail" (Netflix Film)
"Despicable Me"
"Hail, Caesar!"

"Jem and the Holograms"
"Betonrausch" (Netflix Film)
"Earth and Blood (La terre et le sang)" (Netflix Film)
"Legado en los huesos" (Netflix Film)
"Sergio" (Netflix Film)
"Bleach: The Assault"
"Bleach: The Bount"
"Circus of Books" (Netflix Documentary)
"El silencio del pantano" (Netflix Film)
"The Plagues of Breslau" (Netflix Film)
"The Willoughbys" (Netflix Film)
"Extraction" (Netflix Film)
"The Artist"
"Django Unchained"
"A Secret Love" (Netflix Documentary)
"Murder to Mercy: The Cyntoia Brown Story" (Netflix Documentary)
"Dangerous Lies" (Netflix Film)
"Rich in Love (Ricos de Amor)" (Netflix Film)