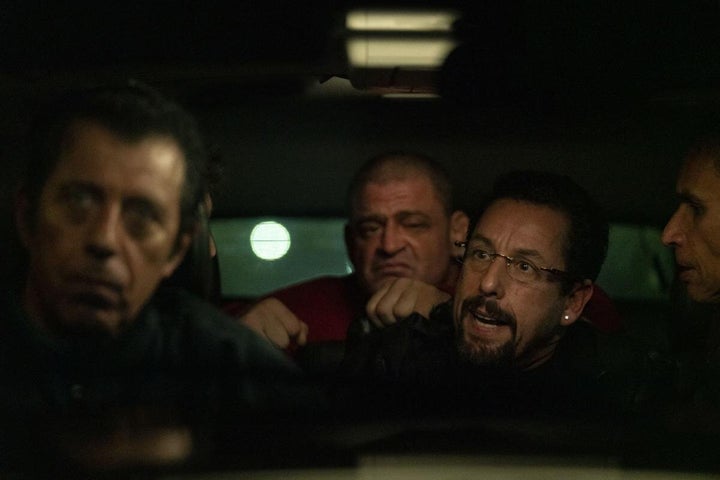 Premise: In this gambling thriller directed and co-written by the Safdie brothers ("Good Time"), a jeweler in New York City keeps leveraging his assets to make sports bets. This jeweler acquires a rare black opal mined by Ethiopian Jewish miners and believes selling the uncut gem will earn him enough money to pay off his debts. He's continuously running around New York City in a stressed out fashion as he juggles sales to clients such as NBA star Kevin Garnett, runs from violent men he owes money to, makes time for his family and hang out with his mistress.
The movie didn't earn any Academy Award nominations in 2019 but should have. I thought it was the third-best movie of the year (behind "Parasite" and "Once Upon a Time ... in Hollywood"). I don't think I've ever been more stressed and anxious while watching a film. Sandler's jeweler character keeps betting on himself over and over again but in a self-harming ― not self-helping ― way that puts his life at stake. He should believe in himself way less.
Setting: 2012 New York City
Netflix descriptors: "Unsettling," "forceful" and "gritty"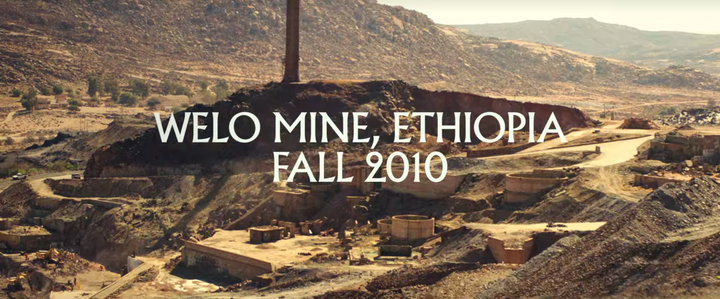 How it starts: The camera pans quickly over a dusty, rocky landscape. After a few seconds, the rocks give way to a busy mine. Text appears: Welo Mine, Ethiopia, fall 2010. The camera gets closer, and it's clear that men are running around and shouting. There's a visual jump to a close-up of a bloody, wounded leg and a man wincing in great pain.
Notable cast: Julia Fox, Kevin Garnett, Idina Menzel, Adam Sandler and LaKeith Stanfield
Runtime: 2 hours, 15 minutes
Bonus: Netflix put together a video about the various jewelers and gamblers in the movie who had never acted before and were more or less playing themselves.
Netflix highlights from earlier in the month:
Premise: In this romantic comedy directed by Michael Showalter, a couple falls in love and then almost breaks up. But before either of them pulls that trigger, they get framed for a bizarre murder. While running from the police, they decide their only chance to survive will be to solve the crime themselves.
Their amateurish DIY investigation brings them closer together and leads them to reevaluate the relationship.
Netflix descriptors: "Quirky" and "irreverent"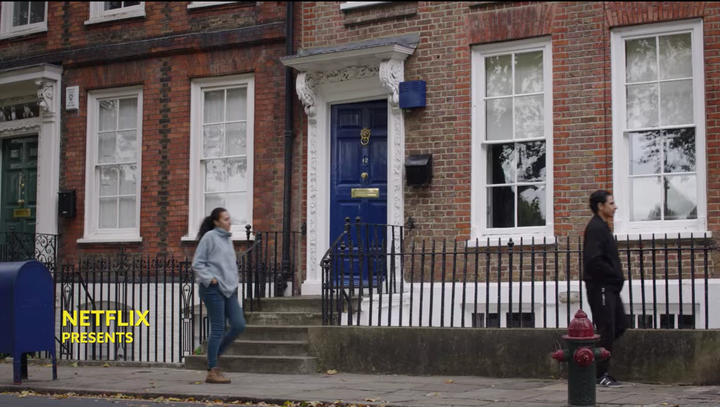 How it starts: A pleasantly soft piano, drum and bass track plays while people stroll down a neighborhood sidewalk. What sounds like a trolley bell rings.
The camera focuses on a beautiful blue door with a big knocker. The door opens, and the protagonists step out. They smile and agree the previous night was "fun."
Notable cast: Kumail Nanjiani and Issa Rae
Runtime: 1 hour, 26 minutes
Bonus: Here's a video of an actual lovebird, in case you're curious.
Premise: In this biographical drama directed by Jay Roach, screenwriter Dalton Trumbo faces jail time and career derailment because of his association with the Communist Party of the United States. Trumbo's refusal to step away from the party during the Cold War leads to his blacklisting in the industry.
Trumbo continues to ghostwrite and creates two of the most iconic movies of the era, "Roman Holiday" and "Spartacus."
Setting: Los Angeles around 1950
Netflix descriptors: "Witty" and "inspiring"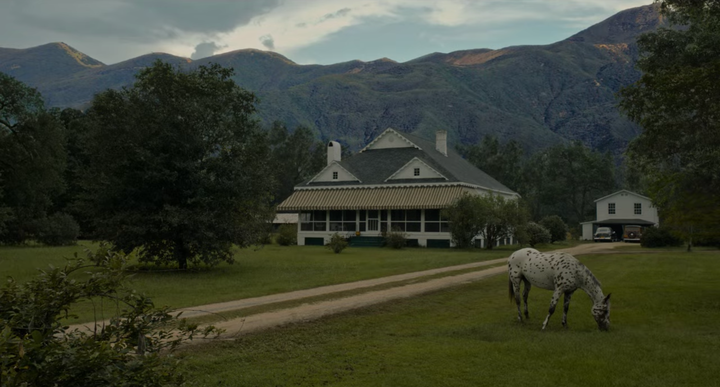 How it starts: A black screen has white text that reads:
During the 1930s, in response to the Great Depression and the rise of Fascism, thousands of Americans joined the Communist Party of the United States.

After the U.S. allied with the Soviet Union during World War II, many more joined the C.P.U.S.A.

Screenwriter Dalton Trumbo, a long-time champion of workers' rights, became a member of the Party in 1943.

But the Cold War cast a new light of suspicion on American Communists.
After many paragraphs, the movie finally opens on a shot of a beautiful house. There's a spotted horse in the foreground and a mountainous backdrop.
Notable cast: Bryan Cranston, Diane Lane and Helen Mirren
Runtime: 2 hours, 4 minutes
Bonus: You can also watch a documentary about Dalton Trumbo with the same name. Here's the trailer for that.
Premise: In this interactive comedy co-written by Robert Carlock and Tina Fey, the character Kimmy Schmidt has become a successful author and is about to marry a prince. But when she discovers the man who kidnapped her and kept her in a bunker might still be doing that to other women, she must decide whether to drop the wedding preparations to try and save the other potential captives.
The plot is dark in the details, but the script plays the situation like a goofy farce.
Much like the 2018 Netflix film "Black Mirror: Bandersnatch," this interactive movie allows viewers to pick different paths for the characters in the style of a choose-your-own-adventure story.
Setting: New York City and across the U.S.
Netflix descriptors: "Witty," "Quirky" and "Goofy"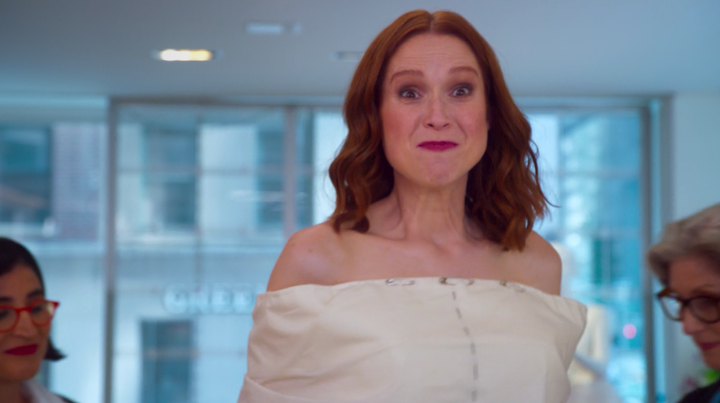 How it starts: The character Kimmy Schmidt turns around in a wedding dress she's trying on at a store in New York City.
"Now, this is the fancy option," Schmidt says with a smile. "Like what Mrs. Peanut would get married in."
Her friend Tituss, watching from nearby, responds, "You think Mr. Peanut is straight?"
Notable cast: Tituss Burgess, Jon Hamm, Carol Kane, Ellie Kemper, Jane Krakowski and Daniel Radcliffe
Runtime: 1 hour, 20 minutes
Bonus: Here's Radcliffe reading the other "Kimmy" characters' ridiculous lines from previous seasons:
Premise: This documentary follows former first lady Michelle Obama as she goes on a book tour for her 2018 memoir, "Becoming," balancing footage of the tour with details about her personal history and ongoing missions to support education initiatives.
Michelle Obama and President Barack Obama produced the project. They signed a deal with Netflix under the moniker Higher Ground Productions, and produced the 2019 Oscar-winning documentary "American Factor."
Netflix descriptors: "Intimate," "feel-good" and "inspiring"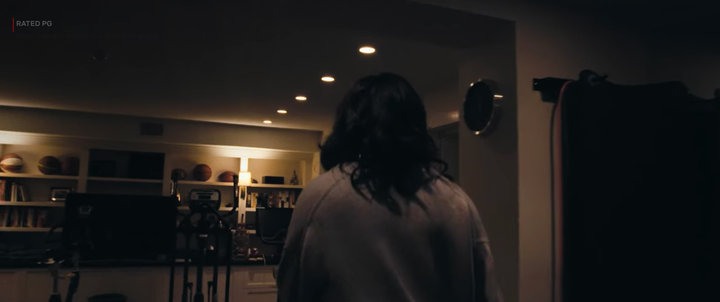 How it starts: Michelle Obama walks away from the camera in what looks like a finished basement. A bookshelf in front of her has both books and basketballs.
She heads into a garage and then exits to a driveway. She says hi to someone who appears to be a bodyguard. She steps into the backseat of a giant Chevy Suburban and says "thank you."
In the backseat, she tells the camera she usually listens to music in the car and unfurls a long white headphone cord.
"I have an eclectic taste of music," Obama says. "It depends on the mood: whether I want to be inspired, or whether I just want to ... thump it out."
Runtime: 1 hour, 29 minute
Bonus: Here's Michelle Obama doing an interview with "Good Morning America" about her memoir back in 2018:
Premise: In this coming-of-age dramedy, a high school student keeps to herself due to having unique interests and experiencing widespread bullying. She writes other students' homework papers for money.
A jock finds out about this writing service and asks this student if she'll write a love letter for him to another girl in school. Both of them end up falling for this girl and become friends in the process of jointly discovering what love and friendship can be.
Setting: Small-town Washington
Netflix Descriptors: "Heartfelt," "quirky" and "feel-good"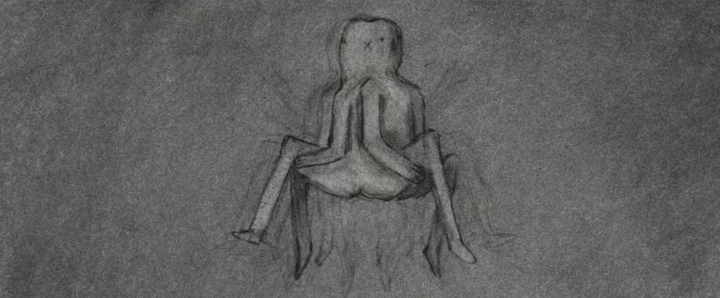 How it starts: A epigraph quote from Plato's "Symposium" appears on the screen: "Love is simply the name for the desire and pursuit of the whole."
The camera transitions to a sketchpad with animated drawings. A voiceover talks while the sketches move and change.
"The ancient Greeks believed humans once had four arms, four legs and a single head made of two faces," the voiceover says. "We were happy."
Notable cast: Daniel Diemer, Collin Chou, Alexxis Lemire and Leah Lewis
Runtime: 1 hour, 44 minutes
Bonus: Here's an extended interview GLAAD did with the producer and the stars of the movie. Given the COVID-19 pandemic, the interview takes place over video-conferencing.
Premise: In this fantasy romance directed by David Fincher, a man ages in reverse. This means he starts life as an older man and gets younger over time.
He has a decades-spanning romance in his life. But given the different aging trajectories, the couple is only able to be fully together for a brief moment in time.
The movie won three Academy Awards and earned 13 nominations.
Setting: Various decades across the United States
Netflix Descriptors: "Heartfelt," "emotional" and "romantic"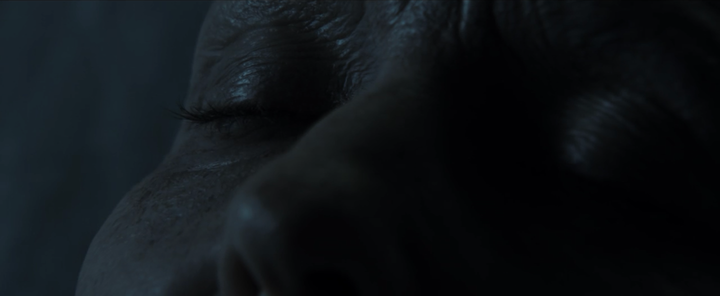 How it starts: An older woman in a bed struggles to open her eyes and speak. The camera shows that the woman is lying on a hospital bed. A younger woman, her daughter, says the "hurricane is coming," referring to Hurricane Katrina.
Notable cast: Cate Blanchett, Taraji P. Henson, Brad Pitt and Tilda Swinton
Runtime: 2 hours, 46 minutes
Bonus: CBS released a short behind-the-scenes video called "The Curious Case of Brad Pitt." It features an interview with Pitt, but the real star is whoever titled the segment.
All the movies that have joined Netflix this month so far:
"All Day and a Night" (Netflix Film)
"Get In" (Netflix Film)
"The Half Of It" (Netflix Film)
"Mrs. Serial Killer" (Netflix Film)
"Ace Ventura: Pet Detective"
"Back to the Future"
"Back to the Future Part II"
"Charlie and the Chocolate Factory"
"Cracked Up, The Darrell Hammond Story"
"Den of Thieves"
"For Colored Girls"
"Fun with Dick & Jane"
"I Am Divine"
"Jarhead"
"Jarhead 2: Field of Fire"
"Jarhead 3: The Siege"
"Madagascar: Escape 2 Africa"
"Material"
"Sinister"
"Song of the Sea"
"The Curious Case of Benjamin Button"
"The Heartbreak Kid"
"The Patriot"
"Thomas & Friends: Marvelous Machinery: A New Arrival"
"Thomas & Friends: Marvelous Machinery: World of Tomorrow"
"Thomas & Friends: Thomas and the Royal Engine"
"Underworld"
"Underworld: Evolution"
"Underworld: Rise of the Lycans"
"Urban Cowboy"
"What a Girl Wants"
"Willy Wonka & the Chocolate Factory"
"Becoming" (Netflix Documentary)
"18 regali" (Netflix Film)
"House at the End of the Street"
"Have a Good Trip: Adventures in Psychedelics" (Netflix Documentary)
"Unbreakable Kimmy Schmidt: Kimmy vs. the Reverend" (Netflix Interactive Special)
"The Wrong Missy" (Netflix Film)
"District 9"
"I Love You, Stupid" (Netflix Film)
"Public Enemies"
"United 93"
"Ben Platt Live From Radio City Music Hall" (Netflix Documentary)
"Rebelión de los Godinez" (Netflix Film)
"Just Go With It"
"The Lovebirds" (Netflix Film)
"Ne Zha"
"Norm of the North: Family Vacation"
"Uncut Gems"
"I'm No Longer Here" (Netflix Film)
"The Lincoln Lawyer"
May 28
"La corazonada" (Netflix Film)