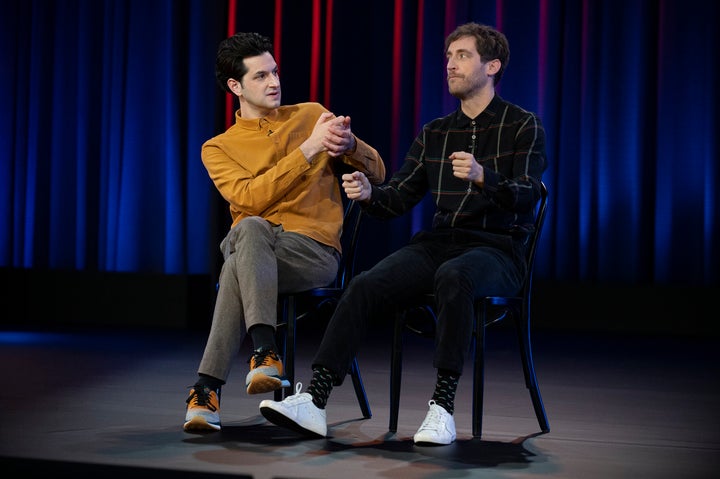 Premise: In this animated existential comedy created by Pendleton Ward (creator of "Adventure Time"), a video producer interviews the inhabitants of virtual worlds — created by a "universe simulator" — that are each about to experience an apocalypse. The universe simulator had the original purpose of creating examples of technology to copy and bring back to the real world. But the protagonist of "The Midnight Gospel" uses the simulator for a trippy type of journalism.
Setting: Different universes in a simulation
Netflix Descriptors: "Mind-bending," "offbeat" and "irreverent"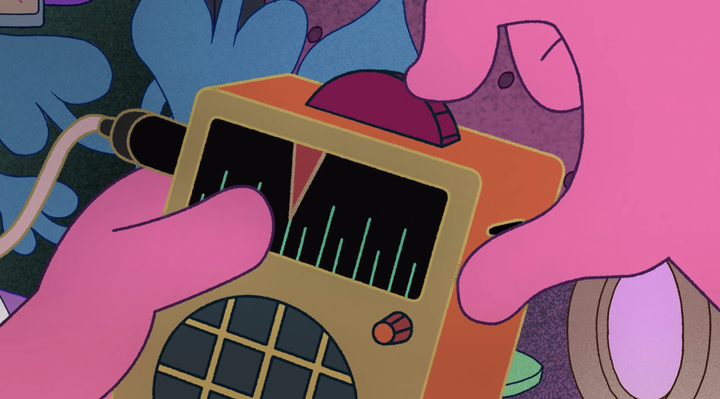 How it starts: Pink hands hold a small radio as one pink finger plays with the frequency tuner. The dial stops on a radio broadcast.
"Gooooood morning, simulation farmers," a voice on the radio says, as the pink hands type on a keyboard of lit-up squares.
Runtime: Eight episodes of roughly 30 minutes
Bonus: Here's creator Pendleton Ward talking about "Adventure Time" back in 2012 — with Hot Topic, of all places:
Premise: In this live improv series starring Thomas Middleditch and Ben Schwartz, the two comedians take a scenario from the audience and create an entire story with multiple characters from that launching point. For example, the first episode revolves around a wedding officiated by a ghost and potentially thwarted by the bride's ex-lover from sixth grade.
Middleditch and Schwartz's charming chemistry carries the show, but the created-on-the-spot stories also have a surprisingly adept narrative payoff.
Setting: NYU Skirball Center for the Performing Arts in New York City
Netflix Descriptors: "Offbeat," "absurd" and "quirky"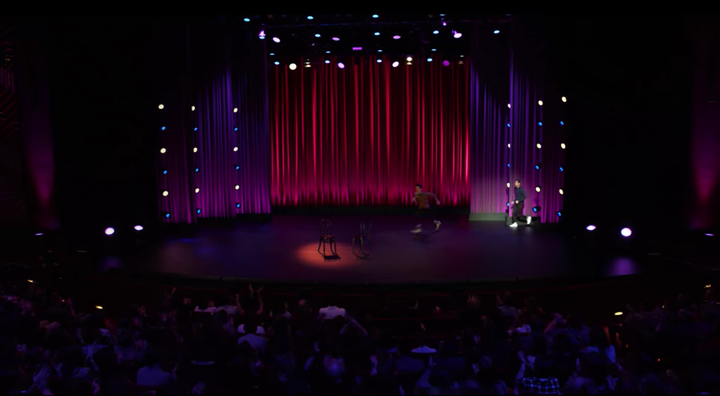 How it starts: Schwartz and Middleditch jog onto the stage toward two chairs. When they both get to the front of the stage, Schwartz waves to the audience while Middleditch awkwardly dances.
Notable cast: Thomas Middleditch and Ben Schwartz
Runtime: Three episodes of roughly 50 minutes
Bonus: Here's a Netflix video of Middleditch and Schwartz doing something called the "Best Friends Challenge" together:
A few other highlights:
Premise: In this family sitcom created by Kenya Barris (creator of "Black-ish"), a character based on Barris' actual life lives with his family in a Los Angeles mansion. He pays for his daughter to make a professional, high-production-value docu-series about the family's day-to-day life.
The show oscillates between the genres of family sitcom, mockumentary, meandering Hollywood-centric self-commentary (like "Curb Your Enthusiasm") and social commentary about racial injustice.
This show has elicited divisive responses from critics, from effusive praise to harsh assessments of perceived narcissism and cruelty. I'm on the side of the former and found much to laugh at and find impressive in "#blackAF." The blending of genres works and the harsher cultural commentary elevates it past Barris' family of "ish" sitcoms ("Black-ish," "Grown-ish" and "Mixed-ish"). Also, the first episode admirably uses Bradley Cooper's "Maybe It's Time" from "A Star is Born" as just a background song at one point, which earns it big points in my book.
"#BlackAF" is the best comedy Netflix has debuted this year so far.
Setting: Contemporary Los Angeles
Netflix Descriptors: "Witty" and "irreverent"
How it starts: "Super Rich Kids" by Frank Ocean plays. The daughter of the Kenya Barris "character" talks to the camera.
"So, I'm making this documentary as a part of my application to NYU Film School next year," the character says. "But I didn't ask my dad for any of this." The character gestures to an expensive production set-up. "A seven-man camera crew, really? They shot 'The Revenant' with less than this, OK?"
This opening explains the conceit of the filming style for the show and why characters keep doing interviews with the camera.
Notable Cast: Kenya Barris and Rashida Jones
Runtime: Eight episodes of roughly 35 minutes
Bonus: Netflix put together a behind-the-scenes video with Barris and Jones. Watch here:
Premise: In this docu-series, the nonprofit legal organization the Innocence Project explains the cases behind eight wrongfully convicted people. The series highlights the importance of the Innocence Project in pushing back against an overzealous conviction system. On the flip side, the series also shows the group's limits in fighting against an ever-growing problem in the United States.
Setting: Contemporary interviews paired with archival footage
Netflix Descriptors: "Investigative," "emotional" and "true crime"
How it starts: An elevator bell dings. A man with a blue backpack exits an elevator back and walks down a hall in an office building. He enters the office of the Innocence Project and turns on the light.
"We get flooded with letters from all over the country," a man says in a voice-over of shots featuring piles of letters and packages. "At least a couple of thousand letters from incarcerated men and women a year."
Runtime: Nine episodes of roughly 60 minutes
Bonus: The Innocence Project created a video featuring four men they've helped exonerate:
Premise: In this after-show for the popular Netflix docu-series "Tiger King," Joel McHale hosts a collection of interviews with people who appeared in the original show.
In case you somehow missed the "Tiger King" phenomenon, the original episodes focus on a charismatic, drug-using polygamist named Joe Exotic. This person owns a tourist-trap roadside zoo in Oklahoma and hires a hit man to kill a rival.
The original series runs seven episodes of roughly 45 minutes.
Notable Cast: Joel McHale
Bonus: Here's the original series trailer:
Premise: In this comedy created by Dan Harmon, a group of misfits at a community college become inseparable best friends. All of them have distinct personalities and skill sets they bring to the "literal" table, and they frequently hang around to scheme about hijinks. While their classes don't teach them much, their varying adventures help them learn things about who they are and who they want to become.
Setting: A community college in Colorado during the early 2010s
Netflix Descriptors: "Witty" and "irreverent"
How it starts: The first episode begins with an establishing shot of Greendale Community College. The awkward dean of the school, dressed in a short-sleeved, mustard yellow button-up shirt paired with a yellow tie, makes a live announcement in front of a crowd.
"Uh, good morning," Dean Craig Pelton says. "Many of you are halfway through your first week here at Greendale, and as your dean, I thought I would share a few thoughts of wisdom and inspiration. What is community college? Well, you've heard all kinds of things..."
The show then introduces a few members of the main cast as the dean reads different, offensive descriptors.
"You've heard it's loser college for remedial teens," Dean Pelton says. "Twenty-something dropouts, middle-aged divorcees and old people keeping their minds active as they circle the drain of eternity. That's what you've heard. However, I wish you luck!"
Notable Cast: Alison Brie, Yvette Nicole Brown, Chevy Chase, Donald Glover, Gillian Jacobs, Ken Jeong, Joel McHale, Danny Pudi and Jim Rash
Runtime: 110 episodes of roughly 21 minutes over six seasons
Bonus: Here's Donald Glover talking about leaving "Community" and, at the time, his new show "Atlanta" on FX:
Premise: In this cooking game show, three amateur bakers try to make pristine cakes in short amounts of time. The show tends to recruit contestants who are terrible at baking, which means the contestants have no real shot at actually making something good. The hosts joyfully roast the varying baking fails and inject an infectious levity to the already absurd premise.
Setting: Game show set
Netflix Descriptors: "Quirky"
How it starts: Season 4 begins with the hosts sitting on golden thrones in decadent leisurewear. Both wear giant, shiny sunglasses. "Servants" attend to their whims. Host and comedian Nicole Byer's voice can be heard off-screen as she does a fake interview in which she acts like a diva feigning humility about the show's success.
Notable Cast: Nicole Byer and Jacques Torres
Runtime: 27 episodes of roughly 32 minutes over four seasons
Bonus: Netflix compiled a few of the best cake fails on the show so far:
All the shows that have joined Netflix this month so far:
"How to Fix a Drug Scandal" (Netflix Documentary)
"Nailed It!" (Season 4, Netflix Original)
"Sunderland 'Til I Die" (Season 2, Netflix Original)
"Community" (Seasons 1-6)
"Kim's Convenience" (Season 4)
"Pokémon the Series: Sun & Moon" (Season 3: Sun & Moon – Ultra Legends)
"La Casa de Papel" (Part 4, Netflix Original)
"Terrace House: Tokyo 2019-2020" (Part 3, Netflix Original)
"Hi Score Girl" (Season 2, Netflix Anime)
"Brews Brothers" (Netflix Original)
April 12
"Tiger King" (After-show, Netflix Original)
"The Innocence Files" (Netflix Documentary)
"Outer Banks" (Netflix Original)
"Fary: Hexagone" (Season 2, Netflix Original)
"Fauda" (Season 3, Netflix Original)
"#blackAF" (Netflix Original)
"Too Hot to Handle" (Netflix Original)
"Cooked with Cannabis" (Netflix Original)
"The Midnight Gospel" (Netflix Original)
"Middleditch & Schwartz" (Netflix Comedy Special)
"Absurd Planet" (Netflix Original)
"Win the Wilderness" (Netflix Original)
"The House of Flowers" (Season 3, Netflix Original)
"After Life" (Season 2, Netflix Original)
"Hello Ninja" (Season 2, Netflix Family)
"The Last Kingdom" (Season 4, Netflix Original)
"Never Have I Ever" (Netflix Original)
"Extracurricular" (Netflix Original)
"Nadiya's Time to Eat" (Netflix Original)
"Summertime" (Netflix Original)
"Drifting Dragons" (Netflix Anime)
"The Forest of Love: Deep Cut" (Netflix Original)
"The Victims' Game" (Netflix Original)