Streamline recommends "The Great British Baking Show" as the thing to watch on Netflix this week. This new season of the show premiered Nov. 9.
Premise: Contestants try to make the best desserts they can. British hosts make delightful commentary about the desserts. That's about it.
Stars: Noel Fielding, Paul Hollywood, Prue Leith and Sandi Toksvig.
How excited should you be? If you're already a fan of the series, then you should be excited that Netflix now backs the program for United States distribution. Although it remains sad that the cast of judges changed (except for Paul Hollywood), the show now has a larger budget and moves along with a bit more theatricality.
Any reasons to be skeptical? That theatricality might be a turnoff. One of the biggest pleasures of the original show had been how soothing it could be. When the show switched from the BBC to Channel 4, the new home reoriented the show's structure to excite the viewer a bit more ― but that might be at odds with what made you fall in love with the original.
Will everyone be talking about this? Yes and no. The show gets massive ratings in Britain on first airing and definitely has built a fan base in the U.S. as well. I don't believe this is the kind of show that will grab the zeitgeist, but if you ask around, you'll probably find that many of your friends have watched this.
Read on for more recommendations and news from the week.
And if you want to stay up to date with what to watch on a weekly basis, subscribe to the Streamline newsletter.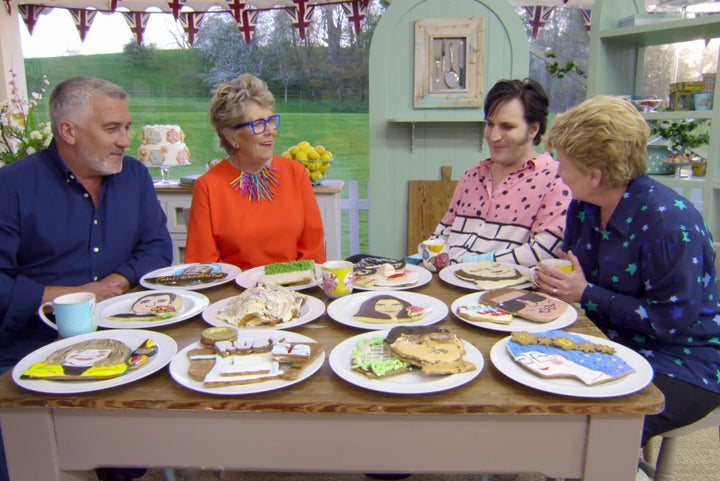 What Else Is New This Week
"Outlaw King." ― A big blockbuster of a movie starring Chris Pine as a Scottish warrior trying to thwart the English invasion.
"Super Drags," Season 1. ― An animated comedy about three drag queen superheroes. It comes from Brazil.
Top 3 Netflix News Stories From This Week
1. "Orange Is the New Black" will potentially get a spinoff. Details remain scarce, but apparently series creator Jenji Kohan is in talks to create another show within this story universe. "Orange" plans to end with its upcoming seventh season.
2. Netflix had many animation announcements this week. New photos and details came out about the "Watership Down" project in the works. Netflix will release the project this Christmas. Then the company unveiled a slate of anime Originals, including spinoffs of "Altered Carbon" and "Pacific Rim." And on top of that, Netflix will release more animated shows aimed at kids, including "Kid Cosmic," a new series from the creator of "The Powerpuff Girls," Craig McCracken.
3. Scheduling Announcements: Vanessa Hudgens will play role-swapping twins in a new Christmas movie called "The Princess Switch." David Attenborough will narrate a new wildlife documentary series called "Our Planet."
Check out the latest Streamline feature:
"Hoodwinked Too! Hood vs. Evil"
"Disney's Pirates of the Caribbean: At World's End"
"Homecoming" (Season 1)
"John Leguizamo's Latin History for Morons" (Netflix Original)
"Beat Bugs" (Season 3, Netflix Original)
"La Reina del Flow" (Netflix Original)
"Medal of Honor" (Netflix Original)
"Outlaw King" (Netflix Film)
"Spirit Riding Free" (Season 7, Netflix Original)
"Super Drags" (Netflix Original)
"The Great British Baking Show" (Collection 6, Netflix Original)
"Treehouse Detectives" (Season 2, Netflix Original)
"Westside" (Netflix Original)