Streamline recommends "Neo Yokio" as the thing to watch on Netflix this week. This Christmas special premiered on Dec. 7.
Premise: Sick in bed on Christmas Eve, Kaz Kaan listens to what his mecha-butler tell him a holiday story filled with magic and expensive luxury goods. The story stars Kaan himself. In the mecha-butler's tale, the young bachelor must team up with his nemesis while learning about the fraught history of both the city and his own family.
Stars: Jamie Foxx, Rashida Jones, Jude Law, Jason Schwartzman, Susan Sarandon and Jaden Smith.
How excited should you be? I try to suggest shows that I think are both "good" and can appeal to a wide audience, yet I feel like this won't be for everyone. Still, this is easily one of my favorite things that has debuted all year, and I hope you'll give it a try. I don't think I have ever seen a more clever satire on capitalism, and the writing is just so good through and through. Also, this has a new Ezra Koenig (Vampire Weekend) song.
Any reasons to be skeptical? A spoof on anime inherently has a niche appeal. And maybe you're not like me and don't want a super dark take on the American Christmas season.
Will everyone be talking about this? I think the show's fanbase will proselytize about this special, but I'm not convinced they'll end up getting many converts.
Read on for more recommendations and news from the week.
And if you want to stay up to date with what to watch on a weekly basis, subscribe to the Streamline newsletter.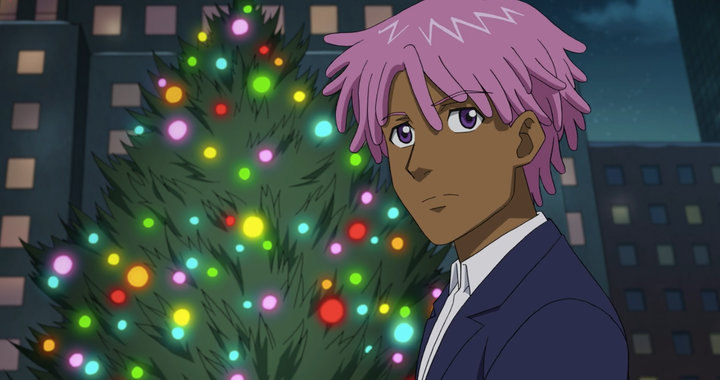 Here's the trailer:
What Else Is New This Week On Netflix
(Quite a few non-Netflix movies joined the service on Dec. 1. You can read the full list below.)
"Mowgli: Legend of the Jungle" ― Quite a few A-list stars have roles in this as the original plan was for this to be a major theater blockbuster. Instead, Netflix grabbed the rights to this adaptation of "The Jungle Book."
"Dumplin'" ― Jennifer Aniston stars as a former beauty queen who runs a pageant in Texas. Her plus-size daughter signs up to compete as an act of defiance against her looks-obsessed mother. Then, other women of varying body shapes do so as well.
Top 3 Netflix News Stories From This Week
1. "Saturday Night Live" parodied Netflix's relentless propensity for debuting seemingly countless shows and movies. Claire Foy, of Neflix's "The Crown", hosted the night and so she made a starring appearance in the sketch. You can watch it above.
2. Contrary to a popular hoax, Netflix will retain "Friends" throughout 2019 ― but they'll do it at a steep price. The move will cost them about $80 million just for the year. That's far more than the company has traditionally paid to have reruns of a show. In the near future, "Friends" will likely join the forthcoming streaming service from Warner Bros.
3. Scheduling Announcements: "You" will move from Lifetime to become a Netflix show. Netflix will have a sequel movie for "To All The Boys I've Loved Before." Netflix announced a series of comedy specials that will debut on Jan. 1. In a very expected move, Netflix renewed "Narcos: Mexico" for a second season. Outbidding other companies, Netflix will make a project about the real-life story of "The Watcher," which you can read at New York Magazine. A "Between Two Ferns" movie is in the works, but it remains unclear what the plot will be. Given his Netflix deal, maybe Barack Obama will make a repeat appearance between those ferns.
Check out my recap of Netflix's year:
"8 Mile"
"Astro Boy"
"Battle" (Netflix Film)
"Bride of Chucky"
"Christine"
"Cloudy with a Chance of Meatballs"
"Crossroads: One Two Jaga" (Netflix Film)
"Friday"
"Friday After Next"
"Hellboy"
"Man vs Wild with Sunny Leone" (Season 1)
"Meet Joe Black"
"Memories of the Alhambra" (Streaming Every Saturday, Netflix Original)
"My Bloody Valentine"
"Next Friday"
"Reindeer Games"
"Seven Pounds"
"Shaun of the Dead"
"Terminator Salvation"
"The Big Lebowski"
"The Great British Baking Show: Masterclass" (Season 5)
"The Last Dragon"
"The Man Who Knew Too Little"
"Blue Planet II" (Season 1)
"Hero Mask" (Netflix Original)
"The Sound of Your Heart: Reboot" (Season 2, Netflix Original)
"5 Star Christmas" (Netflix Film)
"Bad Blood" (Netflix Original)
"Dogs of Berlin" (Netflix Original)
"Dumplin'" (Netflix Film)
"Free Rein: The Twelve Neighs of Christmas" (Netflix Original)
"Mowgli: Legend of the Jungle" (Netflix Film)
"Nailed It! Holiday!" (Netflix Original)
"Neo Yokio: Pink Christmas" (Netflix Original)
"Pine Gap" (Netflix Original)
"ReMastered: Who Killed Jam Master Jay?" (Netflix Original)
"Super Monsters and the Wish Star" (Netflix Original)
"The American Meme" (Netflix Original)
"The Hook Up Plan (Plan Coeur)" (Netflix Original)
"The Ranch" (Part 6, Netflix Original)