Streamline recommends "Chilling Adventures of Sabrina: A Midwinter's Tale" as the thing to watch on Netflix this week. This Christmas special premiered on Dec. 14.
Premise: Sabrina and her family of witches celebrate the winter solstice with baking, a tree covered in evil ornaments and, most important of all, lighting the Yule log to ward off unwanted spirits. And guess what happens when that fire goes out? The family has to fight off those various spirits while going through unrelated B-plots, such as a love story and a dangerous local Santa.
How excited should you be? If you enjoy celebrating the holidays but want something less cheery, this is for you. The first season of "Chilling Adventures" began only a couple of months ago and earned great reviews at the time. This holiday episode picks up where that season left off.
Any reasons to be skeptical? This looks super-cheap, and the storylines are definitely meant for teens. This looks exactly like that fake teen show that Gus works for in the Netflix show "Love." The narrative makes little sense, the constant "pray to Satan"-esque jokes get tiresome and the characters repeatedly talk about action they have done or are about to do offscreen. (Why didn't they film the fights all the characters keep talking about?! Doesn't Netflix have unlimited money?!) But Shipka is great, and this is still fun. It reminds me of the made-for-television specials I'd watch as a kid, but with more Satan.
Will everyone be talking about this? The first season got a ton of buzz. I'm sure you'll know someone who checks out this one-off episode.
Read on for more recommendations and news from the week.
And if you want to stay up to date with what to watch on a weekly basis, subscribe to the Streamline newsletter.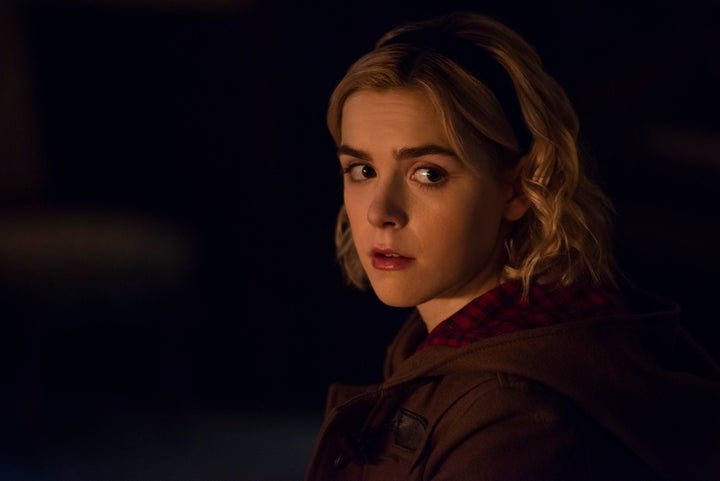 What Else Is New This Week On Netflix
"Roma" ― A personal film from the acclaimed director Alfonso Cuarón, this tells the story of a family living in the Roma neighborhood of Mexico City in the 1970s. Cuarón grew up in this neighborhood during that time. This has a good chance of winning best picture at the Oscars.
"Fuller House" ― Apparently that's still a thing. Netflix premieres Season 4 (Season 4?!).
A Couple Of Netflix News Stories From This Week
1. Netflix has decided to test an instant-replay feature. The on-screen prompt will be kind of like the "Skip Intro" button and allow users to replay particular scenes. That sounds like something I don't want, but maybe it will make sense in very specific contexts.
2. Original content accounted for 37 percent of Netflix streams this year, up from 24 percent a year ago. That's still a huge reliance on licensed content like "Friends" and "The Office." A recent report indicates that Netflix Originals will surpass licensed content by the end of 2019, though.
Renewals: "My Next Guest Needs No Introduction" in 2019. No notable cancellations this week. New Shows: "Ghost in the Shell" project in 2020. Selena Quintanilla project TBD. "Conversations with a Killer: The Ted Bundy Tapes" on Jan. 24. Killer Mike series "Trigger Warning" in January.
Check out my recap of Netflix's year:
"Sin senos sí hay paraíso" (Season 3)
"Michael Jackson's This Is It"
"Vir Das: Losing It" (Netflix Original)
"Back Street Girls: Gokudols" (Netflix Original)
"Out of Many, One" (Netflix Original)
"Wanted" (Season 3, Netflix Original)
"Chilling Adventures of Sabrina: A Midwinter's Tale" (Netflix Original)
"Cuckoo" (Season 4, Netflix Original)
"Dance & Sing with True: Songs" (Netflix Original)
"Fuller House" (Season 4, Netflix Original)
"Inside the Real Narcos" (Netflix Original)
"Inside the World's Toughest Prisons" (Season 3, Netflix Original)
"Prince of Peoria: A Christmas Moose Miracle" (Netflix Original)
"Roma" (Netflix Film)
"Sunderland Til I Die" (Netflix Original)
"The Fix" (Netflix Original)
"The Innocent Man" (Netflix Original)
"The Protector" (Netflix Original)
"Tidelands" (Netflix Original)
"Travelers" (Season 3, Netflix Original)
"Voltron: Legendary Defender" (Season 8, Netflix Original)