Streamline recommends "Sex Education" as the thing to watch on Netflix this week. The streaming service debuted this show on Jan. 11. As this show has become a huge hit in the last week, I'm circling back to highlight it now.
Premise: A teen, Otis, struggles to make any friends at school besides his equally awkward best friend. Otis' transition through puberty feels particularly awkward because his mom is a sex therapist. Penis sculptures and paintings of vaginas decorate his house, a point of shame. But when the "cool girl" in school discovers that Otis can give solid sex advice to his horny classmates, the two team up to sell therapy sessions to other teens. For Otis, this means a chance at new friends. For his business partner, the money means finally paying off utility bills and rent at a trailer home since she has to take care of herself.
Stars: Gillian Anderson.
How excited should you be? I had the wrong impression about this show at first, assuming it to be one of those wacky and forgettable teen shows that Netflix releases with great frequency. Although this does star teens, the writing here is mature ― and not only in the sense that sex pervades this. The Ringer's Alison Herman described this as a cross between "Skins" and "Big Mouth," which I agree with. Another surprise for me was the drop-dead beautiful setting. For example, the house of Otis and his mom overlooks this insane woodland valley that gets bountiful screen time. So much care has been put into the details here. I keep thinking about this scene where a student returns home to find his parents waiting up for him ― something that could have had the mundane directing choices of framing each character individually. Instead, the camera lingers behind the teen and then frames the father in the middle-ground and the mother in the background. That's the kind of shot you only get if the people making this have a real desire to create something good and worth your time.
Any reasons to be skeptical? If you don't like when shows focus on sex, then this will be a real turnoff. But that's right in the name, so you shouldn't feel tricked, at least. In a less flippant critique ― I found the 50ish-minute episodes to be too long. I like this show and I like the characters, but I don't like them enough to watch eight whole episodes at that runtime.
Will everyone be talking about this? Netflix claims more than 40 million households watched at least some of "Sex Education" over the last week. That might be an inflated number, but I still think it's a good indicator that, yes, people will be talking about this show.
Read on for more recommendations and news from the week.
And if you want to stay up to date with what to watch on a weekly basis, subscribe to the Streamline newsletter.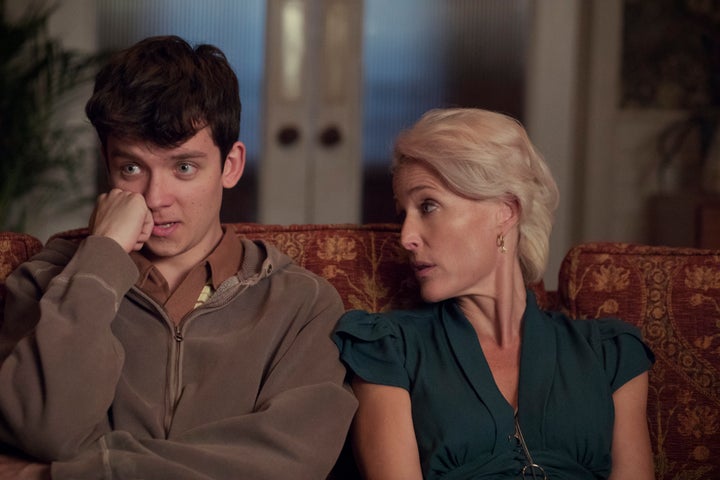 Here's the trailer:
What Else Is New This Week On Netflix
"Marvel's The Punisher" Season 2 ― Netflix will almost definitely cancel this show in a week or so, as it has done with almost all of the other Marvel shows. Watch this angry man punish people through violence while you still can.
"Carmen Sandiego" Season 1 ― Gina Rodriguez voices Carmen Sandiego, a character that trains to be evil but then decides to be an agent for good instead. As the person who went viral for actually "finding" Carmen Sandiego and am therefore an unimpeachable authority on the topic, I'm disappointed that Netflix has completely changed her character. Great stories need great villains, so the loss of Sandiego in that role is a loss for storytelling.
A Couple Of Netflix News Stories From This Week
1. In a rare move, Netflix released more viewership data to follow up on the claim that 45 million people watched "Bird Box." Now the company says 80 million households have watched that Sandra Bullock-starring movie. Netflix also claimed that both "Sex Education" and "You" were seen by more than 40 million households, while "Elite" attracted more than 20 million. That doesn't necessarily mean (and probably doesn't mean) that most of those people watched more than one episode, but those are still impressive numbers. It makes me kind of happy that "Gossip Girl" actor Penn Badgley has found a new hit role as yet another stalker with "You."
2. Netflix raised its prices by 13 percent to 18 percent, depending on the subscription tier. New subscribers already have to pay these new prices, while existing subscribers will experience the hike in the next three months. The 4K premium plan, the most expensive option, will now cost $16 a month, while it used to be $14.
"Revenger" (Netflix Film)
"Sebastian Maniscalco: Stay Hungry" (Netflix Original)
"American Crime Story: The Assassination of Gianni Versace"
"Carmen Sandiego" (Netflix Original)
"Close" (Netflix Film)
"FYRE: The Greatest Party That Never Happened" (Netflix Original)
"GIRL" (Netflix Film)
"Grace and Frankie" (Season 5, Netflix Original)
"IO" (Netflix Film)
Marvel's "The Punisher" (Season 2, Netflix Original)
"Soni" (Netflix Film)
"The World's Most Extraordinary Homes" (Season 2, Part B, Netflix Original)
"Trigger Warning with Killer Mike" (Netflix Original)
"Trolls: The Beat Goes On!" (Season 5, Netflix Original)