The Netflix Highlight: "After Life." This new show debuted on March 8.
Premise: Struggling with the recent death of his wife, a small-town journalist (Ricky Gervais) in England decides to stop being nice and say whatever he wants. The man has a death wish and concludes shame doesn't matter in this cruel world, so he might as well bully people into getting what he wants, especially since the cosmos won't give him what he truly needs: the return of his wife.
Sum up: Gervais continues his project of starring in stories where he gets to say whatever he wants, such as "The Invention of Lying," "Derek" and, most famously, "The Office." If you're into Gervais' comedic style of "speaking truth" ― regardless of punching up or down ― then you'll probably enjoy this continuation of that central idea. Other than that, I can't really find anything nice to say about this show.
Heads up: "After Life" has a terrible script, bad acting and seemingly a zero budget. For those who don't derive any pleasure from Gervais just being a dick to people ― and with all actions "forgiven" by a ham-fisted concluding lesson ― you'll find nothing here. The show tries, and fails, to take swings at weighty topics like grief and suicide, but handles these topics with a heavy-handedness that makes this insufferable. "After Life" may be the most notable thing Netflix debuts this week, and I know Gervais has a cult-like following, but I should stress that I think this is actually a stay-away.
Will everyone be talking about this? Maybe. Again, Gervais has a legion of devoted fans who might embrace the show. Somehow, the similarly bad "Derek" lasted two seasons on Netflix. So, the audience may be out there regardless of quality.
Read on for more recommendations and news from the week.
And if you want to stay up to date with what to watch on a weekly basis, subscribe to the Streamline newsletter.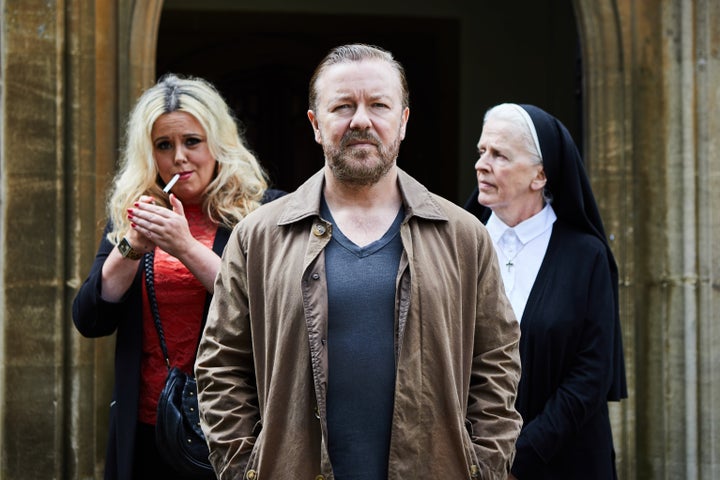 What Else Is New This Week On Netflix
"Juanita" ― A road trip movie about a mother who wants something new from life.
A Couple Of Netflix News Stories From This Week
1. Steven Spielberg allegedly launched an attack on Netflix, using his considerable influence to try and persuade the Academy Awards from honoring future Netflix movies. According to a report from Indiewire, Spielberg thinks Netflix movies should be considered TV movies and only be eligible for the Emmys. Netflix made a response on Twitter that boiled down to "we love cinema" / please stop.
2. Netflix will adapt Gabriel García Márquez's popular novel "One Hundred Years of Solitude" into a show. The project will be filmed in Spanish.
"Disney's Christopher Robin"
"Secret City: Under the Eagle" (Season 2, Netflix Original)
"Doubt"
"The Order" (Netflix Original)
"After Life" (Netflix Original)
"Bangkok Love Stories: Hey You!"(Netflix Original)
"Bangkok Love Stories: Innocence" (Netflix Original)
"Blue Jasmine"
"Formula 1: Drive to Survive" (Netflix Original)
"Hunter X Hunter" (2011, Seasons 1-3)
"Immortals" (Netflix Original)
"Juanita" (Netflix Film)
"Lady J" (Netflix Film)
"Shadow" (Netflix Original)
"Spy Kids 2: The Island of Lost Dreams"
"The Jane Austen Book Club"
"Walk. Ride. Rodeo." (Netflix Film)