Virginia Woolf once wrote, "One cannot think well, love well, sleep well, if one has not dined well." If Virginia Woolf had traveled down Sepulveda Boulevard in Culver City, she would have loved Sage, L.A.'s newest plant-based bistro that is also part organic beergarden and part vegan ice creamery. I, for one, am a meat eater and am always skeptical about vegan restaurants, but with a menu as varied as it is satisfying, Sage is a welcome addition to the Culver City foodie landscape and a place I look forward to revisiting. If ever you've enjoyed a vegetable in your life, I promise you, with Chef Mollie Engelhart's innovative approach to creating delicious, locally-sourced, flavorful food, you won't be disappointed.
Sage at 4130 Sepulveda Blvd, Culver City (photo by Thomas Mikusz):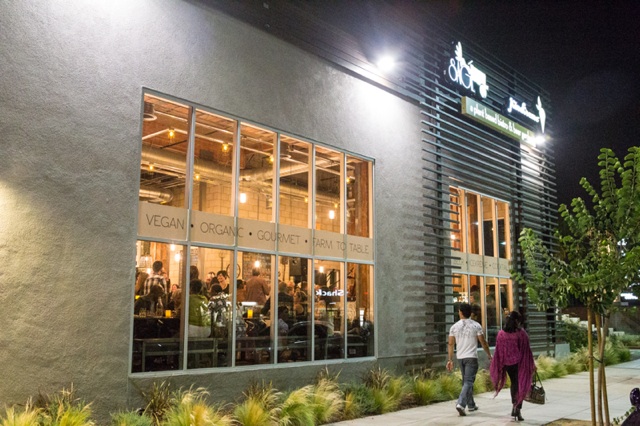 I chatted with Mollie to find out more about the cooking philosophy behind Sage.
The last thing I want to do is tell people what they should and shouldn't be eating. I'd like for regular folks to eat my food a couple of days a week so they eat less meat. I'm not just trying to attract vegans, I'm trying to attract everyone. People are not going to go from McDonald's to quinoa and kale. They have to have a bridge in the middle, and I'd like to be that bridge. Eighty percent of our customers are non-vegan, and my goal is to create food that is delicious, crave-able and not bad for you. Because so often what we crave is not good for us. I love the quinoa corn cakes, we have tempura-fried mozzarella sticks made out of hearts of palm served with ranch and marinara sauce which I think are amazing. The pierogis and raviolis -- mmmm! I'm Italian so I love that.
Sage's Mollie Engelhart and Woody Harrelson (photo by Thomas Mikusz)
Having opened the vegan ice cream destination, KindKreme in Studio City and Pasadena, and the original Sage in Echo Park, Mollie's fans are growing in every corner of Los Angeles. Among them are Owen Wilson, Anthony Kiedis, Flea, Moby, Jason Mraz and Sage co-owner Woody Harrelson, who spoke to me at the recent grand opening in Culver City:
I loved the concept of an organic beer garden, but I didn't invest in the concept, I really invested in Mollie. She's amazing. All that you see, hear and taste has everything to do with her and nothing to do with me. I just believed in her, put money in. A lot of people think, 'vegan?' but they don't realize this is the ultimate comfort food.
Jason Mraz, who performed at Sage's grand opening, comments on Mollie's unique KindKreme (vegan ice cream):
The hardest part of being a vegan is ice cream. I choose to be vegan -- I wasn't born vegan. We live in a world of saturated fats and processed foods, but Mollie is a genius at vegan food. And her vegan ice cream is what attracted me to this place. It's all made with almond milk or coconut milk. And her flavors are different every time I come. I can be a vegan as long as there's a Sage on this earth.
All it took was a spoonful of Mollie's KindKreme flavor, Superfood -- a blend of chocolate, almond milk, goji berries, coconut, macadamia, acai berry powder, maca, chia seeds, E3 live and hemp seeds -- to understand what Jason Mraz was raving about. This frozen vegan dessert is reason alone to venture to Sage.
Sage fan Jason Mraz performing at its grand opening (photo by Thomas Mikusz)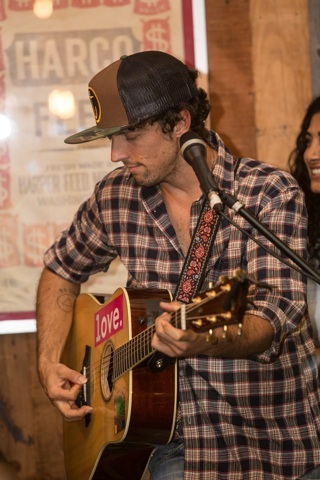 Another beautiful feature of Sage is the unique and rustic design elements created by L.A.-based designer Arika Jacobs, who used reclaimed barn wood and vintage garden tools to help create a cozy, stylish and welcoming space.
Sage's organic beer menu (photo by Thomas Mikusz)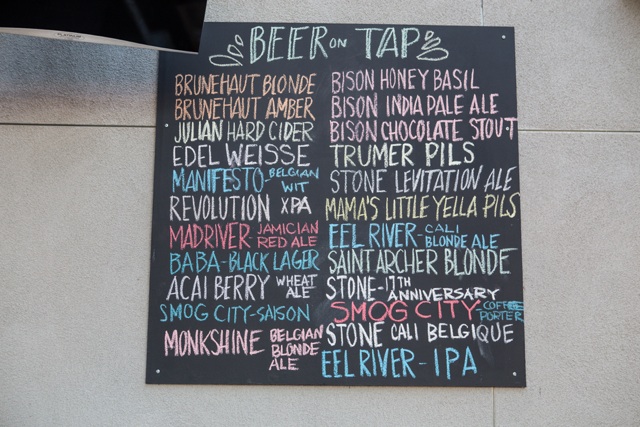 A native of Ithaca, New York, Mollie's lifelong passion for vegan cooking has expanded from the kitchen into the cinema. Her acclaimed documentary film, May I Be Frank, follows an unhealthy, overweight New Yorker who accepts a challenge to go vegan for 42 days, in which he becomes sober, loses weight and is healthy again. Success has continued with Mollie's second film End of Love, which debuted as an Official Selection at the Sundance Film Festival.
I will change the menu before shopping for produce from half way around the world. We focus on small, traditional California farms that are pesticide-free or certified organic. It's not just about labels, it's about environmental and human impact. Local is as important as organic.
For menus and more information on Sage located at 4130 Sepulveda Blvd, Culver City, visit here.
Sage owner Mollie Engelhart and recording artist, Moby (Photo by Thomas Mikusz)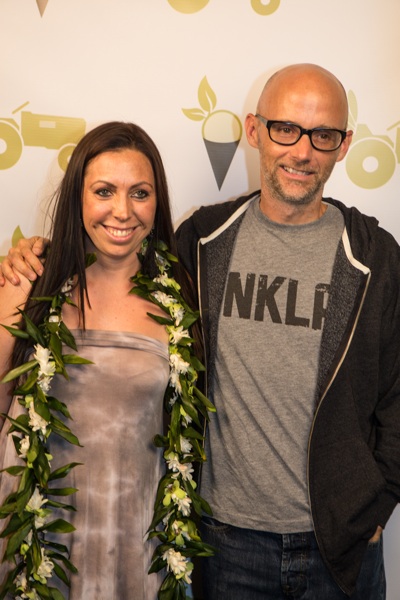 Popular in the Community