This is the third installment in our series on mental health in the newsroom. Read the first, second, fourth and fifth installments.
Hovering beneath a haze of smoke, rows of desks, each cluttered with stacks of paper and the standard-issue rotary phone, line the newsroom like soldiers in formation. Reporters, clad in white-collared shirts and ties, tap away on typewriters. Cigarette butts lie strewn on the floor.
Such was once the image of the newsroom.
That picture looks very different today. Rather than requesting rows of desks and big conference rooms, companies now want open floor plans, spacious kitchens, standing areas and plenty of comfortable common spaces. Couches, plush throw pillows and the occasional beanbag have made meetings feel like interactions at coffee shops. Conference rooms are becoming hangout spots. Storage closets are becoming meditation rooms.
There's an obvious economic benefit to such changes: Studies show more content workers are more productive, and companies that keep their people happy experience less turnover. But the shift represents a broader evolution in the way corporate America approaches the workplace.
According to Thomas Juncher Jensen, an interior designer at JIDK -- which has designed the offices of a number of media and tech companies, including BuzzFeed, Outbrain and Phaidon Press -- newsrooms are becoming more "humane."
"It used to be that we designed everything like a car, where everything was within arms' reach," Jensen said. "Now, we're trying to break away from that and encourage people to get up from their desks, walk around the office and interact with their co-workers. So what was once a car is more like a city center."
Jensen said a client recently told him he wanted an office that would make staffers "feel like they've arrived early to an amazing party."
The party is just starting. As part of our five-part series on mental health in the newsroom, The Huffington Post explored some of the new architectural and interior design trends newsrooms are implementing, and talked to staffers to find out why those things are so beneficial.
At The New York Times Building, Lighting Is Everything
Designed by Pritzker Prize-winning architect Renzo Piano, the 52-story New York Times Building in midtown Manhattan was constructed with a simple vision in mind: openness and transparency. Light floods through the floor-to-ceiling windows, changing hue as the the sun rolls across the sky.
The New York Times Magazine's director of photography, Kathy Ryan, published an entire book of images showcasing the lighting in the Times building and has an Instagram account dedicated to capturing the light as it cascades across her office floor. Ryan has her own private office now, but elects to spend most of her day sitting in a small cubicle in the open space, right by the windows.
"I'm in drunken love with it," she says, adjusting the floor-length, gray shades on the window beside her desk. The shades are on a timer that automatically adjusts them during the day depending on the intensity of the light. But Ryan said Times employees typically override it to let the sun shine in.
The observation may seem so obvious as to be mundane, but natural -- as opposed to artificial -- light has been shown to improve worker productivity, well-being, behavior and mood. In a recent blog post, Jensen noted that research has shown having an office space with windows was the No. 1 factor in predicting employee satisfaction.
At sunset each day, Ryan races up the stairs to snap a picture of the light coming through the windows. "It allows me to just stop for a second," she said. "It fuels creativity. I do this in the amount of time it takes for someone else to go get a coffee."
While the mood in many newsrooms starts to get gloomy after business hours, dusk is when the the light in the Times building is the strongest. Staffers at the magazine are most awake then, Ryan said.
"It's a reburst," Ryan said. "If you have that kind of fast-paced, high-adrenaline day to day that we do here, there's something great about being able to take 10 or 15 minutes and just break away."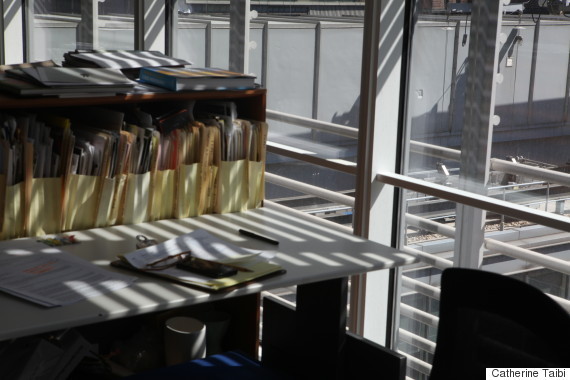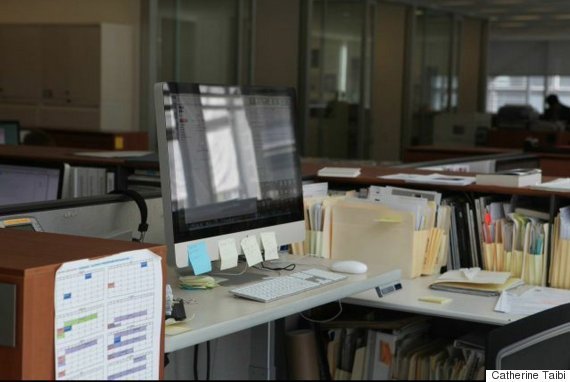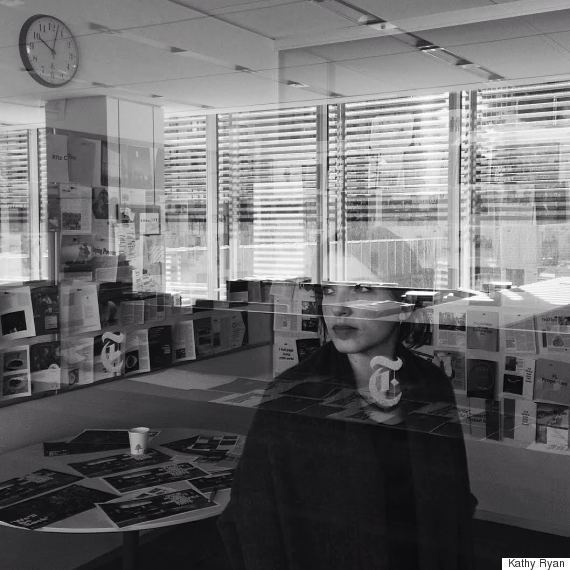 At Business Insider, Creativity Is King
When Business Insider was looking last year for the perfect space for its new office, the management team wanted a place that "would foster creativity and would be a good writing environment," the company's president and chief operating officer, Julie Hansen, said.
Located in the heart of the Flatiron District in New York City, the 150-year-old building BI now calls home reminds Hansen of a traditional college library. "It's the kind of environment where you feel free to think," she said.
One of the ways the news organization lets its writers feel that way is by allowing them to customize their workspaces. BI encourages its employees to stand throughout the day, and provides standing desks as well as a variety of chairs, couches, tables and mats. "We really encourage them to make themselves at home," she said.
There is one team in the office, Hansen said, that actually turned the hallway into their work spot so they could move around and get a change of scenery.
Employees can also get some fresh air on the building's roof deck, which staffers have embraced for lunch breaks and meetings.
Hansen said she believes newsroom ambiance is vital to a company's success and that the new environment is part of the reason no BI staffer quit during their first four months in the office.
"I learned my lesson from that," she said. "This stuff really matters."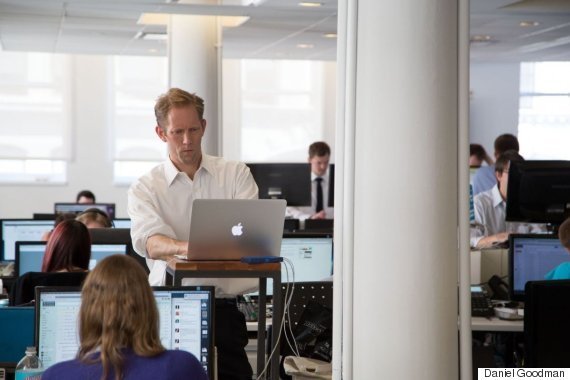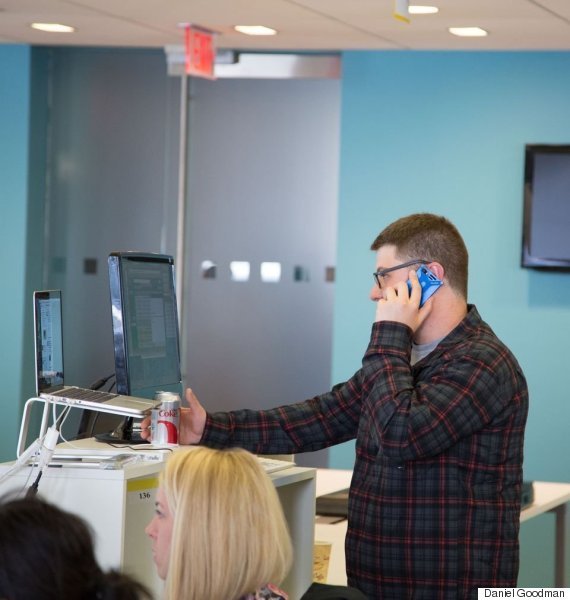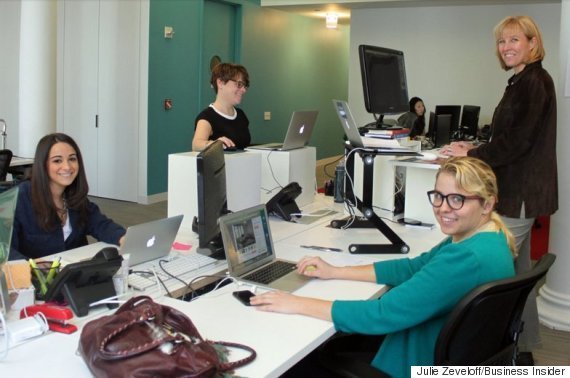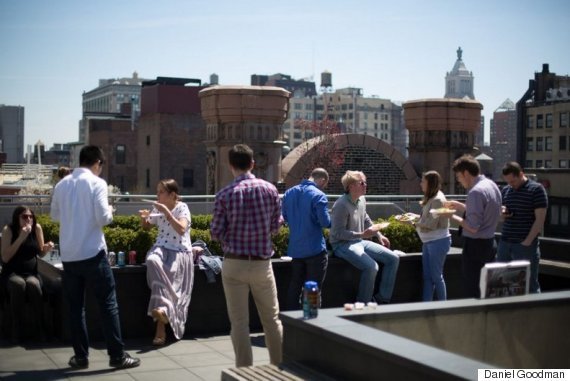 At Mashable, You Have A Blank Canvas
Imagine a room -- stocked with crayons, markers and audiovisual equipment -- where you are encouraged to experiment with anything you'd like. With white walls, white surfaces and big windows, the space makes you feel like you are in kindergarten again, free to create.
"We wanted to make sure we had a bunch of working spaces for our teams to get their hands dirty," Mashable's communication manager, Fiorelli Salvo, said. So the fast-growing media company created office rooms dedicated to letting their staff do just that.
The playspace for Mashable Collective -- a new team at the company that experiments with emerging platforms like Snapchat, Pinterest, Vine and Periscope -- looks just like an art studio: Long, white countertops stand against the wall, while ample wall space allows the team to play around with illustrations, animations and video ideas.
Another room at the company was recently turned into a "livestream studio," inspired by Meerkat at South by Southwest and other live video-streaming apps.
"We're a company that wants people to experiment," Salvo said. "We say, 'Don't be afraid of it. Let's just jump right on these new platforms and see what works.'"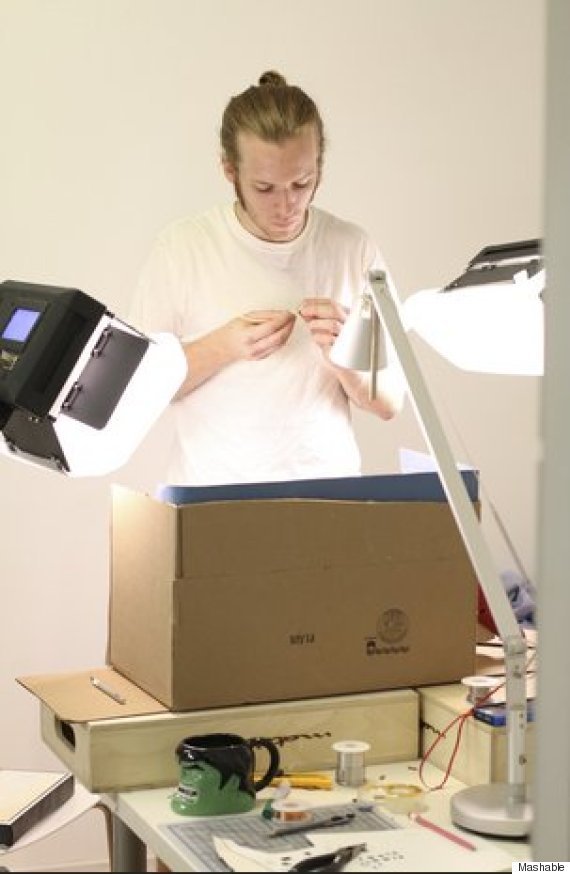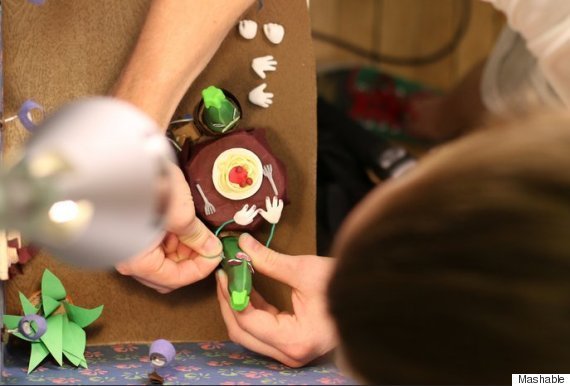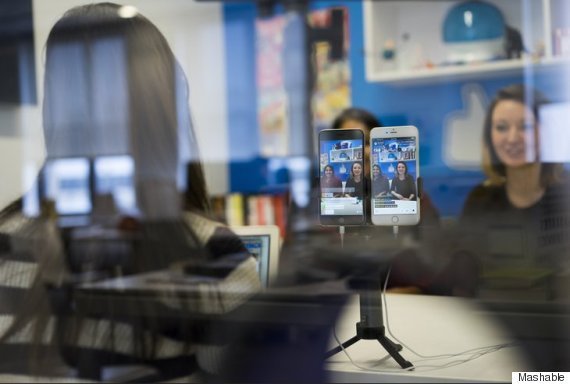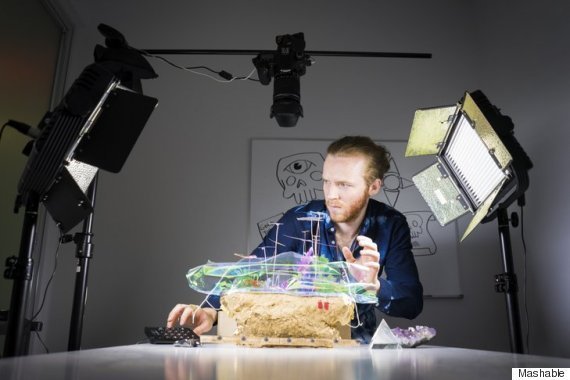 At Talking Points Memo, One Room Cures All
Walking into Talking Points Memo's open space, you wouldn't expect to find a hidden alcove dedicated to pure bliss. But TPM's small office comes with one of the most beautiful spaces in any newsroom. The room, tucked away behind the kitchen, is soundproof and equipped with a TV, a sound system and a wall covered with a stunning collage of mirrors. LED lights on the walls illuminate the walls in different hues on a rotating basis. The designer demanded that the ceiling be patterned, which he said is essential for falling asleep.
TPM's editor and publisher, Josh Marshall, said the majority of people use the room for 20 or 30 minutes during the day for "quiet time" or "power napping."
"The nap room was originally a video studio. But I decided a nap room was more important for the organization," Marshall said. "TPM is highly reactive to the news of the day. That's fast-paced and often frenetic. It's in the DNA of the organization. But that makes it even more important to build a space and a culture where spells of relaxation or naps or just silence are part of the day."
A tip before entering: The room has a strict no-shoe policy.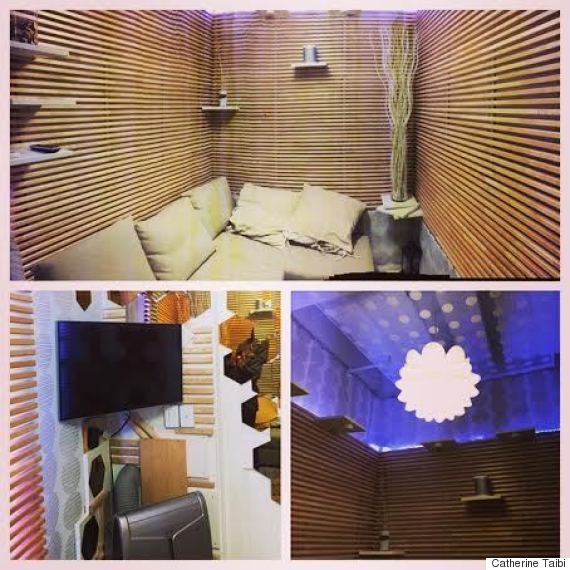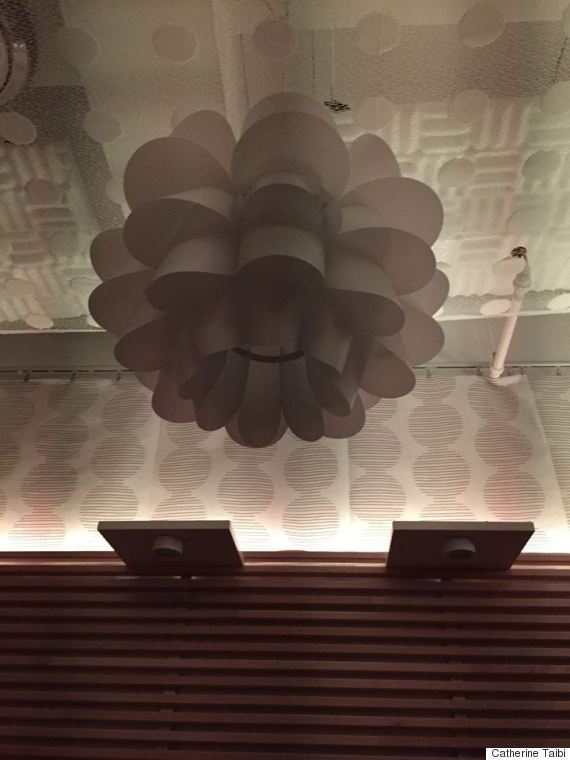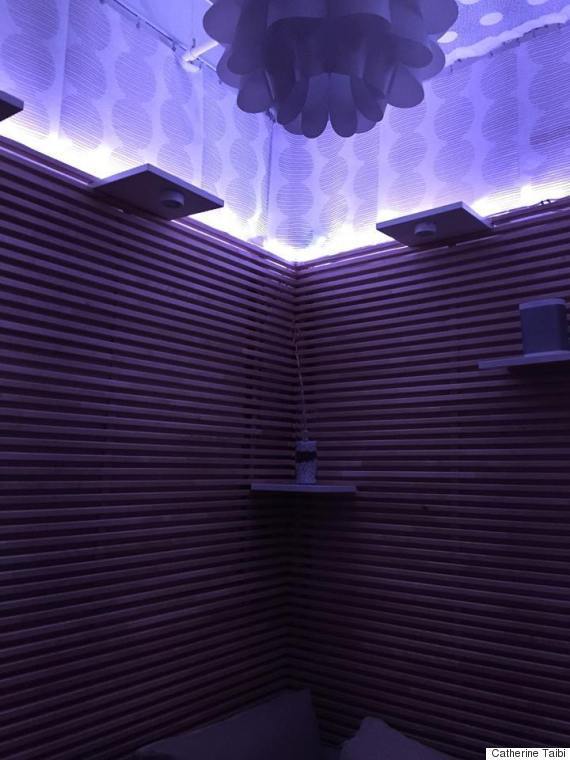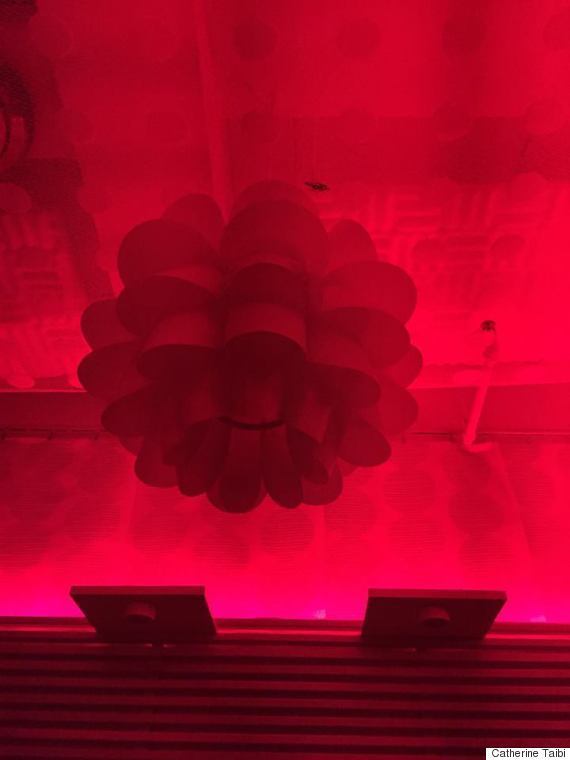 At Forbes, Employees Never Go Hungry
At Forbes, keeping employees well-fed is a top priority. Each staffer is given a $100 credit per month to spend on anything in the pantry, known as the Avanti market. Choices include yogurt, cereal, hummus, fruit, nutrition bars, chocolate, soda and juices. It helps keep the employees satisfied and energy in the newsroom high.
Forbes reporter Dan Alexander said he loves the program, which has been around for a couple of months.
"After we moved offices, everyone missed the food options around Union Square, but the stocked pantry has been great," he said. "I don't know how I could possibly burn through $100 of snack credits in a month. It's pretty much like having a huge, free vending machine a minute away from my desk."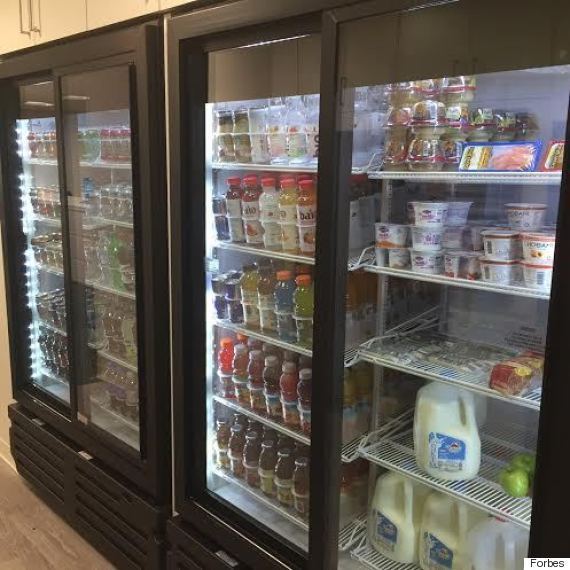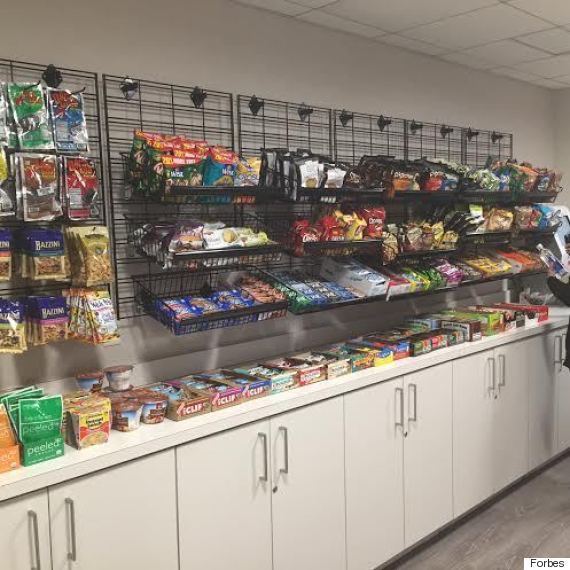 At LinkedIn, Have Happy Hour In The Office
Located in the Empire State Building, LinkedIn's office has a perk you don't even see at first: It has its very own speakeasy. Yes, you read that right.
New as of March, the speakeasy is hidden behind a wall of ringing telephones, and you can only enter if you pick up the correct phone to unlock the door. LinkedIn senior editor Flo Iriondo said that it's now one of her favorite spots when she needs to step away from her desk, recharge and connect with co-workers.
"We are all excited about this recent addition to our already amazing offices," she said. "It is a place we can have meetings or stop by after work."
The speakeasy is one of the aspects of LinkedIn that leads to strong connections between staffers, Iriondo added. Allowing employees to spend time together inside the office but away from the demands of the job creates a special bond and mutual respect between groups.
"The camaraderie in the editorial team is so real, it is almost tangible," she said.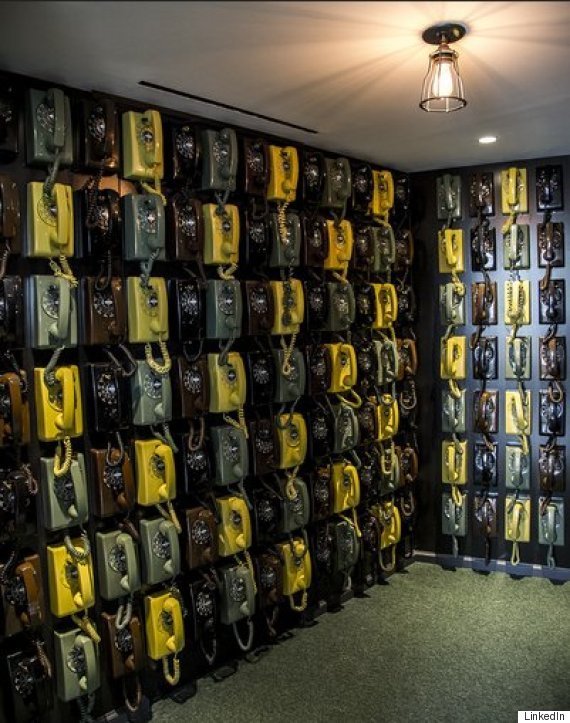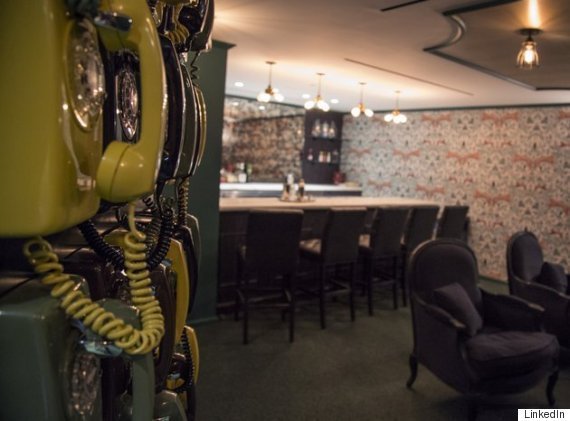 At The Huffington Post, Relax And Recharge
We couldn't talk about newsroom design trends without touting our own digs.
At HuffPost, Editor-in-Chief Arianna Huffington has made taking time for yourself a priority. It's all part of Huffington's goal to "prevent burnout." Writers and editors can take a quick snooze in one of the New York office's nap rooms, find some peace in the meditation room, join a weekly restorative breathing class and recharge in one of the many massage chairs scattered throughout the office. Couches and hammocks also flank the open newsroom's rows of desks.
"Our two nap rooms were met with skepticism and reluctance when we installed them in the spring of 2011," Huffington said. "Many were afraid their colleagues might think they were shirking their duties by taking a nap. We've made it very clear, however, that walking around drained and exhausted is what should be looked down on -- not taking a break to rest and recharge. And now our nap rooms are occupied most of the time."
Staffers in New York and D.C. can also attend in-office yoga classes during the week.
Amber Ferguson, an associate politics video editor, said that when she attends class, she feels "more focused and energized" for the rest of her day. Arthur Delaney, a senior politics reporter, said he visits the yoga room several times each week to recharge his mind.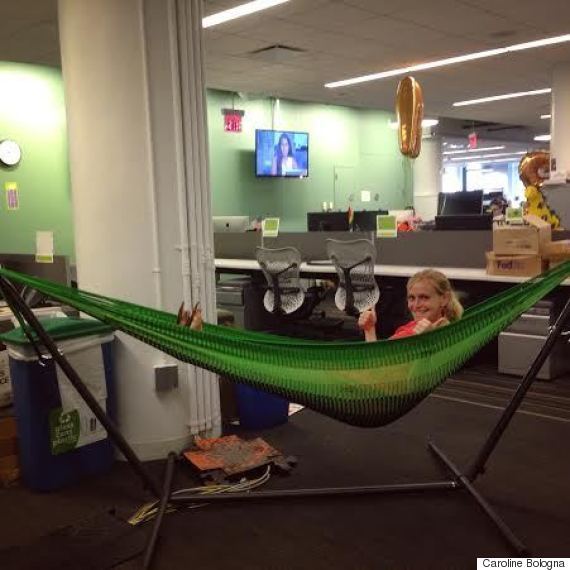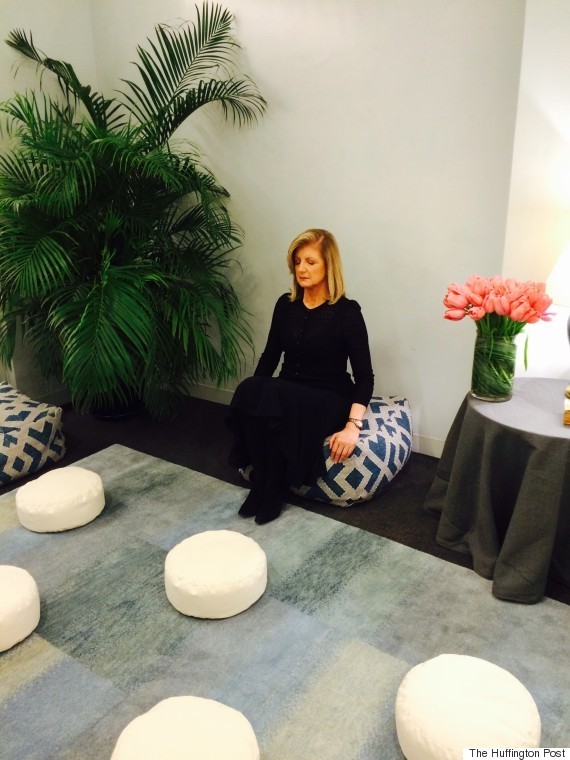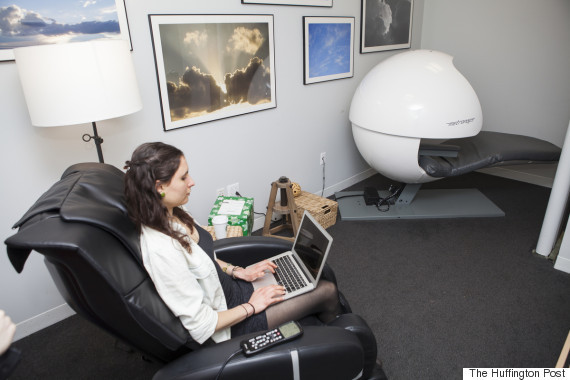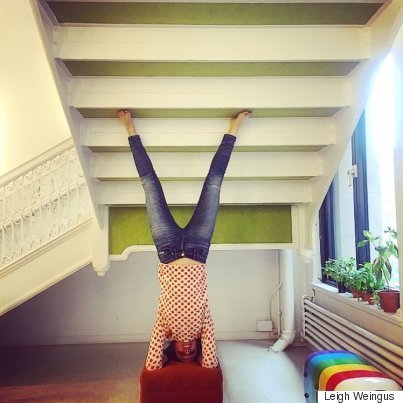 Other parts in this series:
Related
Popular in the Community