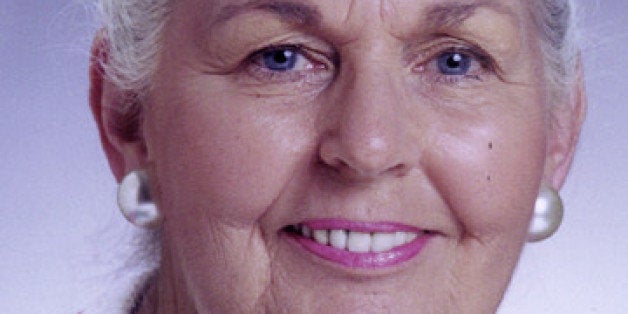 Sometimes, even in death, the best person to get the job done is yourself. We figure that's what led Margaret (Marge) Aitken Holcombe to write her own obituary, and when reader Pam Gallagher sent it to our attention, we had to agree that this was The Best Obit. Ever. Many thanks to The Island Funeral Home in Hilton Head Island, S.C., for its permission to publish this.
Here's what Marge wrote: "I died at Hilton Head Hospital from a wide assortment of ailments on Tuesday, August 12, 2014. When a friend facetiously asked if I was writing my obituary before or after I passed away, I told her "Carol, I know my limitations.
I was born in Paterson, N.J. to Robert Jr. and Isabella Findlay, Aitken, wonderful parents, on January 20, 1930. It was the era of "Children should be seen and not heard" and my sister Heather and I were thought to be deaf mutes for most of our childhood.
After graduation from Paterson Central High school In January, 1948, I took a "summer job" with N.J. Bell Telephone Co. as a stenographer (who could not type - and never could) and ended my 35 years with them as District Manager, Residence Services. I never thought of giving up my day job to attend college because I was making the magnificent sum of $33 a week. With the help of that lavish salary and a couple of scholarships, I was relieved - make that worn out -that I did graduate in four years with a Rutgers BA in social studies with highest honors. I did this by concurrently attending Fairleigh Dickinson, Fordham and Rutgers Universities while holding down a full time job. I hope you won't think me otiose. (I always wanted to use that word.)
When we retired to the Island in 1984, I volunteered for the Hilton Head Orchestra League, was President of the Port Royal Racquet Club, and served on the Hilton Head Hospital Auxiliary Board. I chaired the hospital's 1990 Charity Ball and also chaired fund-raising dinners for the hospital. As a board member of the Friends of Hilton Head Library, I initiated the ongoing Book Break series and chaired the 2000 and 2001 events. And you thought I was just another plain face, but very wrinkled.
At the hospital, my volunteer job was to prepare the production reports for one department which I did for 20 years and was just getting the hang of it, when catastrophe struck. I had worked out the calculations by sliding counters along rods on my abacus. One of the important hospital staff spied this little old lady happily working her ancient tool and didn't feel that it quite projected the image that our hospital wanted - a high tech facility fast-forwarding into modern times. In short order, the abacus was gone (I think to the Smithsonian) and the reports were outsourced to India.
I enjoyed my life and want to thank some of those that made this possible. Topping the list is family and close survivors, the most important, my husband Jack, was always my knight in shinning armor - well, actually my knight in tennis shorts, but for a romantic spin, I'll go with the armor. He was taken from me suddenly in April, 2014; he'll live with me forever.
Surviving is my sister, Heather (Emil) Scaglione of Lavallette, N.J. She is funny, warm, overly generous and the best sister, bar none. My adored nieces are Susan (David) Helterban of Sewell, N.J.; Patricia (Robert) O'Herlihy of Ridgewood, N.J.; Roberta Tomlinson of Lavallette, N.J. I'm fortunate to have a special cousin, Dawn (Kurt) Eigenmann of Sun City and lucky, to have inherited stepson, Jon (Charlotte) of Medford, N.J. and stepdaughter Lisa Holcombe of Santa Cruz, California. Lighting up our lives were our "adopted daughters", Beverly Maloney and Jessica Bevan of Hilton Head. I was blessed with an angel who became my friend and caregiver, Elaine Kellmen.
Carol Mueller of Hilton Head gave new meaning to the word "friend". She was my personal shopper for everything from greeting cards to clothes. She brought lunch every week and encouraged me to socialize, exercise and get well, generally making a pest of herself. (Kidding, Carol.) I don't know what I would have done without her and thank goodness I never had to find out.
I am beholden to Burke's Main Street Pharmacy for letting me use their store as a meeting place with old friends; it was the center of my social life. David, the younger and more handsome (his words) and Tim, the older and more intelligent (his words) of the brothers Burke would ask "Can we help you or would you just like to wander aimlessly?" I chose the latter and came to know their stock better than they did. Our condo looked like Burke's Annex; I had everything from a simple cane to a wheelchair. When we moved, Burke's sent my prescriptions right to my door at Seabrook and their friendly delivery man's knock became the highlight of my day. We're talking mad social life here.
The Seabrook was a godsend. The services they offered were perfect - I didn't have to leave the premises. The professional and helpful staff, the friendly atmosphere, makes it a special place. But the jewel of Seabrook is the food, for this "World's Best Worst Cook" to have the island's ultimate restaurant available each evening was beyond my wildest dreams. My waistline, if you could find it, was testament to Seabrook's cuisine.
I'm thankful for the uplifting courses offered by Life Long Learning of Hilton Head Island. I joined LLHHI because just being among them made me seem more intelligent that I was - an easy task. This organization advertises that the courses, are taught by our peers - my peers they weren't - not even close.
Before coming to the Island, the only thing I wrote were checks. Then the Island Packet, in 1996, asked for comments on how to unclog traffic problems on Rt. 278. I sent in a column that suggested, humorously, that the solution was for drivers to make Right Turns Only." Thus began a 12 year "career" writing a monthly humor column for the Packet. Fortunately, my editor was David Lauderdale.
Not only is he a talented writer and a superb storyteller, but more importantly a good man. In case I make a return trip here, I want to cover all the bases.
As a surprise for our 35th wedding anniversary, my husband published my first 84 columns in a book titled, "May All Your Turns Be Right Ones." I never made left turns; it took a little longer to get places, but it cut down on the agita. The Hilton Head Rotary Club marketed the book with all proceeds going to their project of building a new home for Deep Well.
Then for my 80th birthday, my spouse had the remaining columns set in a book, cleverly titled, "May All Your Turns Always Be Right Ones." Again, the Rotary club sold the books with the monies designated to building a new home for Memory Matters. At a Rotary meeting we were invited to attend, Jack and I were shocked and surprised to be presented with a Paul Harris fellowship. We were honored and humbled being aware of how infrequently these fellowships are awarded to Non-Rotarians, I likened it to be second only to receiving the Congressional Medal of Honor. Thank you Hilton Head Rotary.
In 2012, The Girl Scouts of America celebrated their 100th anniversary. Being a Girl Scout added so much to my life. I was honored to be a scout and absolutely thrilled to spend three summer weeks each year at Camp Te Ata in upstate New York. My husband was fascinated when I explained that one of our projects was to start a fire in the woods and heat some stew ingredients (don't ask) in a tin coffee can. It was a meal to die for, which I'm certain, some campers did. Strange, I never had one request for the "Camp Te Ata" stew recipe.
Everyone thinks that his or her doctor is the best, but I win this contest hands down. My oncologist, Dr. Gary Thomas, who, by the way is a dead ringer for the comic actor, Jim Carrey, is a credit to his profession, and a source of strength to his patients. His staff of angels is incredible. When he called Jack and me to his office to confirm the diagnosis of multiple myeloma, my husband asked if we would see any physical changes in me. He answered, "She'll probably grow a tail" - Jim Carrey cold not have quipped it better. Luckily, Veronica's Secret assured me that their back-slit hostess skirt was ideally suited for my condition. What a relief.
Dr. Michael Platt, my ideal primary physician for over 20 years is the kind of doctor everyone wishes they had. He is a warm, caring man who takes time with each patient; a superb diagnostician and an all-around good human being. For all these reasons, I call him "Dr. Perfect," (I'm sure he's thrilled with that title). Aware of my limited mental capabilities, he scheduled extra time for my visits. Dr. P spoke slowly, drew diagrams using simple stick figures and demonstrated my problem with the full-figured skeleton to help me out. His nurse, Barbara, was always patient and kind. I couldn't have been in better hands.
A big hug to Dr. Dorian Colorado and the wonderful staff at the Animal Care Clinic. When our 14 year old Cocker Spaniel, Mr. Chips, was failing, Dr. Colorado took him to her home so he would be surrounded by familiar faces and fed him bits of his favorite food. She summoned us to her clinic on a Sunday so the three of us could say our goodbyes with loving last kisses from Chips AND she delivered her first child the next morning. I told Dr. C that when my time comes to be "put down", she has the job.
The delight of our later years is the already named Natalie-Love-Bug (don't you love it?) a friendly, huggy-kissy cocker spaniel.
Because our pets give us unconditional love and enrich our lives, I would be honored to have donations made to the Hilton Head Humane Association, P.O. Box 21790, Hilton Head Island, SC, 29925 or Hospice Care of the Lowcountry, PO Box 3827, Bluffton, SC, 29910.
I've had a wonderful life and thank you to all who made it so.
Marge's self-written obit isn't the first one, of course. In June, actor James Rebhorn, who died of cancer at age 65, left behind an obituary he penned himself. Titled "His Life According To Jim," it appeared originally on his church's website. It quickly went viral, leading some to wonder if self-written obituaries weren't the way of the future.
Note: This obituary is posted as it was originally written and published. It may contain grammatical and spelling errors, but we have chosen to leave it unedited, to stay true to the author's words.
Related