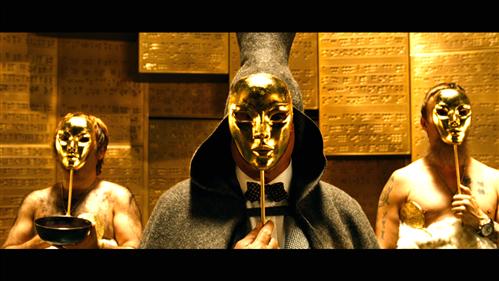 [Generation P, courtesy Generation P, LLC]
The 23rd presentation of the Palm Springs International Film Festival, concluded January 14, presented 188 films from 73 countries, including 40 of the 63 foreign language offerings for the Academy Award. But as is often the case at this top showcase for foreign films, some of the most creative work is not yet nominated, nor even distributed, but most deserving of discovery.
Generation P [Russia/USA, dir. Victor Ginzburg]Virtually indescribable, visually awe-inspiring and philosophically rich, Generation P is a magnificent, surreal social satire that lays into the collapse of the Soviet Union, as its protagonist (Vladimir Yepifantsev) finds the use of psychedelics and ancient wisdom are keys to revolutionary TV advertising and marketing. But far outstripping the concepts of a film like Wag the Dog, Generation P's multifaceted world takes on not just the Russian oligarchs but the very nature of reality with lacerating wit. Expatriate director Victor Ginzburg's thrilling initial feature film has been seen by more than a million of his countrymen. He exhibits a stylistic genius equal to a Gilliam or Fincher in the process.
Perfect Sense [UK/Germany/Sweden/Denmark, David Mackenzie]David Mackenzie's Scottish coming-of-age film Mister Foe made a major impact at PSIFF in 2007. Here, he creates a powerful apocalyptic romance, as Ewan McGregor is a chef who falls in love with epidemiologist Eva Green, who is helpless to stop the worldwide virus that strips all people of their five senses. Despite the inevitability of the storytelling, there are unexpected grace notes of beauty before the ravaged world loses its taste, hearing and finally vision.
Turn Me On, Dammit! [Norway, Jannicke Systad Jacobsen] Winner of the Best Screenplay, Tribeca and Best Debut Film, Rome, this is a quirky and offbeat sex comedy that shows exceptional taste, nevertheless. Helene Bergsholm charmingly plays a 15-year-old girl whose hypersexuality forces her to fantasize about those she likes and those who just seem to be nearby. Writer-director Jacobsen catches the oddball Nordic quality of life in a small town with utter aplomb and heart.
Monsieur Lazhar [Canada, Philippe Falardeau]A heart-rending tale of an Algerian refugee (the single-named Fellag) who as a substitute takes over a Parisian elementary school class in which the previous teacher hung herself in the classroom. Falardeau's lovely cast, especially his children, are spot-on, in this particularly popular Palm Springs title. As winner of the Audience Award at Locarno and Best Screenplay and FIPRESCI prize at Valladolid, Monsieur Lazhar has a bittersweet and most affecting end for its lead character, underplayed perfectly by standup comedian Fellag with considerable depth.
Pina [Germany, Wim Wenders] To hell with 3-D comic book films. A dance performance-documentary about the legendary German choreographer Pina Bausch is the perfect reason for three dimensionality. Bausch died before Wim Wenders could begin this work about her Tanztheater Wuppertal but it is a great gift he carried on with the troupe. Using unique locations, including outside under an elevated train track or inside a studio with running water and an enormous boulder that figures into the dance, Pina is a tremendous celebration of an artist's life and the expansion of the art form of dance.
Tatsumi [Singapore/Indonesia, Eric Khoo]An animated feature of the work and life of Japanese artist Tatsumi Yoshihiro, who is credited with inventing the manga style of art called gekiga in 1957. Black and white versions of his touching stories are counterposed with color segments utilizing the late artist's actual voice. Eric Khoo's highly unique approach to the documentary form proves that Tatsumi was as gifted a fiction writer on post-WWII Japanese society as he was a visual artist.
If I Were You [Canada/UK, Joan Carr-Wiggin]Marcia Gay Harden won the Oscar for her portrayal of Lee Krasner in Pollock but the delightful If I Were You is an important reminder that she is not only one of our most gifted dramatic actors, but also a brilliant comedian. Writer-director Carr-Wiggin has mined a plethora of hilarious lines in this story of a cuckolded wife (Harden) who stops her husband's lover (Leonor Watling) from committing suicide, doesn't reveal her identity and makes a pact to have each of them tell the other how to live. Watling's dizziness is a perfect foil for Harden.
Michel Petrucciani [France/Germany/Italy, Michael Radford]Michael Radford seems capable of directing anything well, considering, among others, Il Postino and Nineteen Eighty-Four. Here, he has assembled a loving and fascinating tribute to three-foot-tall, French jazz pianist extraordinaire, Michel Petrucciani. The doc captures his remarkable spirit in overcoming physical pain and easily broken bones from glass bone disease, his rambunctious wit and irrepressible nature and uncontrollable lifestyle, which tragically expedited his untimely death at age 36.
The Woman in the Fifth [UK/France/Poland, Pawel Pawlikowski]A psychological thriller that is gorgeously lensed by cinematographer Ryszard Lenczewski, this ghostly work introduces an American writer with one novel to his credit (Ethan Hawke). He tries to reconnect with his ex-wife and daughter, but a previous jail term for an undisclosed crime prevents him. His relationship with a mysterious and worldly woman (Kristin Scott Thomas) in Paris's fifth arrondissement may exist in reality or in his tormented mind, via Pawlikowski's hypnotic feature.
Rumble of the Stones [Venezuela, Alejandro Bellame Palacios]The Oscar submission from Venezuela, in its US premiere, rose far above the typical story of urban poverty in South America. Palacios puts a seemingly unbearable burden on his female protagonist (Rosanna Fernandez Diaz), who has no husband, and tries save enough money to leave the perils of Caracas, with a teen son drawn to gang violence and a younger boy who resents her hiding the story of the death of another sibling. Great poetry in its dialogue and symbols makes this feature a most special treat.
Apartment in Athens [Italy/Germany, Ruggero Dipaola]Admirably, this tension-filled take on the Nazi rise power feels completely different from that oeuvre. In occupied Athens in 1941 a Nazi captain (Inglorious Basterds' Richard Sammel) decides to have a husband, wife and two children wait on him while residing in their apartment. But a son who resents his kindly, educated father's acquiescence may well force a fatal twist in that family's future. As the mother who desperately tries to protect her loved ones from a dark power beyond her control, Laura Morante is at the top of this great cast, in a film that brought Dipaola the Young Italian Filmmaker Award at Rome.
The Girls in the Band [US, Judy Chaikin]Documenting the overlooked history of jazz's greatest women, from pre-World War Two to the present, director Judy Chaikin expertly weaves archival footage, modern performances and interviews to portray the changing historical context of the women who, despite racial and sexual prejedice, show that they've got the chops. The film tied for the Audience Award at Palm Springs.
Vito [US, Jeffrey Schwarz]While distribution of many of the aforementioned films is not guaranteed, American viewers can keep there eyes on Home Box Office for the airing of this powerful and important doc about early AIDS activist and film historian Vito Russo. With appearances by Lily Tomlin, Armistead Maupin and Larry Kramer, among others, we learn how Russo's book and lecture series on gay and lesbian identity in American film, The Celluloid Closet, and his relentless pursuit of funding for the AIDS pandemic, despite the Reagan administration's refusal to acknowledge it, helped changed history. Schwarz's excellent documentary raises hackles about intolerance and a lump in the throat for Russo's courageous life.
Related
Popular in the Community