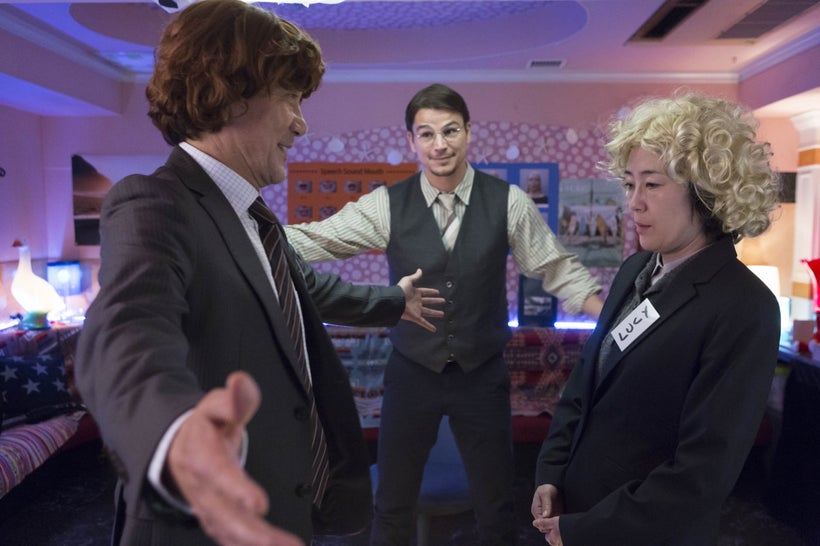 Foxtrot (Israel) Dir. Samuel Maoz
It was a banner year for Israeli films, as evidence by a triumvirate of memorable offerings at Palm Springs. Foxtrot, winner of the Silver Lion at Berlin and eight Israeli Academy Awards, features the stunning work of actor Lior Ashkenazi (Norman), as the father of an Israeli soldier. The father rages out of control when told his son is dead and then, later, that he is still alive. Maoz balances the Kafkaesque humor with the crushing reality of familial loss.
Maktub (Israel) Dir. Oded Raz
It's not every day that you see a comedy that includes a suicide bombing. Guy Amir and Hanon Savyon, two of Israel's top comedy writer-performers, win us over as bumbling Jerusalem mob enforcers who decide to be decent and honor the wishes of those who place notes in the Wailing Wall. Cross-dressing and lusting after your partner's woman are just part of the big-hearted surprises of this offbeat delight.
The Cousin (Israel) Dir. Tzahi Grad
Grad plays a leftist reality TV producer who hires a Palestinian handyman who is then falsely accused of molesting a local girl. Grad's script escalates wonderfully into social chaos as political lines are drawn sharply, putting the Israeli-Palestinian struggle into a new and engrossing context. Grad as triple threat is extremely impressive and subtly weaves humor into this marvelous offering that keeps us guessing to the very end.
Oh Lucy! (Japan/US) Dir. Atsuko Hirayanagi
Shy, generous Setsuko (Shinobu Terajima) falls in love with her English teacher (Josh Hartnett) who is visiting Japan. Wearing a wig and subsuming her identity into the overly aggressive Lucy, she winds up in San Diego, pursuing an impossible affair of the heart that involves a bitter sister and runaway niece. Oh Lucy! is as outrageous as it is movingly hilarious and Terajima is an actress with subtle but undeniable command, every moment she is onscreen.
So Help Me God (Belgium/France) Dir. Jean Libson, Yves Hinant
Belgian investigating magistrate Anne Gruwez is the subject of this one-of-a-kind documentary. Gruwez, who both rules upon and researches violent crimes, is the ultimate quirky judge. Living alone with a white rat, her life is dedicated to her work, which is at times administered with dark humor. Whether daring an aggressive defendant to attack her and test her martial arts skills or comforting a mentally disturbed woman who murdered her own child when he appeared as a demon, Gruwez is fascinating, captured perfectly by the directors.
The Art of Loving (Poland) Maria Sadowska
An enobling, uplifting biopic on the life of Michalina Wislocka, a Polish doctor and sexologist who battled not only patriarchy but Communism with a book that inevitably sold 7 million copies, The Art of Loving. Sadowska's film spans thirty years of Wislocka's life, including her own failed marriage and the love triangle that doomed it. Magdalena Boczarska plays the doctor with great verve and compassion.
The Summit (Argentina/Spain/France) Dir. Santiago Mitre
Mitre's political thriller defies all expectations, for the Argentine president (Ricardo Darin from The Secret in Their Eyes) at a major summit of South American rulers, has a hidden agenda that is manipulated by not only his fellow politicians but also a treacherous US State Department official (Christian Slater). This is not typical Hollywood fare, to its credit, as Mitre suggests slyly that his protagonist, while seeming compassionate, may be capable of the most despicable acts, smoothly disguised.
Sex, Pity and Loneliness (Germany) Dir. Lars Montag
Montag's feature debut is a remarkable interweaving of thirteen characters, which sometimes elicits gasps and at other times guffaws. The engagingly complex tale includes a business that recreates the client's room, where relationships fell apart, so that it can be destroyed in anger, and a woman who hires hustlers to satisfy her but can't seem to get along with them. One cannot help but wonder what wild scenario the gifted director will come up with next, one of the main reasons one searches out new foreign films.
Calling all HuffPost superfans!
Sign up for membership to become a founding member and help shape HuffPost's next chapter
This post was published on the now-closed HuffPost Contributor platform. Contributors control their own work and posted freely to our site. If you need to flag this entry as abusive,
send us an email
.