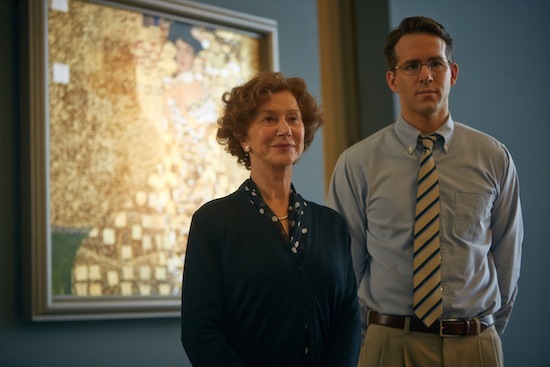 Helen Mirren and Ryan Reynolds in Woman in Gold, photo by Robert Viglasky, courtesy of The Weinstein Company
In his director's statement for the stunning new film Woman in Gold, which world premiered at this year's Berlinale as part of their Special Gala line-up, Simon Curtis writes "the film is about identity and asks the question, are you where you're from or where you are?"
The synopsis of the film in the press kit by The Weinstein Company goes on to describe their co-production with BBC Films as one woman's journey to reclaim Gustav Klimt's iconic Portrait of Adele Bloch-Bauer I, stolen from her family in Vienna by the Nazis. And yet, I personally felt such an intimate connection, such strong feelings and overwhelming emotions that I think the film is about so much more. Not that the original premise isn't reason enough to feel shame, anger and a sense of doom for things to come in the world anyway but Woman in Gold is about displacement, that idea that childhood is not a geographical place and our constant search for days past, to right the wrongs we felt and reconnect to our youth.
I may not be in my late 80s, as Maria Altmann (played by Helen Mirren) was at the time of the ordeal she went through to recover the stolen artwork, which had been hanging at the Belvedere Museum in Vienna, yet I still felt a sense of time past, of misplacement and displacement. A kinship with the film, its heroes and the victims of the Holocaust.
My family history does not include Holocaust survivors, or worse, its victims, yet my kinship with their exodus, their persecution is unavoidable. My own grandfather Hans Rothe received a 24-hour warning that the Nazis were ready to arrest him, for his likening Hitler to the worst Shakespearian villains in his translations and theater productions. It's a source of immense pride in my family, this act of artistic resistance on his part and perhaps the reason a film about injustice will always hit a nerve, and travel straight to my heart.
Yet Woman in Gold is definitely more than just a personal journey. It's a beautifully filmed, magnificently acted (by an ensemble cast that includes Ryan Reynolds, Daniel Brühl and even the filmmaker's own wife, Elizabeth McGovern, in a perfect cameo) and perfectly directed true work of art of a film. A film showcasing the past, celebrating the present but also giving us insight into the future. As Curtis so aptly pointed out during our interview in Berlin, the film is "a timely reminder that anybody picking on anybody for their race or religion is a very bad idea."
Woman in Gold is produced by David M. Thompson and Kris Thykier with a script written by Alexi Kaye Campell.
Below is the rest of my conversation with Simon Curtis, a man both insightful and kind, a true cinematic gem.
What do you feel is the central theme of your film, now that you've achieved the finished product?
Simon Curtis: One of the themes of the film is a love letter to America's policy of immigration. An elderly woman who is herself an immigrant to America, having escaped Vienna, teams up with the grandson of another émigré from Vienna in America to take on this campaign to right the wrongs of the past. Is Maria in her 80s or 90s having lived in California for most of her life, an American or a Californian or is she a Viennese and an Austrian?
In some ways, it's the story of the Twentieth Century because we could argue that Vienna in the beginning of the century was the hotbed of all these interesting, complicated ideas. It was the discovery of the unconscious, it was arts and science and music and architecture all merged together... And then you could equally argue that Los Angeles was the city of the culture at the end of the Twentieth Century, and somehow Maria embodied that journey -- starting at one end of the century in Vienna and ending the century in Los Angeles.
Were you at all afraid that people would say, "oh no, not another film about the Holocaust?"
Simon Curtis: No, because for me there are very few Holocaust movies that are set in the now. And I believe this is a story that hadn't been told before.
Where do you typically get the inspiration to make your movies?
Simon Curtis: With My Week with Marilyn, I read the diaries the film is based on and that gave me the idea and in this case it was seeing a documentary [about these events], and I just thought, there's a film in that, a dramatic film that can take you into rooms where the documentary can't take you, to tell that story.
You address displacement in such a perfectly subtle way in your film, I have to ask, what is your own background?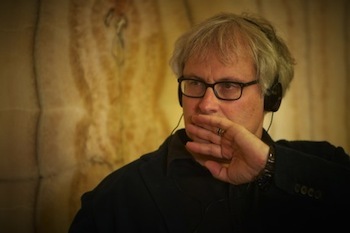 Simon Curtis: I've grown up in a Jewish family in London and my grandfather's family came from Poland, so that's in my blood but I've had the best of both worlds. That's in my blood and yet I've grown up entirely in London.
Did you always have Helen Mirren in mind to play Maria?
Simon Curtis: No, absolutely didn't. Obviously when you're casting a woman of Maria's age there's a list of actresses you can go after, all of whom, I'm lucky to have worked with and have relationships with. But Helen is very special to me. The first thing I ever did was as an assistant director on a production of Measure for Measure that she was in, in the 1970s. So I'd known her in that way and I used to make her coffee and help her with her fan mail, and that's pretty much all I did on this film as well with her...
What are the basic difference in directing for the theater and for a film?
Simon Curtis: Well directing for theater is all about helping an actor create a performance that can be repeated, night after night; in film it's all about helping an actor create a performance that lives for a moment and then disappears. I think of myself as very actor-centric as a director. I'm really proud that the ensemble in this film is not only the main actors who are great but even people who turned up for a day seemed to be great and I'm very proud of that.
I like to be very ambitious with my casting too and I call in a lot of favors. Like Jonathan Pryce, playing the Chief Justice. He said to me you know, "I've been offered "cough and a spit" but this neither a cough nor a spit," but I managed to get him to do it.
Why should this film be viewed, today?
Simon Curtis: For me, right now, where we're sitting here, antisemitism is being discussed all over the world, so it seems to me a very timely moment to release the film. To remind people of the perils of picking on any race or religion. It's not a German issue -- it's a worldwide issue. One of the most depressing things about this new century we live in is we don't seem to appear, as humans, to have learned the lessons of the Twentieth Century.
Have your daughters watched the film yet?
Simon Curtis: They have. For me it's a love letter to family. Cherish your family, you don't know where you are heading. So it's important for me, for my daughters, they share a love of family and that's what shines through.
Do you always bring a lot of yourself into a film?
Simon Curtis: Well, I want to. I look for projects where I can do that. And I hope and I did try, obviously it's about serving the script first and foremost, I do like to bring stories that I can empathize with. This film is unlike anything else I've ever done, I was in the moment so often. Do you know what I mean? I mean it's difficult to feel what Marilyn Monroe could feel in that moment but this... I always sort of had an instinct for.
I think that's why it is so successful for your audience!
Simon Curtis: I'm glad you say that. But there is a parallel with Marilyn in that Randy [the character played by Ryan Reynolds], like Colin Clark, both of them unexpectedly get this golden ticket to go on this journey into this world and I suppose I empathize with that too because I feel I've been so lucky to get into, make these films.
What are three words that describe you?
Simon Curtis: Hopefully, passionate committed and funny.
All images courtesy of The Weinstein Company, used with permission.
Popular in the Community