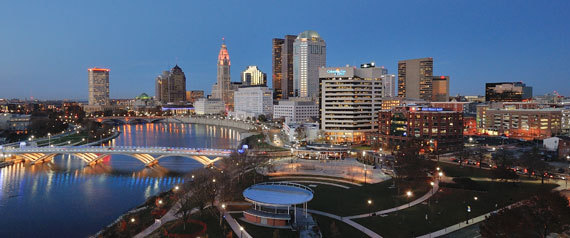 Location matters. For many liberal arts colleges, which tend to be located in rural (and, often, struggling) communities, this can be a significant challenge. For those of us who are fortunate enough to be located in a thriving metropolitan region, the question is, "What can we do to make sure our location is enhancing our students' experience?"
Denison University is an interesting case study. Over the last decade, our location has actually changed. No, we did not move the college--it is still located in the beautiful village of Granville, Ohio. But economic growth and infrastructure improvements in central Ohio have made us a part of the Columbus metropolitan region, creating some exciting opportunities for a liberal arts college.
The biggest factor is the most obvious one: Columbus has grown. It is now the 15th largest city in the nation, with a fast-growing technology sector, the largest entrepreneurial-maker space in the country, a plethora of colleges and universities, the state capital, and a balanced economy with a range of globally oriented businesses, including the headquarters of some of America's wealthiest corporations. Last month, MONEY named Columbus No. 3 on its list of best cities for millennials, based on job growth and quality of life. Mother Jones recently published an article entitled, "Forget Brooklyn. Could Columbus Be the Next Hot Millennial Enclave?" Last year, Forbes named Columbus its #1 Opportunity City. And that is just the short list of accolades.
Much of this economic explosion has taken place on the geographic side of the city that is closest to our college, so we are only 15 minutes from some of the fastest growing areas of the region. And now a new highway has reduced travel time to the heart of downtown Columbus to just 30 minutes.
In other words, we are suburban. And it all happened so quickly, so organically, that it almost crept up on us. So what does this mean for Denison, and, by extension, for other colleges that find themselves in regions that have changed?
First and foremost, we had to realize that the implications are huge. Realtors say, "location, location, location," for a reason. Just like for homebuyers, location is a critical metric for prospective students and their parents. Most young people want to be in places that feel vibrant and alive. They like energy and opportunities. And as a national college, with students who hail from places across the country and around the globe, it matters that we have a major airport about 20 minutes away. At the same time, students who are drawn to a liberal arts college like the intimacy of small classes, personal attention, and a community where people know your name. Being a college on an idyllic campus that is part of a major metropolitan region puts us in the best of both worlds.
From that point of recognition, we started examining how the city could play an important role in the Denison experience:
1. Columbus as a destination place. Campus will always be the hub for liberal arts students. Friendships matter, and we tend to attract students who want to hang out together. But options are healthy. On the entertainment front, Columbus gives students access to more concerts and performances; professional sports teams; restaurants, movie theaters and a constant stream of festivals and other cultural activities. Last year, we entered into an agreement with Enterprise. We now have rental cars on campus, available by the hour, so students can easily rent a car for jaunts into the city with friends.
2. Columbus as a laboratory for student learning. This is exciting work that is linking the city to the classroom. Liberal arts colleges are known for using more engaged teaching methods. Some of our faculty have been taking students into the city for years, including a few who are part of grassroots organizations engaged in the arts and community work. This has created interesting interactions with centers for the arts and scientific discovery, and new opportunities for civic engagement, like working with Columbus' Somali population.
But as Columbus has grown, we have had a chance to think more strategically about how to bring the city to our campus. For example, we are making a huge push on behalf of the arts. As part of this work, we are arranging residencies with arts organizations that are headquartered in our region. Last year, our theatre department invited the Columbus-based Available Light Theatre to do a residency on campus, which included master classes and co-writing and producing a play with students. And we just received significant funding to develop seminars that will bring our faculty and local arts professionals together in new ways to collaborate, create new classes, and deepen student learning in the arts.
The arts also are taking our classrooms to the stage. For example, our music program has partnered with The Midland Theater in Newark, another of our nearby cities, which gave our bluegrass students the opportunity to open a show for Grammy winner Ricky Skaggs.
3. Columbus as a center for internships and other job-related endeavors. The list of opportunities here is almost too vast to quantify. New Albany, for example, is a Columbus suburb 15 minutes from our campus. Among other major corporations, it is home to L Brands Inc., a Fortune 500 company. And as the global brands in Columbus' metropolitan region expand, they are developing new business parks filled with jobs across the professions, from marketing to communications to finance. To leverage those opportunities for our students, we have added a staff member to our Center for Career Exploration to focus specifically on Columbus internships, including opportunities that take place during the academic year.
A related opportunity exists for our students interested in entrepreneurial ventures. Rather than create a make-believe laboratory (which is the only option on many campuses), we have been able to partner with Tech Columbus and other organizations to explore ways of providing mentorship to students, so they can pitch directly to investing circles and venture firms that are popping up across the region.
4. Columbus as a place to explore global issues. Around the world, people are migrating to large metropolitan regions. In many ways, these regions have become "where the action is." Columbus is no exception. Major initiatives are underway to develop everything from a regional food system to new approaches to education and public health. Not surprisingly, we have faculty, alumni, parents and staff involved in these efforts, giving our students opportunities for a front row seat to major global issues that are playing out in our community. As we make these initiatives more known on campus, students are connecting to them through research papers for classes, independent studies, co-curricular projects and myriad other ways.
For example, a focal point is the revitalization of downtown Newark. We are in the early phase of a multi-faceted partnership on projects to revitalize Courthouse Square and surrounding area. All of this is providing incredible opportunities for students to put their liberal arts skills to use in ways that deepen their education.
It is all a process of reimagining our location. Unlike most organizations, colleges are rarely in a position to move. The location we have is the location we get. And too often colleges are solely focused on what goes on inside their walls, not recognizing the countless ways the local community can enhance student education, just as our students' off-campus involvement can--and should--enhance our communities. All of this is a work in progress, but our hope is simple and clear: in the next few years you will be able to ask any student on our campus about Columbus, and they will be able to tell you how our "big city next-door" has benefited their educational experience at Denison.
Calling all HuffPost superfans!
Sign up for membership to become a founding member and help shape HuffPost's next chapter