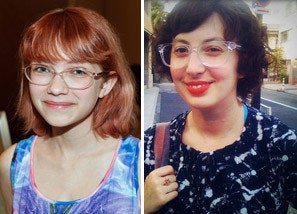 As 2010 draws to a close, we asked some of Chicago's experts in food, style and music to share their favorite places, people and things of 2010. Yesterday, HuffPost blogger and 312 Dining Diva Audarshia Townsend rounded up her picks for the best restaurants and bars of 2010. This week, look for local music picks from CHIRP DJ and Steve Dahl Show producer Pete Zimmerman, the best Chicago theater of the year chosen by Hannah Fenlon and Elana Boulos of Two Birds Casting and the top local news stories of the year from the HuffPost Chicago staff.
While Chicago is often overlooked in the fashion world, one very bright 13-year-old from suburban Oak Park has proven that the Midwest is no style desert. Tavi Gevinson's "Style Rookie" blog has attracted the attention of the media and designers alike. She partially inspired Rodarte's line at Target, and has been featured in the New York Times, Teen Vogue, French Vogue and Pop Magazine.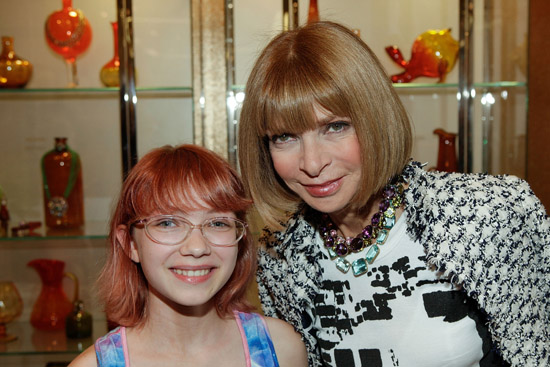 Tavi with Vogue editor-in-chief Anna Wintour. (Getty)
Bathsheba Nemerovski--who happens to be Gevinson's hair stylist--has also attracted national attention. She was named the best women's hair stylist by the Chicago Reader in 2008 and one of Chicago's best-kept secrets by the New York Times after opening Logan Square salon Sparrow with stylist Susan Flaga last year.
Without further ado, check out the local stores, designers, artists and places that inspired Tavi and Sheba in 2010.
Sparrow Salon -- This has absolutely nothing to do with the fact that I'm writing with Sheba, or that Sheba does my hair, or that she outgrows cool dresses and then lets me have them. At all! Just know that Sparrow smells like honey and they're all fun to talk to and you'll walk out feeling like you could totally tie your hair in a knot around a spoon, or whatever those shampoo commercials show as examples of Good Hair. 2545 N. Milwaukee Ave. Chicago, Ill.
Saki -- You'd think that a record store with such a cool and precise selection of indie and punk rock records would make you feel either not weird enough or overly pretentious, but the people working there are too nice and helpful to make you feel anything but on a quest for music to love. 3716 W. Fullerton Ave., Chicago, Ill.
Val's Halla -- Every genre you could want in any form -- vinyl, CDs, tapes, or even shrine (the bathroom is a love letter to Elvis.) Good whether you want to browse or have a specific item in mind. Val will strike up an interesting conversation and sometimes put out a bunch of posters for free. Yesterday I got a great one of RuPaul's Foxy Lady. 239 Harrison Street, Oak Park, Ill.
Fly Bird -- This store makes me wish I had an apartment or any kind of use for devices that dispense toothpicks when you pull a bunny out of a hat. They also have a stellar selection of books and DIY sets and stuff you don't really need but it's just so prettyyyyy. 719 Lake Street, Oak Park, Ill.
The Popcorn Shop -- The Popcorn Shop is literally a hallway -- just a hole in the wall between two buildings -- but you'd think you were in a Willy Wonka contraption while gathering treats from its seemingly infinite, candy-lined walls. Super cheap and hard-to-find candy, like this special gum my Spanish teacher in elementary school used to give out. And delicious popcorn, as one might expect. You could stock up for life. 111 1/4 W Front St Wheaton, Ill.
The House Theatre -- Words cannot describe. I don't care if you don't even like theater. Just trust me on this one. I mean, "The Terrible Tragedy of Peter Pan." Seriously! 4611 N. Ravenswood Ave # 206, Chicago, Ill.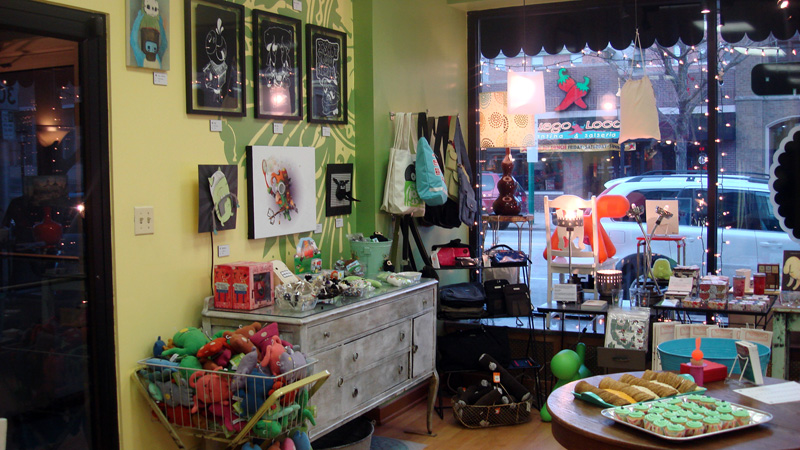 Fly Bird in Oak Park / Photo via OhNo!Doom on Flickr
Shopping Robin Richman -- This store is a magical wonderland full of the most amazing things you have ever seen. Everything Robin carries is beautiful, and the open, airy space is lovely. She carries a lot of smaller designers, such as Gary Graham (one of my favorites) and Marc Le Bihan, the prettiest socks from Antipast, vintage and new jewelry, and small objects that perfectly complement the clothing. One of the most consistently well-curated shops I've been in anywhere on earth, I pretty much want to live in this store. 2108 N. Damen Ave., Chicago, Ill.
Blake -- If you have a credit card you want to max out, or a tax return to spend, this is your store. They are a Chicago institution for a reason. They carry all the big names, Balenciaga, Marni and more Dries Van Noten than you could ever dream of. Be warned though, they don't have a sign, which should tell you something about the place. It's worth braving though, even if it's just to look and touch pieces you usually only see in magazines, and twice a year they have a major sale, where you might be able to score a Marni necklace for a sort of maybe semi-reasonable price. And the salespeople are less scary than you would suspect, they are always quite nice to me even when I'm dressed like a hobo and only buying things that are 70 percent off! 212 W. Chicago Ave., Chicago, Ill.
Penelopes -- Now, when I want to buy something that I can actually afford, I go to Penelopes. Cute dresses from Built by Wendy and APC and Sessun, the best clogs, Happy Socks (I heart you Happy Socks!), art by Cody Hudson, jewelry by Lulu, and lots of little things I want to buy like notebooks and candles and cards, this store makes me happy. And the owners are freakishly nice and cute. It's kind of my go-to store when I need something to wear, like, TONIGHT. 1913 W. Division St., Chicago, Ill.
Asrai Garden -- The best smelling store in Chicago, Asrai is a flower and everything else wonderful store. Anytime I need to buy a present for anyone for any occasion, I go to Asrai. They make the most unusually beautiful flower arrangements, but they also carry creepy-pretty printed porcelain plates with little bugs and birds on them, John Derian decoupage with weird little animals and things on them, the coolest ever terrariums made by the owner Elizabeth and housed in vintage glass vessels, and a million things to make you and your house smell good. 1935 W. North Ave., Chicago, Ill.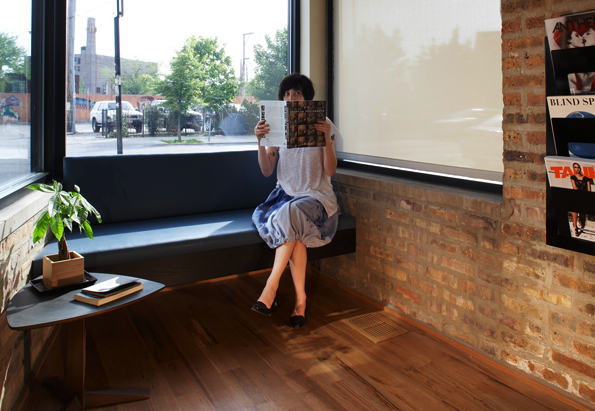 Sheba in her Logan Square salon, Sparrow. Photo by Lucas Blair.
Lisa Kingsley -- Lisa makes handbags that are everyday-luxurious. The shapes are vintage-inspired, and the materials are exotic to say the least (bright orange cobra, metallic ostrich, hand painted lizard), but the bags aren't precious. The totes and doctor bags can fit your whole life in them and live through a Chicago blizzard, and they keep getting better with age. I love my Kingsley bags more than almost anything I own. I really did get rid of all my other bags once I started carrying them. Lisa is also the one of the most creatively inspiring people I know, she's published books of her photography and a cookbook based on her travels in Mexico, made a short film which she's showing at festivals, and is going to start making furniture soon.
Creatures of the Wind -- THE BEST. No one so effortlessly walks the line between cerebral and sexy, which is just where I want to live, like Creatures of the Wind. Their dresses are PERFECTION, with intricate folds and amazing fabrics like the softest mohair and tulle and silk, they are so special and yet look good on all kinds of bodies. Their collections are pretty and interesting, and the stories behind each season are like dark fairy tales. They've recently been featured in Bazaar, W, and WWD, I predict these boys are going to be super duper famous.
Stephen Eichhorn --Stephen makes intricate cut-paper botanical collages that are at once familiar and disorientingly foreign. They appear simple and pretty when you first see them, but they grow more dense and strange the more you look. They remind me of a fantastical alien landscape, I never tire of looking at his work. He is another one that is going to be crazy famous any second now, but it's okay, if you can't afford his collages you'll soon be able to buy a reproduction of his when his Urban Outfitters collaboration comes out next year.
REAL LIFE. REAL NEWS. REAL VOICES.
Help us tell more of the stories that matter from voices that too often remain unheard.