The Palm Springs International Film Festival has grown to such remarkable proportions that over 130,000 people attended its 205 films from 69 countries during the Festival's run of Jan. 6-17. While 41 of the 65 films nominated for the Foreign Film Oscar were unspooled, it was often the movies that were not nominated that impressed this reporter and has him hoping for their domestic distribution so that others might enjoy them.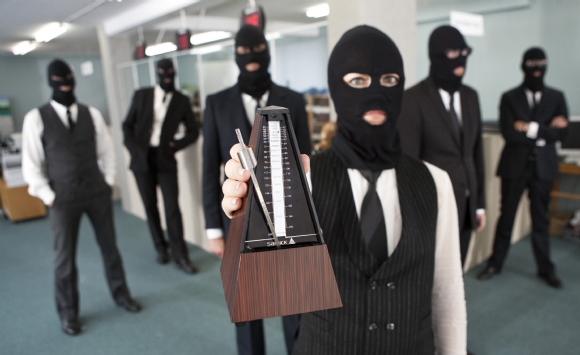 Sound of Noise (Sweden/France/director: Ola Simonsson, Johannes Stjarne Nilsson)
Hands down, the most innovative and imaginative feature, The Sound of Noise takes five actual percussionists and injects them into a loopy but brilliant feature about anarchist percussionists whose outlandish, flashmob public performances turn a city inside out. The only hope to stop them is a music-hating investigator who is sick of hearing how brilliant his symphony conductor brother is. Joyous, unpredictable filmmaking.
Small Town Murder Songs (Canada/Ed Gass-Donnelly)
Variety named Gass-Donnelly to their 10 Directors to Watch list and rightfully so. He has taken a small town murder story made an indelible impression, with the aid of a totally captivating Peter Stormare as a policeman estranged from his Mennonite community for a previous act of violence. When his ex-girlfriend is involved with the main suspect of a murder, the flawed hero of the tale can barely handle the pressure. Bruce Peninsula's powerful soundtrack and a fine turn by Martha Plimpton aids the director of this simple but haunting work.
Louder Than a Bomb (USA/Greg Jacobs, Ron Siskel)
Winner of the Audience Award for Best Documentary Feature, Louder Than a Bomb is the name of the largest youth poetry slam in the world, held each year in Chicago. The filmmakers follow four young people who converge on Louder Than a Bomb with different family stories and a unified need to express themselves. In addition to their moving personal histories, the doc features some stunning poems, rendered in sometimes gut-wrenching performance style, with loud and lasting results.
Hello! How Are You? (Romania/Spain/Italy/Alexandru Maftei)
Before the screening, director Maftei joked this is the only romantic comedy ever made in the history of Romania. That country's penchant for dark material is subsumed by this offbeat and sexy comedy-drama about a former musician who is relegated to turning pages for a concert pianist and his dry cleaning shop wife, stuck with him in a passionless marriage. Their oversexed son insists on being given a computer which husband and wife use to flirt in chat rooms online...unknowingly with each other. Maftei avoids the cute factor with a winning rom-com unlike any seen on these shores.
Copacabana (France/Holland/Marc Fitoussi)
French actress Isabelle Huppert has proved she can play any role and here she plays mother to her real-life daughter Lolita Chammah. When wacky but poor mother cannot afford her strait-laced daughter's upcoming wedding, she takes a miserable job selling timeshares in Oostende, Belgium. Director-writer Fitoussi is never cloying or phony and Huppert's remarkable performing genes have clearly been passed on to Chammah in this lovely, melancholy slice of domestic life.
Goethe (Germany/Philipp Stolzl)
Beautifully crafted in costuming, location, cinematography and soundtrack, this portrayal of the early years of literary giant Johann Wolfgang von Goethe accents his legal career, the tragic first love of his life and the suicidal urges that led to his initial success with the publication of The Sorrows of Young Werther. Alexander Fehling is ably supported by a terrific cast, including Moritz Bleibtrau (Run Lola Run, The Baader Meinhof Complex) as his boss and competition for the hand of a beautiful woman.
The Space Between (USA/Travis Fine)
Recent Golden Globe winner Melissa Leo is having a breakthrough year and in Travis Fine's sensitively written and directed film, she plays an alcoholic flight attendant on the edge of being terminated. In the days after September 11, 2001 she becomes responsible for a young American Muslim boy who lost his father in the World Trade Center and must be escorted somehow to Los Angeles, where he will attend a special school. Fine's careful portrayal of the cultural differences and growing respect between the two lead characters sets up Leo for a role she effortlessly and powerfully embodies.
The Recipe (South Korea/Anna Lee)
Last year's South Korean film Mother was this writer's favorite film of the year and now, director Lee has co-written with Jang Jin a film from that country that almost defies description. It begins as a gentle parody of detective stories, as a Seoul TV journalist tries to find the cook of a beancurd stew soup that is so perfectly made, it instills an otherworldly sense of well-being to those who merely smell it. But without our even noticing, The Recipe shifts to a gorgeous love story that takes on mythic and poetic dimensions that one wants to savor long after the film has ended.
The Double Hour (Italy/Giuseppe Capotondi)
Sonia (Ksenia Rappoport) is a hotel maid and Guido (Filippo Timi) is a security guard who takes her to the villa he guards, where robbers coincidentally break in. Guido is killed. Or is he? Sonia is in a coma, imagining Guido was killed. We assume. Director Capotondi melds two different versions of reality in this psychological thriller and love story that uses symbology to entrance and trick the viewer in a most challenging and provocative manner.
Womb (Germany/Hungary/France/Benedek Fliegauf)
Hungarian director Fliegauf makes his English language debut with this mesmerizing, dreamlike and disturbing psychological science fiction film. Eva Green plays a woman who loses her lover (Matt Smith) to a car accident but has him cloned and gives birth to a baby who grows back into the boy and eventually the lover she once knew. The psychosexual tension and madness that permeate the relationship, as Smith's character begins to question his identity, is fascinating, proving that conceptual sci-fi can be just as gripping as aliens and spaceships.

Calling all HuffPost superfans!
Sign up for membership to become a founding member and help shape HuffPost's next chapter