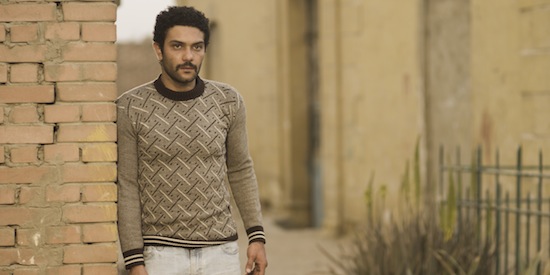 I judge a film by the punch it packs and whether it has the sentiments to reach and a message to teach. Egyptian filmmaker Ahmed Abdallah's Rags and Tatters possesses it all. But it delivers this wallop in a very meditative, introspected way.
Of course, I look at cinema as a form of activism and the average audience member can't expect to go to Rags and Tatters and come out exhilarated and aimlessly entertained. The film's languid rhythm creates a wave, one that takes hours, perhaps days to turn into the ocean of ideas that could potentially change our views. And, one viewer at a time, change the world.
The film is produced by Film Clinic, one of the leading production companies in the MENA region, with a mission to create unique feature films and documentaries that tell unprecedented stories of people, places and philosophies. The company is managed by renowned filmmaker Mohamed Hefzy. And just before TIFF, a deal was announced with Rotana Studios for multi-platform distribution of Rags and Tatters throughout the Middle East. In my world, that's wonderful news.
In the film's press kit, there is no long or short synopsis, as is typical with feature narratives. What we find instead is an indication, written by the filmmaker, of his intention:
In all my previous works, I have always avoided being the filmmaker who abuses the inhabitants of a neighborhood where filming takes place. I have always been keen on building up friendships with the dwellers who receive us with hospitality. This can be a chance for those poor people to have a closer insight into this industry. The film is an attempt to delve into the deep; inside some worlds that surround us everywhere, but we consciously chose to ignore their existence.
This time, Cairo's Ezbet El Zabbaleen is the neighborhood that Abdallah has chosen for the follow up to his critically acclaimed 2010 feature Microphone, which was seen by many as a foreteller of the revolutions to come in Egypt. Ezbet El Zabbaleen (garbage collector's settlement) is a rag pickers' settlement on the outskirts of Cairo, mostly Christian, and in March of 2011 was at the center of a clash between Muslims and Christians, where 14 people were killed and 140 injured. All of them those invisible, unheard individuals who occupy our minds for a split second when we hear the news -- never to be remembered again.
And it is to those individuals that Rags and Tatters is dedicated. Taking place after the initial few days of exhilaration and victories of the Egyptian revolution in 2011, the Cairo that Abdallah presents us with is less triumphant and more post-apocalyptic. His nameless, mostly silent lead character (brilliantly interpreted with grace and minimalism by Asser Yassin) is one of the prisoners mysteriously set free from the prisons surrounding Cairo, which happened a lot and caused ordinary citizens to reorganize into vigilante groups. All are never called by name in Abdallah's film, the shadow of Al Jazeera's bulletins on old televisions recounting their lives and struggles in "Breaking News" mode, but behind them is an entire complex history of politics, religion and the games these institutions play with people's lives.
The brilliance of Abdallah's film lies in its delivery, which feels a lot like watching someone go through real life: slow and unaffected, complicatedly easy and full of wrong choices to be made at every turn. His light touch when it comes to politics and religion is only countered by the film's message, which is far from light. Perhaps, just maybe, we can learn something from Rags and Tatters and choose a different path, the next time around. But then, those who should really watch these wonderful films, full of truths, life lessons and wisdom, do not.
Yet the beauty of hope exists inside all filmmakers, and I'm convinced they will eventually change the world, one viewer at a time.
Image courtesy of MAD Solutions, used with permission
Popular in the Community