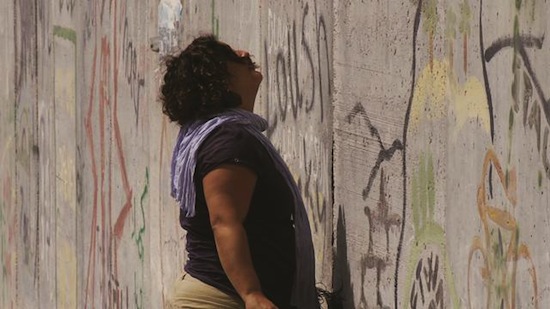 "He was a bird in love with a fish, separating them was the thin line of water, which they broke together for just one kiss. This is their brief story. Between one kiss and another their life took its course; in the sea lived a fish and in the sky lived a bird." -- from "The Fish and the Bird" by Hasan Hourani (1974 - 2003)
I think anyone who has ever experienced injustice in their own life can find a way to identify with the Palestinian cause. My own loyalty may have a lot to do with personal feelings of displacement, though it's a displacement decided by my parents, not by a political coalition. I also deeply believe it all boils down to a question of basic, simple and undeniable human rights. At this stage, even the Israelis are aware that their Zionist vision from the 19th century is outdated, unsustainable, nearly bankrupt and just plain wrong. How can you expect to live in peace and harmony over the blood and bitter tears of an entire people. Sure, it's the Promised Land, but has God really done so right by His people so far?
In her latest project My Love Awaits Me by the Sea, Palestinian filmmaker Mais Darwazah decides to fall in love, and through that love, show the homeland she also discovers for the first time. Yet it's not an average love story that Darwazah settles for, rather the romantic, poetic notion of love as freedom. As she imagines a talk between her and "The Bride of the Sea" -- the port of Jaffa which represents the most tragic image of the 1948 Nakba for Palestinians -- she recounts "When I asked you what freedom meant, you said it's when one no longer feels lonely. But you asked me to find love and live it in full, even if it was illogical or impossible."
And exactly that, illogical and impossible is her love for Hasan Hourani, an artist and poet who died years before the start of Darwazah's voyage. Hourani, originally from Hebron but educated in the US as well, drowned in the very sea of Jaffa, trying to save his nephew who, like him, could not swim. A day of spiritual and physical escape from Ramallah, across the "Green Line" to the sea forbidden to Palestinians turned into his last day. Another case of borders, demarcations killing people.
Hourani himself has become a symbol of what it means to be Palestinian, living in the occupation. The emotions of love, safety and community are replaced by animosity, insecurity and distrust. And yet his poetry and illustrations are so heartbreakingly romantic that one is lead to believe that the only way to truly feel is to suffer. To be Palestinian is a lot like finding yourself a bride left by the love of your life, at the altar. In that very public, split second gone are your welfare, reputation and heart. But all around are people telling you it's your fault and you should get over it.
Darwazah's idea to equate her journey through her homeland with a lover's journey through their affair is genius. Palestine is a place that, once you've experienced it -- both its undeniable heartbreak and its breathtaking beauty -- never ever leaves your heart. For me, there are personal stories at every turn and it was a beautiful surprise to find two of my favorite people in Nazareth featured in the film.
Across the monster of the occupation, there are also love stories born in Palestine every day, and one such story I experienced first hand -- that of Leila and Nael and their two beautiful children. Sitting in the courtyard of their stunning old home one magical evening, they showed me true love while I was trying to figure out mine. The couple have created a cocoon for their family to deal with the outside, to "live with the occupier" which isn't easy, as Nael states in the film. Leila's positivity, intelligence and her touching recounting of when she knew she was in love with Nael only gets interrupted in the film when Darwazah asks her "What makes you get up each day?" The look on Leila's face and her silence left me heartbroken, because I knew it was coming from a woman never at a lack for insightful comments.
Ultimately, hidden within the romantic lines of My Love Awaits Me by the Sea is a very clear vision of the region. In Palestine, nobody really feels like a stranger, because it is a land that has belonged to many and been claimed by all. Its beauty, its mystical atmosphere, the creativity of the place turned out to be its people's biggest enemies. But perhaps hope can be found, hidden in something as mundane as the film's financing. Split between support from Lebanon through AFAC and Screen Institute Beirut, Qatar through DFI, Abu Dhabi through SANAD, the US with the Sundance Institute and even Jordan and the UK through Hikma Pharmaceuticals, the film offers an insight into world relations.
And how peace can perhaps be achieved, one film, one filmmaker, one cinema lover at a time.
My Love Awaits Me by the Sea premieres at TIFF on Saturday, September 7th, in their prestigious "Discovery" section.
Image courtesy of MAD Solutions, used with permission
Popular in the Community