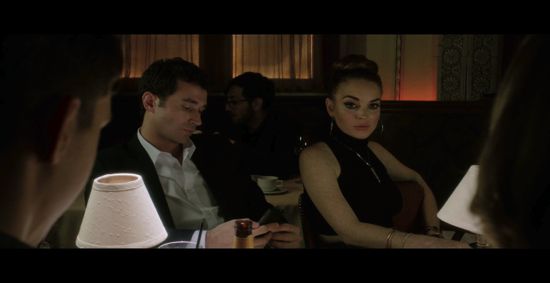 OK, so now that we've all gotten the gossip out of the way -- what did filmmaker Paul Schrader say about working with Lindsay Lohan and why did Lohan fail to attend the Venice Film Festival with the film -- we can now finally talk about why The Canyons is a film to watch. Even if, by now the US reviews have already been in for a while, from the early August release of the film.
When a filmmaker has written a classic like Taxi Driver and directed another like American Gigolo, there is little doubt in my mind that his film will be groundbreaking. But innovative, new can also turn out to be boring, edgy and too incomprehensible for a simple human like me. Instead Schrader, perfectly interpreting a screenplay by Bret Easton Ellis, never talks down to his audience, taking us instead on a journey around the Los Angeles canyons, the Malibu of the rich and the Los Feliz of the struggling. In the process, he not only shows two sides of LA that have never been so masterfully compared, but also slams in front of us a world I've unfortunately inhabited -- of women and the men who hate them.
In his director's statement Schrader enlightens on both his mission with this film and the choice of beautiful black and white images of dilapidated cinema houses which open the film and offer cool respite from the disturbing narrative:
I told the cast on the first day of rehearsals that this was a story about a
group of twenty-something Los Angelenos who got in line to see a movie - But then the theater
closed, and they stayed in line anyway because they had no place else to go.
The Canyons offers insight into an all-too-familiar world of boredom and desperation, relationships and compromises, closeness and the abyss that separates us from our lovers. Although I wanted to dislike it, to be "cool" like my fellow critics, I ended up falling in love with the film, with the doubts it raised in me, and with Lohan's performance as Tara. Her vulnerability, but also masterful use of her voluptuous body to narrate a story beyond the written script, made me find new respect for a woman who is highly underrated as an actress, instead discredited through our infatuation with everything gossip. Watching the film, I wondered if Lindsay Lohan's media exposure would be the same, were she a male actor? And the answer I came up with was a disturbing "absolutely not!"
The supporting cast, for lack of a better word since The Canyons feels very much like an ensemble film, offer some great talents, including that of real life sex star James Deen as Christian. Yup, you read that right, Deen is a certified, adult male star who has worked on more than 500 scenes in his career. Also TV actor Nolan Funk, most recently seen on Glee, as Brian, and a cameo by filmmaker Gus Van Sant as Dr. Campbell.
Tara's Cinderella story gone wrong -- in her words "from wannabe actress to rich guy's girlfriend who takes care of me" -- was perhaps my in because in the end, isn't that what most of us are looking for, someone to take care of us in some way? And it's so easy to fall into the arms of the wrong person, only to begin playing a role that perhaps even we don't understand where it will lead. In this case, you'll have to watch The Canyons to find out.
Image courtesy of the Venice Film Festival, used with permission
REAL LIFE. REAL NEWS. REAL VOICES.
Help us tell more of the stories that matter from voices that too often remain unheard.