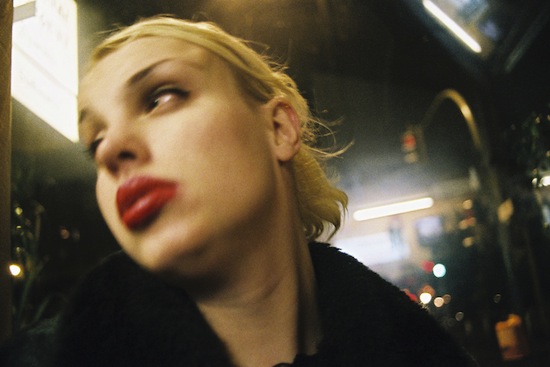 "I can't say that I'm a woman, but I'm also not a man. I'm something... I'm a creation of God, but a warped creation of God. God wasn't paying attention when I was born." -- Julia
I love it when a film has a backstory that is just as interesting as the one it is telling on the screen. The German documentary Julia tells the fascinating true life tale of a beautiful Lithuanian transexual prostitute living in Berlin, and accompanies her voyage through nearly ten years, thanks to the lens and love of filmmaker J. Jackie Baier. The film screens as a World Premiere at the 70th edition of the Venice Film Festival, in the "Venice Days - Giornate degli Autori" sidebar.
The backstory of this at times infuriating, at others desperately touching film involves Baier, herself a transexual, who shared life, work and experience with Julia, her subject but also her friend. The tenderness between the two is palpable and transcends the screen, jumping out at the audience in wonderfully candid outburst of emotions. The cinematography (by Dieter Vervuurt and Th. Schneider) is intimate, the music (by Christopher Franke and Princessin Hans) eerily evokes a Wong Kar-wai sequence and the true brilliance of Julia is a personal favorite theme in films: Making "the Other" accessible, exploring our differences, so that we may celebrate them instead of punishing each other.
Julia herself makes for a perfect cinematic subject. Grand and beautiful, speaking an outdated, classical form of German, dressing like fashion models on their day off, sporting great lipstick choices and voicing off on everything and everyone around her, she's like a dream come true for a filmmaker. But she's also one of the most fascinating, complex and passionately affecting characters I've enjoyed watching in a film. Right around the heart of Julia, in the middle of the movie, is a segment where she goes back to Lithuania, her hometown of Klaipėda, to visit the cemetery where her ancestors are buried -- but also reconnect with her neighbors, her art school teachers, who knew her when she was a boy. The outcome left me breathless.
But the ultimate standing ovation goes to Baier, who understands and explains, without speaking down to us, the audience, manipulating us or getting lost in her own art. Thanks to Baier and her fascinating subject, Julia is a masterpiece devoid of pathos, probably the best documentary I've watched in a long, long while. A film that should be on everyone's list of must-watch, to open the dialogue on what it's really like to live life as "the Other."
And anyway, aren't we all that, somewhere, somehow, sometimes?
Image by J. Jackie Baier courtesy of Venice Days, used with permission
Popular in the Community