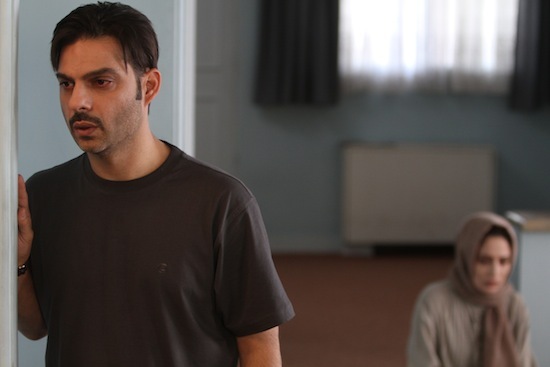 Kicking off the International Critics' Week sidebar of the Venice Film Festival, Iranian film Melbourne set the tone for all great things, and movies to come for me. Melbourne starts off with a census collector knocking at the door of a couple's apartment in Tehran, they are on their way to study in Australia and within 20 minutes turns into a nail-biting thriller, a psychological drama that left me wondering, "what would I do?"
Melbourne is intimate, it's frightening, and yet only so because of the deep human questions it asks of the audience. Don't come to Melbourne expecting over the top displays to deal with the tragedy at hand. The film is perfect for those of us who recognize that most of life, even in moments of drama, is lived in shades of grey, not black and white.
I was lucky to get to interview Nima Javidi and Payman Maadi in Venice. And the word "lucky" doesn't even begin to describe how I felt sitting across from the film's creator and his lead actor -- the latter we all know from his outstanding performance in the Oscar-winning A Separation. Here is our thought-provoking talk, which took place inside the Excelsior Hotel on the Lido. Do check out the three questions I asked Maadi on my iPhone, at the end of the text.

This is your first feature, so how did you come up with such an intense story?
Nima Javidi: The most important thing for me was to begin with a film that has a story. An attractive story. And with a mystery that covers everything, I liked that. That's why I did this film.
And what gave you the spark of the idea?
Javidi: Five or six years ago, we went to the mountains with a group of friends. Among them, a couple with a baby. We were all together and some were about to go out. I stayed home alone with the baby, who was sleeping. After about an hour, even though there had been a few noises, I noticed the baby hadn't woken up and I started to worry. I went into the baby's room and began making noise in there, and luckily the baby woke up, nothing happened, but that sense of worry stayed with me, inside.
In his director's statement, Mr. Javidi said that the question for him, after first watching the film with an audience, remained whether these two people, Amir and Sara, can stay together, following all they've been through. As an actor, did you ask yourself that question, and if you did, what was the answer?
Payman Maadi: Actually, if you're looking for an answer from me, as an actor, will this marriage survive or not, will they get along after this accident, I don't have any clear answer. With these kinds of films, which happen in real time, you have to focus and concentrate, for the two or three months of the shooting, only until it ends. Not after that. Definitely we had a lot of discussions about this, what happens after this.The thing is, the story for me as an actor was what is the moral and right thing to do? For this husband, for the manager of this family. Which is the best decision? Sometimes, the best decision doesn't have to be the moral decision. Sometimes, for the sake of your family, for the sake of the future of your family, you have to do something protective. This is about guilt, this is about humanity, this is about what, for example the husband is asking from himself, that we don't have to get involved with such things. Before the shooting, we had a discussion with the director and the writer that this is about responsibility. This is about the society today in Iran, or places like that. If something happens to us, will we take the responsibility and will stay there, and take care of it, and make it right? Or will we leave the problem there and go on to our own lives? That was the core from which I started.
Melbourne is the kind of film that leaves you thinking "what would I have done?" It's a question about humanity as well. Is there a solution to dodging responsibility on a global scale?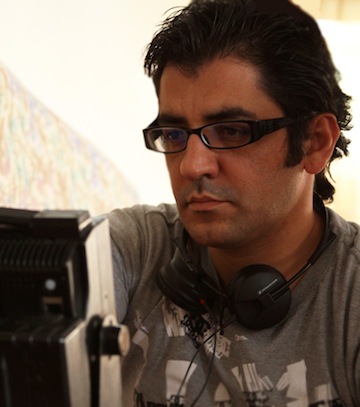 Javidi: We didn't think, at least not me, about a solution. We created these very issues, these mental conflicts, just to make problems. And I'm sure that all this cerebral movement will also be able to find a solution. For us writers and directors, the complicated nature of the human character is an instrument of work. This unpredictability that is in the characters of Sara and Amir is an instrument for us that is also very close to the reality of being human, on which we can definitely build. It's nice because the viewer, at the beginning of the film sees a human being, a normal man like himself, and at the end that man has transformed into someone who has to take a decision -- which could even turn out to be wrong -- someone he can identify with but also doesn't recognize. This is a real situation of everyday life.
Maadi: Cinematically, I'd like to add this. Sometimes the interesting part is that you don't have a very straight solution for it. That's the beauty of a film like this. Having been there, done that, sometimes situations make you do something. You're not a bad man, it's not about good vs. evil, sometimes very normal humans get involved in a situation and react badly to something that has occurred to them. He [Amir] is not a brave man, he's not a very tough guy, he's a very normal human. He's an engineer, an educated person from the middle class these days in Iran. They like to live in peace and if they cannot live in peace, they try to find somewhere else to go and do this immigration thing. And live somewhere else in peace. So they choose to go to Melbourne. The best city in the world, somehow, they call it. These kinds of films, it's that very specific moment which you get involved in. That leads you to something else.
Is this a story that could help bridge cultures, find a common ground between the U.S. and Iran?
Maadi: This is not a very Iranian story, or a local, Middle Eastern story. This could happen in any Western society as well.
It could happen in Idaho!
Maadi: Exactly! The wellbeing of someone is in danger, so when it's in danger will you take the risk for doing the moral thing and the right thing, or will you leave it because it's not your fault, not your responsibility and not on your conscience? Will you go for the better life instead. This happens everywhere these days. If you want to make it bigger, I'd rather not, but it's about the things that are happening in the world. Between the governments and war, and everything. You can blame any country, that's the main reason for wars happening. I don't want to make this the concept of the film, and make it too big.
But I like that big-ness. Because what can you turn your blind eye to and what do you point out, do the right thing and intervene for? That's the question of the moment!
Javidi: I believe that anyway, despite the differences that can exist between various cultures and peoples, there are more points in common. Qualities in common that don't just exist in modern life but through millenniums and all the people of the world have something in common between them. These similarities at the roots of people, is what we need as filmmakers and artists. Fear and jealousy have always been present throughout history and will be there through the next thousand years.
Maadi: And as you said, the dual layer of these kinds of films -- which is happening in indie films in the U.S. as well and all around the world -- the first thing for that bridge that you asked about, is, you are not that different from any other people in the world. A couple in Tehran today is just like a couple in Paris or NY or Berlin. It is the purpose of the media to make them look different. People around the world when they see films like this from Iran they say "oh, my God, you're like us."
That's what people said about A Separation.
Maadi: It was said millions of times after A Separation! "Your lives are very similar to ours." So that's the first mission of the film. Lets talk, lets be friends, lets discuss. This is the main issue, and that's what these kinds of films are doing, the middle class, social drama, which are usually filmmakers' first features in Iran. First time filmmakers in Iran are very much on this mission. They're doing these fantastic features. They are very aware of these situations, they know this kind of societies, this is their passion.
Were you, as an actor, concerned about doing a filmmakers' first feature?
Maadi: I wasn't thinking of doing a film with a first time filmmaker, cause I have a lot of other offers. And some other big names in Iran were coming to me with their projects. But when I read this I thought this is something I'm looking for. I'd like to meet this guy. I met Nima and thought, he has something to say. We became very good friends, we discussed a lot about the movie. When you have something to share about this very small story, when you can speak two or three months with your costar Negar [Javaherian], who was a very good partner in the film for me, she's a very good actress; when you have a lot of things to share about these moments, it means that after the film the audience will take it back home with them and think about it for five minutes. That's enough for us. Five minutes of thinking. We got so close, we had a lot of fights, discussions, bad and good times together and that's exactly because Nima knew what he wanted and he was very certain on what exactly he wanted.
Check out this quick "Selfie Interview" with Payman Maadi, first posted on the Dubai International Film Festival blog.
Images courtesy of VIC Communication and Settimana Internazionale della Critica, used with permission.
Calling all HuffPost superfans!
Sign up for membership to become a founding member and help shape HuffPost's next chapter