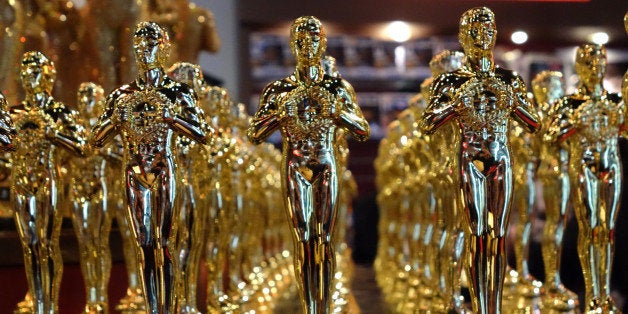 Everyone seems to be focused on which movie will win Best Picture, or who's taking home Best Director and all of the acting categories (Lupita I know you can do it!). I myself am a lot more concerned with the Best Original Song, an award that doesn't get the attention it deserves. More often than not the tracks up for the award weren't hit singles, and it's rare for one of five to be a success.
In fact, this ceremony will mark the first time since 1997 we've seen two top 40 hits be nominated. Back then, "How Do I Live" went to #2 and "My Heart Will Go On" reached the penthouse fairly easily. As of writing this article, "Happy" has also gotten as far as #2, and "Let It Go" has just become a top 20 hit, charting at #18.
If that wasn't enough of a coincidence for you, think about this: Pharell's "Happy" and Celine's "My Heart Will Go On" were the highest charting of their year (in terms of Oscar-nominated songs), and both had one official version.
In contrast, both "How Do I Live" and "Let It Go" were the lower-charting of the two top 40 hits nominated, and both had two recordings. "How Do I Live" songwriter Diane Warren originally had LeAnn Rimes sing the ballad, but film execs felt it too poppy for inclusion in Con Air. Trisha Yearwood was brought in for a re-do, and eventually won a Grammy for the performance (actually beating LeAnn's version, which was also nominated).
"Let It Go" was recorded by Idina Menzel for the movie Frozen, but Disney hoped Demi Lovato might help it become a hit. Idina not only won out for who would be in the actual movie, but her version fared better on the charts (#18 versus #38).
If history is going to continue to repeat itself, that means Pharell is the shoe-in to win the statue. That would be an easy choice, if it weren't for the fact that U2 already won the Golden Globe in this category, and they were shut out years ago for another track. Only one way to find out: watch the Oscars on Sunday, March 2nd on ABC!
Popular in the Community