Back in the day, kids got excited to play outside with items as simple as a jump rope, a ball, a bike, and a pair of roller skates with a key--OK, that was back in my day! For my kids, Razor let us travel near and far with their original scooters, wheels on bikes grew wider to encourage off-road exploration, and roller skates became roller blades.
Whether kids are in school or adults are at work, our busy lives have lots of demands. There's no better reason to get outside and play than simply that it's good for you--and it will make you feel good too! Here are some more of my favorites: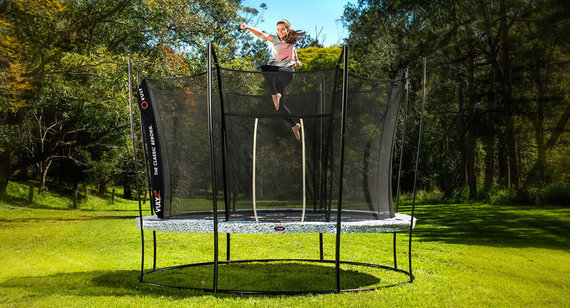 Vuly 2 Trampolines (Spin Master)
When I think of the word, "summer," trampolines always come to mind. The redesigned Vuly 2 backyard trampoline has a safe enclosure, solid framework, and reversible safety pads so there's a different look every time they're turned over. Vuly 2 trampolines are water and UV resistant, so kids will be going up, up, and away for a long time. The trampoline also comes in 8-, 10-, 12-, and 14-foot diameters to fit backyards of different sizes. Additional accessories can be added, such as a basketball hoop, a deck for sweet tricks, and a ladder.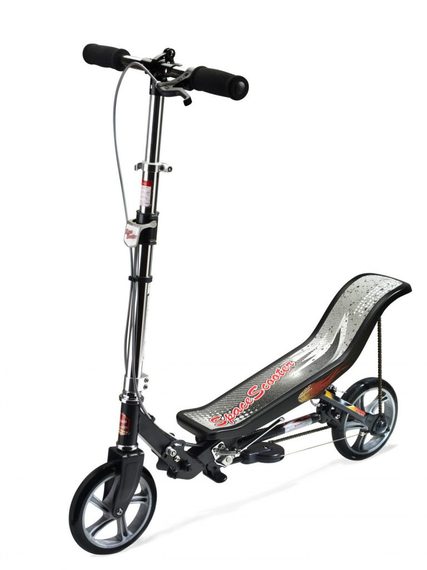 Space Scooter (Space Scooter)
To infinity and beyond... the end of the street! True to its name, kids and adults can glide and propel forward using an up and down teeter-totter motion, and is equipped with a hand break and air suspension. The faster kids pump, the faster they will go, keeping them in total control of their speed and acceleration. The two-in-one model also lets riders switch to a traditional kick scooter, and it also folds up to easily carry wherever.


Super Go Pogo Stick (Alex Brands)
Boing! Pogo sticks are a timeless classic and have always been one of the ultimate outdoor toys. Kids will be able to jump high, fast, and far comfortably with a rubber foot for stability, encased metal spring for safety, and soft grip handles. And of course, don't forget a helmet and protective pads for safety!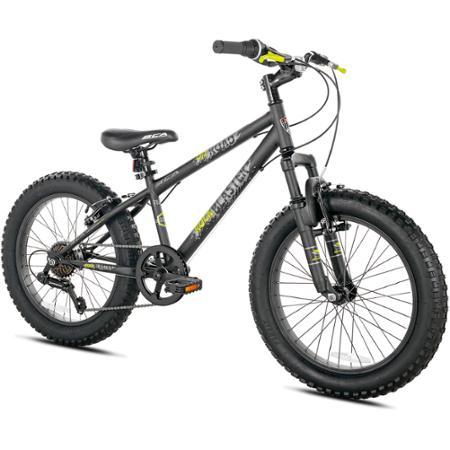 20-inch Boys Rock Blaster Mountain Bike (Kent)
This bike is a dream for older kids who want to do some more intense biking, including some serious off-roading. The mountain bike features a sturdy, steel frame and a 7-speed gear shifting system (read: really strong and ready for any terrain). The three-inch knobby tires are 50 percent wider than typical bikes of this size, and front and rear linear breaks keep speed in check.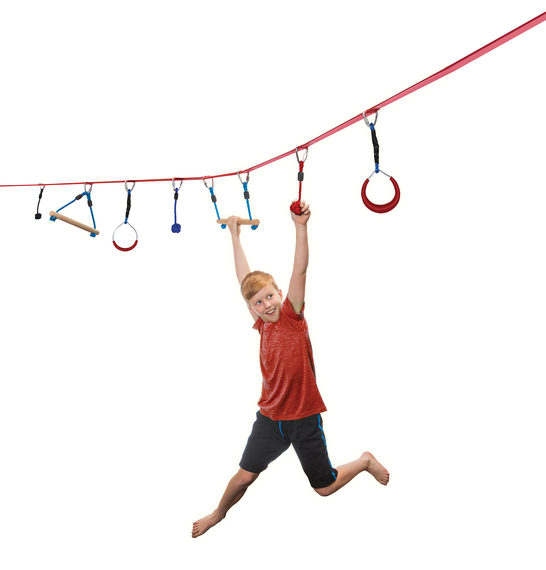 Slackers Ninja Line (B4 Adventure)
Hi-ya! Based off the reality series America Ninja Warrior, the Slackers Ninja Line was made for fearless kids up for any adventure. Perfect to hang in between trees in the backyard (or any other place to hang the lines in between), this 30-foot obstacle course comes with bars, fists, and rings to attach at intervals. The goal is to traverse the line while hanging from the holds. Parents can also adjust the difficulty, so kids won't feel like they're getting bored with a certain pattern. The entire set fits in a sturdy carrying bag. Not only is it super fun, but the entire family can get involved to become ninja warriors!
Laurie Schacht also known as The Toy Insider Mom, has been covering the toy industry for more than 20 years. The Toy Insider produces an annual holiday gift guide in Woman's Day magazine, and also serves as a trusted resource for parents all year round at TheToyInsider.com and through social media.