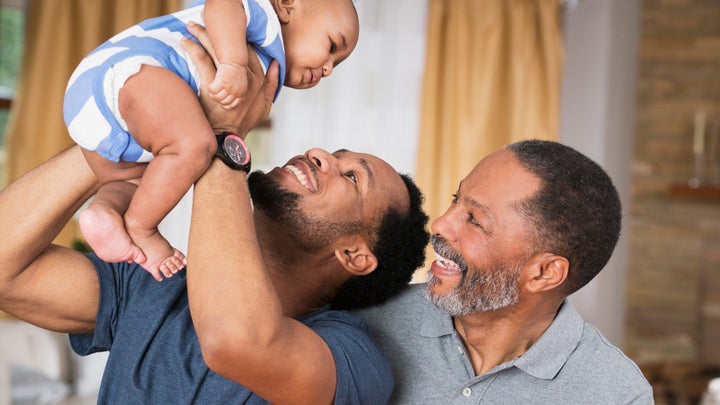 Father's Day is only a couple of days away, which means many people are reflecting on how their dad influenced their lives.
For the special day, we asked our HuffPost Parents readers as well as some popular parenting bloggers and tweeters about the best lessons they learned from their fathers about raising children. You can tell all the advice came from the heart, whether the sentiment was funny, serious or somewhere in between.
Here are 15 nuggets of wisdom from fathers that folks are passing on to their own kids.
"I can't really get into detail on this one, but suffice it to say that my dad had some bad things happen to him in his life. We all have. The difference is that he always forgave the people who wronged him. Not once did he hold grudges or harbor hate in his heart, because he knew it wouldn't serve him as a husband and father. To be clear, forgiveness isn't inviting your enemies over for wine and cheese. In many cases it means simply stating to yourself, 'I'm letting it go,' walking away and not looking back. Is that easy to do? Of course not. It took me almost 75 percent of my adult life to master it, but I've figured it out now. As parents, we can't protect our kids from the emotional pain they'll endure when they're older, but I'll do my best to ensure my girls' hearts are clear of hatred and anger so they can live their best lives." ― Doyin Richards, the dad behind @DaddyDoinWork online and author of What's the Difference? Being Different Is Amazing
"Be quiet, listen and learn. I would be brought to things like when my parents would need to buy a new car. My dad would tell me to be quiet, sit down and listen so I can learn how to do it when I grew up. I found that it applied in other situations as well." ― Leenette Wells
"Not everything deserves a reaction. Your children will hear you much better with a soft voice than if you yell." ― Samantha Ann Spear
"Prevent defense will never work! [It's a football term.] But seriously, my dad led by example on how to treat people, how to provide for your family, how to be a good spouse. And also, take no crap. Love you, Pops!" ― Andrea Stewart Nixon
"Either waste time by crying about it and doing nothing or get mad, get up, get to work and get it done so you can move on to better things in life." ― Lynette Wilson
"My dad died when I was 19. He taught me how to be the parent I am now by standing by me and going very far out of his way to help and support me in making some choices that he didn't necessarily agree with, because he knew it was important for me to get to make choices and deal with whatever came of them. And by being an example of someone who valued friendships and demonstrated being able to accept help as well as offer it." ― Diane Purvin
"My dad taught me the steadfast love and commitment that translated over into my relationship with my wife. He taught me how to physically, mentally and spiritually be present for my family. He taught me calmness under pressure, sometimes to a fault. He taught me that I wasn't the only one that liked to procrastinate. He taught me to honor and respect my mother. He taught me to never hold a grudge. He taught me to keep my word. He taught me that a dad who never knew his own dad could become an incredible dad." ― La Guardia Cross, the dad behind YouTube's New Father Chronicles
"My dad said to me, 'Always put all your cards on the table, because honesty is the best policy.'" ― Amanda Gagnon
"[My dad let] me make my own mistakes while letting me know he was always there to help pick me up when I failed. Also, 'If you don't have the cash in your pocket to buy it, you can't afford it.' While not practical for a lot of things, it has definitely helped me with the impulse purchases." ― Jamie Bohm
"First thing that comes to mind is 'Pick your battles.' He's always reminding me kids are kids. They are constantly learning — don't be so hard on them." ― Ashley Zermeno
"One of the best lessons I learned from my dad was how to be silent and listen to others more than rashly acting or speaking anytime you felt the urge. As a parent myself now, I understand how important it is to be a listener. To understand how to help a child navigate issues, for sure, but to realize how important it is to help them recognize their own feelings around an issue before sharing your own." ― Mike Reynolds, the father behind @EverydayGirlDad online
"My dad always has always told me that people come into your life as a blessing or a lesson. I never understood it as a kid, but now I understand what he meant. And the lessons no longer have a place in my life." ― Melissa Watson
"It's not just about what you know, it's also about who you know. That has proved true countless times." ― Amy Crelin
"The best thing I learned from my dad is to hug and kiss my boys and tell them I love them every time I see them. Every. Single. Time. He came from a divorced family with an emotionally distant dad, and it would've been so easy to repeat that, but he went the other way instead. And in this age of toxic masculinity, it's vital for me as the father of three boys to show and verbalize affection. No more firm and respectful handshakes. I tell my boys I love them, and I give them kisses. Thanks, Dad." ― Aaron Gouveia, the father behind @DaddyFiles online
"Definitely not the deepest pieces of advice, but my dad was all about practical advice. It's what I constantly hear in my head while raising my kids now. 'A wet rag is a painter's best friend,' 'Bagging groceries is like putting together a puzzle — you should take your time,' 'Run one more telephone pole farther than you did yesterday,' 'Keep a pocket knife on you at all times — you never know when you'll need to cut your seat belt loose in an emergency,' 'Nothing beats an ice cold drink.' These are just a few precious memories of a man I loved and actually listened to." ― Abigail Sawyer
Submissions have been edited and condensed for clarity.