At the end of the evening on Sunday, Warren Beatty and Faye Dunaway presented "La La Land" with the Best Picture Oscar at the 89th annual Academy Awards. The thing was, "La La Land" didn't win — "Moonlight" did.
Midway through the acceptance speech, Jordan Horowitz, a producer on the Damien Chazelle–directed flick, stopped to announce that there had been a mistake. Host Jimmy Kimmel and presenter Beatty came out to reveal that "Moonlight" was the actual winner. Apparently, Beatty was accidentally given the envelope for Best Actress, which was handed out right before to Emma Stone for her role in "La La Land." He saw the movie title and passed the envelope to co-presenter Dunaway, who announced "La La Land" as the winner.
As Beatty explained onstage:
I opened the envelope and it said, "Emma Stone, 'La La Land.'" That's why I took such a long look at Faye and at you ― I wasn't trying to be funny ... This is "Moonlight," the Best Picture.
As the "La La Land" filmmakers take the stage to accept best picture, the accountant from PriceWaterhouseCoopers jumps up and says, "He (presenter Warren Beatty) took the wrong envelope!" and goes running onstage. Craziness breaks out. No one knows how Beatty got the best actress envelope.

"Oh, my God. 'Moonlight' won, 'Moonlight' won," a stagehand says, her hands on her head.
Stone also addressed the situation, telling members of the press how much she loved "Moonlight" and how excited she was for the film and its cast and crew. Then, she admitted, "I was holding my Best Actress in a Leading Role card that entire time. I don't mean to start stuff. Whatever story that was ― I had that card."
Although it is officially the most awkward ― and most stunning ― moment in Oscar history, the producers of "La La Land" gracefully handed their statues to the "Moonlight" team as the audience stared in utter confusion-slash-amazement.
Everyone on Twitter freaked out, as well.
Watch the whole crazy moment go down below: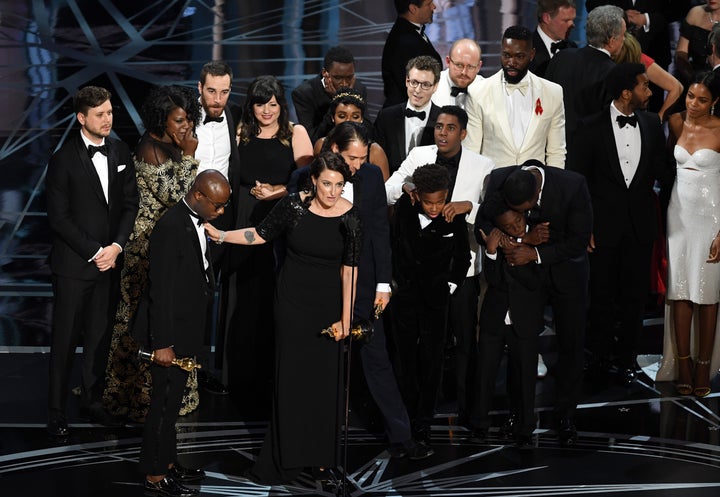 UPDATE 2/27/17: PriceWaterhouseCoopers released a statement overnight about the snafu, confirming that Beatty was given the wrong envelope. "We are currently investigating how this could have happened, and deeply regret that this occurred," the accounting firm said.
Before You Go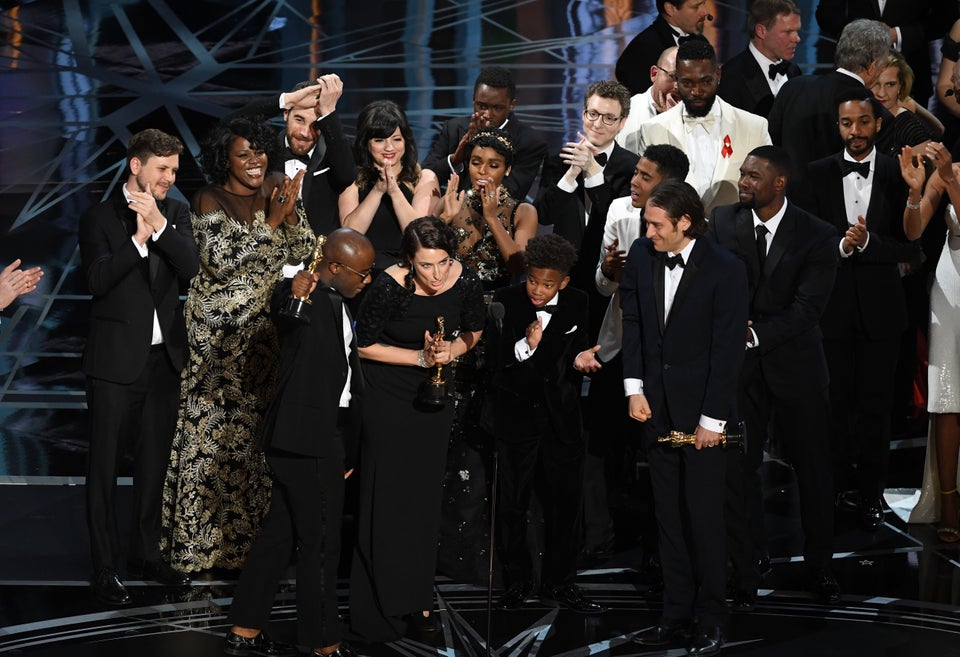 Oscars 2017 Ceremony