 Since the first Academy Awards ceremony in 1929, only three films have won Best Picture without a corresponding nomination for Best Director: "Wings," which earned the equivalent of Best Picture at the first Oscar ceremony in 1929, "Grand Hotel" and "Driving Miss Daisy."
About those films: When "Wings" won Best Picture the category was called Outstanding Picture, and only two other films received nominations ("The Racket" and "Seventh Heaven"). There were also two Best Director categories at the first Oscars (Best Director, Comedy Picture and Best Director, Dramatic Picture). In the end, the only film honored with nominations for both Best Director and Outstanding Picture was "Seventh Heaven."
At the 1932 ceremony, Outstanding Picture became Outstanding Production and winner "Grand Hotel" was among eight films nominated in the category. There were only three Best Director nominees total, however, making "Grand Hotel" director Edmund Goulding's snub somewhat more understandable; though whether he would have been nominated if the Best Director category included five names is unknown. (Oscar voting is an infamously private endeavor.)
That leaves "Driving Miss Daisy" as the only modern-era film to win Best Picture without a Best Director nomination. The 1989 movie received nine nominations at the 62nd annual Academy Awards, the highest total of any film nominated that year, but none for director Bruce Beresford. The 1990 ceremony was somewhat bizarre: Of the five films nominated for Best Picture, only three received corresponding Best Director noms -- "Born on the Fourth of July" and Oliver Stone, who won the award; "Dead Poets Society" and Peter Weir; and "My Left Foot" and Jim Sheridan.
Which means, based on history, films like "Argo" and "Zero Dark Thirty" (which saw its director, Kathryn Bigelow, snubbed by the Academy Awards as well) face quite the obstacles on the road to winning Best Picture; it's part of the reason why The Huffington Post Oscars(R) Predictions Dashboard has "Lincoln" well out in front of "Argo" and "Zero Dark Thirty" in the Best Picture race. Yet, there's still some hope.
Oscar history shows that Best Editing is usually a good indicator of a film's Best Picture bona fides; the last time a movie won Best Picture without being nominated for Best Editing was 1980's "Ordinary People." Well, not only was "Argo" nominated for Best Editing, it could win the award: According to the Academy Awards prognostication site GoldDerby.com, "Argo" has the best chance of winning Best Editing on Feb. 24, with 19/10 odds. "Zero Dark Thirty," meanwhile, received a nomination for Best Editing as well, and ranks just behind "Argo" in the category, according to GoldDerby.com. Of course that doesn't mean "Argo" will win Best Picture over "Lincoln": The last two films to win Best Editing at the Oscars were "The Girl With the Dragon Tattoo" and "The Social Network," and neither triumphed in the Best Picture category.
There's another, less analytical reason that -- of the two films with major Best Director snubs -- "Argo" could triumph: the actors branch. Of the 5,784 members of the AMPAS, roughly 1,172 are in the actors branch, a group made up of famous faces like Warren Beatty, Jennifer Lawrence and even Beyonce. That means "Argo" could have a leg-up on the competiton because of its behind-the-scenes team: In addition to Ben Affleck, the film was produced by George Clooney, the unofficial king of Hollywood. If "Argo" gets a wave of support from the actors branch, it could wind up with the necessary first, second and third place votes to defeat "Lincoln." (With Best Picture being voted on with a preferential ballot, a film that receives a lot of second place votes could win up winning.)
So, could "Argo" or "Zero Dark Thirty" win Best Picture? Films like "Lincoln," "Silver Linings Playbook" and "Life of Pi" -- the only Best Picture nominees with both Best Director and Best Editing nods -- are clearly in better historical position, but it would be foolish to discount either film, even if the AMPAS already discounted Affleck and Bigelow.
This story appears in the special Oscar issue of our weekly iPad magazine, Huffington, in the iTunes App store, available Friday, Feb. 8.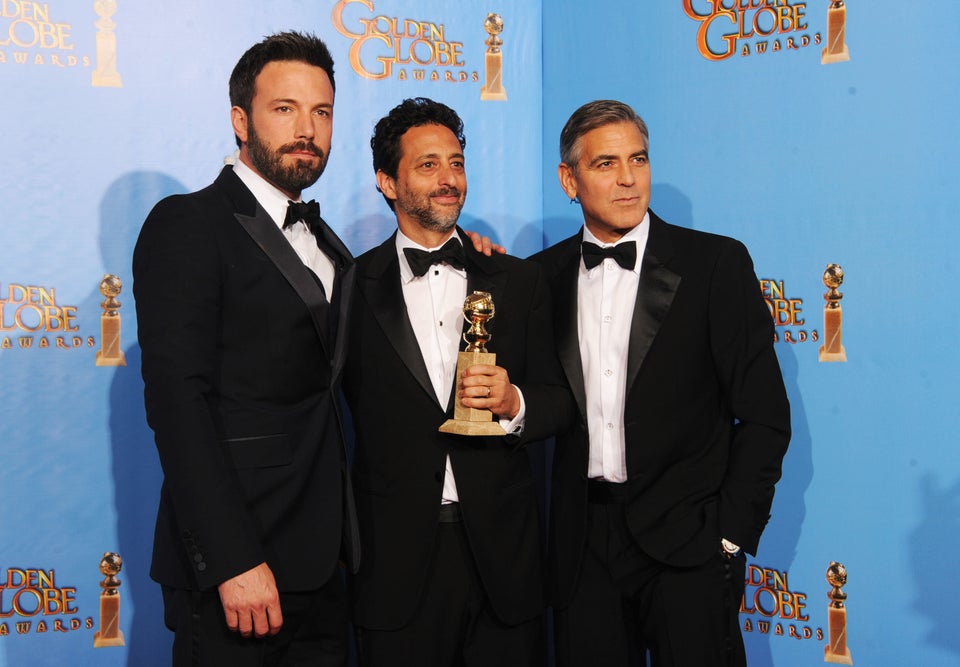 Golden Globes Winners And More