Sometimes we all need an escape. An escape from the bills, the politics, the ELECTION, the nine-to-five grind. If a week's vacation isn't enough for you, take heart: your real-world disappearing act is a lot more doable than you probably realize. In fact, hundreds of thousands of Americans have already gotten away from it all by moving to better-value, better-weather destinations overseas.
At International Living, we show potential expats where to go -- and how to get there. From climate, to cost of living, to quality of life, we pinpoint opportunity in destinations throughout the world -- from Latin America to Southeast Asia to Europe.
Here are International Living's top five picks for close-to-home escapes where you can create a better life for yourself ... and spend less than it costs you to stay at home ...

Mexico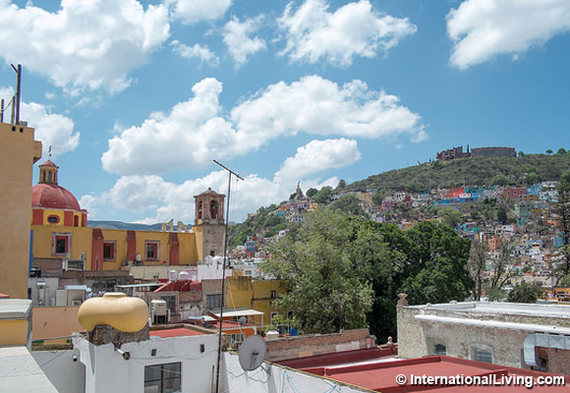 View from the rooftops of Guanajuato, Mexico
Mexico today is like the U.S. was 50 years ago...before big government and big business. It is full of overlooked havens where you can live in luxury, and still only spend $2,190 a month. As well as a low cost of living, Mexico also offers first-class hospitals, excellent infrastructure, and relaxed pace of life. Financially, it's a great time to be anywhere in Mexico--the exchange rate today is 20.07 pesos to $1.
For expats from the U.S., Panama is convenient because the currency is the U.S. dollar. They also enjoy high-speed internet, remarkable cell coverage, and well-trained medical professionals. Cosmopolitan Panama City is the most popular expat destination, but this country is so much more than just the city. The highland towns offer spring-like weather, nature trails, waterfalls, cloud forests and more. Take your pick of locations on the water...from the white sands of the Caribbean islands to the deep blues of the Pacific. And all of this comes at a budget of $2,500.
Known as one of the friendliest countries in the world, Costa Rica embraces a laidback, or "pura vida" lifestyle. It is a country of long stretches of deserted and undeveloped beaches...dense jungles teeming with exotic wildlife...towering volcanoes, lush green valleys, and hundreds of crystal-clear lakes and rivers, all of which can be enjoyed for a monthly budget of $2,000. Many U.S. citizens have already made the move to Costa Rica, meaning that there are already established expat communities throughout the country.
With over 200 pristine islands are scattered along its coastline--each surrounded by crystal clear, turquoise seawater that teems with brilliant fish, coral, and sponges--English-speaking Belize is the quintessential Caribbean paradise. Its desirability is also heightened by the fact that a couple can afford to live here on $1,200 a month. This is the perfect place to relax in a hammock, watching the frothy white waves wash against the Mesoamerican barrier reef.
Along with being the home of the mountaintop Inca citadel, Machu Picchu, Peru is also known for its low cost of living, welcoming hospitality, and world-renowned cuisine. It mixes the old and the new, with modern infrastructure and conveniences intermingling with historic structures and reminders of the country's colonial past. Peru's varied landscape also offers a wide range of destinations -- all offering an extremely low cost of living. Many expats report spending about $1,500 a month, all in.
This article comes to us courtesy of InternationalLiving.com, the world's leading authority on how to live, work, invest, travel, and retire better overseas.
Calling all HuffPost superfans!
Sign up for membership to become a founding member and help shape HuffPost's next chapter