For many of us, we look back on the college years as some of our best. Relatively care free, a time of learning, the beginning of lifelong friendships. Reading philosophy and discussing it with our friends, passion for causes, music, romance, new ideas.
For me, going away to school was the first time on my own. I was in a new place where I could reinvent myself. It was in college that I really became me. There was an energy and a camaraderie in college that was unique. Each day our minds were exposed to new concepts and ideas. It was exhilarating.
It's not surprising then, as people start planning their retirement, that moving to a college town environment is so popular. "University Towns" is one of the top searches on our retirement site, Gangsaway.com. And one of the hottest debates on the site is about the towns, or cities, we've identified as "university towns". It does beg the question: What makes a town a true University or College town?
We used the Wikipedia definition to guide our choices: "A college town or university town is a community (often a separate town or city, but in some cases a town/city neighborhood or a district) that is dominated by its university population. The university may be large, or there may be several smaller institutions such as liberal arts colleges clustered, or the residential population may be small, but college towns in all cases are so dubbed because the presence of the educational institution(s) pervades economic and social life. Many local residents may be employed by the university -- which may be the largest employer in the community -- many businesses cater primarily to the university, and the student population may outnumber the local population."
So, while Seattle and New York have a lot of universities within their city limits, they are not defined by them, and certainly not one in particular. Moscow, Idaho, however, is totally a University of Idaho town. And Princeton, New Jersey is absolutely defined, culturally and economically, by Princeton. But as I mentioned, there seems to be a heated debate about the towns we included on the site and those we left off. If you're interested, go to our "advanced search" , select the "University Town" box and hit search. See if you agree with our list.
I can tell you there seems to be a major uptick in interest among people my age in moving or retiring to college towns. And it makes sense. There's usually a pretty reasonable real estate and rental market. The cost of living is usually lower than major metropolitan areas. They often boast a thriving downtown, and when you think about it, what retirees are looking for is not too different from what makes 20-somethings happy. Good, affordable restaurants make everyone happy! College towns are usually friendly for walkers and bikers and there's almost always good, cheap public transportation. And there's culture: indie movie theaters, live theater, music, coffee shops and books stores. And there's always a good second-hand clothing boutique. Always!
So, consider a university town for your retirement. Visit a few and hang out for a while before making a decision. They are as different as, well, their universities! And you'll want to make sure that the vibe suits your style and interests.
Here are some University Towns we think make great retirement spots:
Ann Arbor, MI
Ann Arbor is home to the University of Michigan and is essentially a large college town. There are four distinct seasons: winters are cold with moderate to heavy snowfall, while summers are very warm and humid. There are eclectic shops, and variety of restaurants.
Tucson, AZ
Warm, sunny and oh, so scenic Tucson is smack in the middle of the Sonoran Desert and ringed by five mountain ranges. If the weather and the views don't wow you, how about this? Median home prices in this multicultural college town hover around $140,000.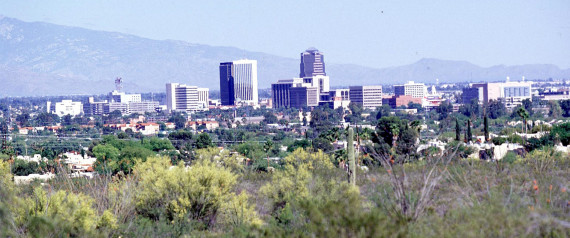 Lawrence, KS
Lawrence is truly a college town with a vitality and diversity uniquely its own. The city is home to two universities: the University of Kansas and Haskell Indian Nations University. Baker University neighbors Lawrence to the south in Baldwin City.
Santa Cruz, CA
Find your flow on sun-soaked beaches in Santa Cruz. A wealth of things to do -- from surfing to hiking in a coastal redwood forest to discovering a hip, new restaurant or boutique hotel -- can be found here. An abundance of year-around events happening every week -- many of them free -- combined with natural beauty off scenic Highway 1 adjacent to the Monterey Bay make Santa Cruz California's quintessential retirement location.
Chapel Hill, NC
University town (home of UNC), famous for outspoken newspapers and one of the most liberal parts of the state. Has a rich intellectual life, great restaurants, and the kind of climate and cost of living that make North Carolina generally a good place to retire.
Austin, TX
State government and university culture mingle in this legendary hotbed of southern music and barbecue. Low unemployment and cost of living, a beautiful hill country setting and a few high-profile festivals (like South by Southwest) have made Austin one of the fastest growing metro areas in the country.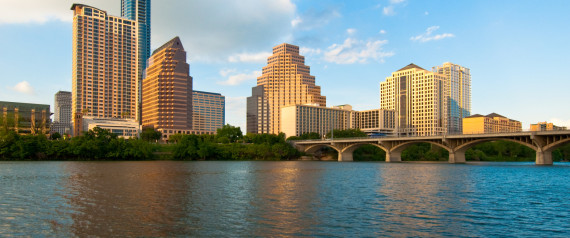 Burlington, VT
Early last century city that's reinvented itself as a technology hub. A nice combination of country and urban life. Reasonable cost of living, all the best of Vermont. Good food, rural access.
Ithaca, NY
Home to Cornell University and Ithaca College as well as numerous other higher education campuses in the area. Ithaca has tons of businesses typical of small university towns: used bookstores, art house cinemas, craft stores, and vegetarian cafes.
Moscow, ID
Moscow is home to over 23,000 residents and students. The area boasts a highly skilled and educated work force employed by Moscow's many thriving businesses and the University of Idaho. The City's arts community has gained national attention, with the Lionel Hampton International Jazz Festival, Festival Dance, Idaho Repertory Theatre, Renaissance Fair, Rendezvous in the Park, Artwalk and the Prichard Art Gallery. Moscow has also been rated as one of the "Best 100 Small Art Towns in America."
Eugene, OR
Eugene is Oregon's second largest city and has a high percentage of professionals including doctors, lawyers, architects, and educators. Eugene is home to the University of Oregon, Northwest Christian University, Lane Community College and Eugene Bible College.
Princeton, NJ
Charming and walkable NJ town and home to Princeton University. Loads of shops. Only about an hour from Manhattan.
PHOTO GALLERY
Flirty Cities
Calling all HuffPost superfans!
Sign up for membership to become a founding member and help shape HuffPost's next chapter