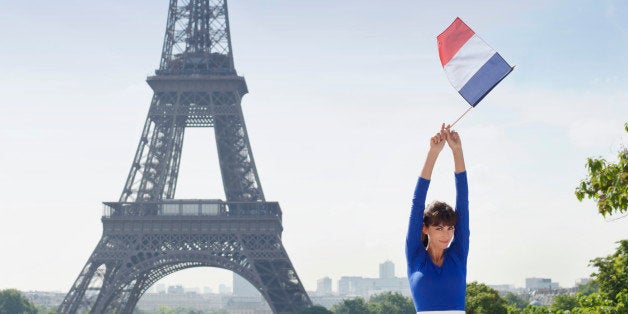 When you think of April is Paris, it's probably with romance in mind. But for those of us with children, Paris in April doesn't have to be a wash out. Here are some of the best things to do as a family.
The Pompidou Center has an indoor playground, a modern art gallery (that often has kid-friendly exhibits) and an excellent view from the roof. Right out front, street performers stake out turf next to the Stravinsky Fountain. It's open daily 11:00 a.m. to 10:00 p.m., closed Tuesday.
For a cheap thrill that will give the whole family an overview of the city, hop aboard a "batobus" (a water taxi) on the Seine. You'll pass Le Louvre, Notre Dame and the Eiffel Tower. Best of all, you can hop on and off where and when you want for the price of a day pass. This operates April to November from 10:00 a.m.-9:00 p.m.
Cite des Enfants and Cite des Sciences offers hands-on fun. Toddlers will gravitate towards Cite des Enfants, while older kids -- even adults -- will love Cite des Sciences. All ages will flock to the planetarium. Although most exhibits in both spaces are described in French, a decent English audio is available. It's open 10:00 a.m. to 6:00 p.m. Tuesday to Saturday, 10:00 a.m. to 7:00 p.m. Sunday, closed Tuesday.
If you're looking for an uncrowded, under-the-radar museum head to Le Cite de la Musique. This museum, which is dedicated to all things musical, is especially interesting for kids who play instruments. There are comprehensive exhibits on musical composition and the history of music. This is open 12:00 p.m. to 6:00 p.m. Tuesday to Saturday, 10:00 a.m. to 6:00 p.m. Sunday, closed Monday.
Bring kids to the Ile de la Cité on Sunday to stroll along the Seine at the flower and animal market. Yes, the sheer volume and variety of flowers is a visual feast but so too is the accompanying bird market that sells parrots, chickens, and canaries. Vendors who sell pet ferrets, mice and bunnies encourage kids to touch and play with the animals.
It's hard to imagine going to Paris without thinking about food. Even kids can get in on cooking class -- taught in English --at La Cuisine Paris. Families can book private lessons here and older kids (13 and up) can take a two or four hour cooking class with other teenagers to learn to make croissants, pastries, or an entire meal.
The Louvre really can be child-friendly. Yes, there are more than 35,000 objects of art, which may seem overwhelming. But there is no need to do a forced family march to cover the entire museum. There is no admission fee for kids under 18, so even if all you are able to do is a small corner of the museum, you will have gotten your money's worth. Start and end with a visit to the gardens just outside the museum doors. The Tuileries Gardens has ponds that offer a fleet of small sail boats that kids can steer around the ponds, trampolines where they can jump, and the iconic carousel where kids can take a ride in the shadow of the museum. Nearby, there are puppet shows and pony rides in Luxembourg Gardens. It's open Monday, Thursday, Saturday, Sunday from 9:00 a.m. to 6:00 p.m., Wednesday and Friday from 9:00 a.m. to 9:45 p.m.
If your children, like my daughter, are Harry Potter fans, the Musee de Magie, is a must see. This atmospheric museum, tucked into a vaulted cellar in the Marais, has exhibits that feature artifacts and history, along with live shows. Plus, there are more than 100 automates, moving mechanical figurines, that even after all these years still inspire wonder. The museum is open on Wednesdays, Saturdays and Sundays from 2:00 p.m. to 7:00 p.m.