When you travel, you might find yourself packing as many tech gadgets as you do essential items like clothing. The only problem is that you only have a limited amount of luggage space and one of the first items you might leave behind is that clunky DSLR camera. Instead of settling for a smartphone picture, consider getting one of the best point and shoot camera for traveling instead.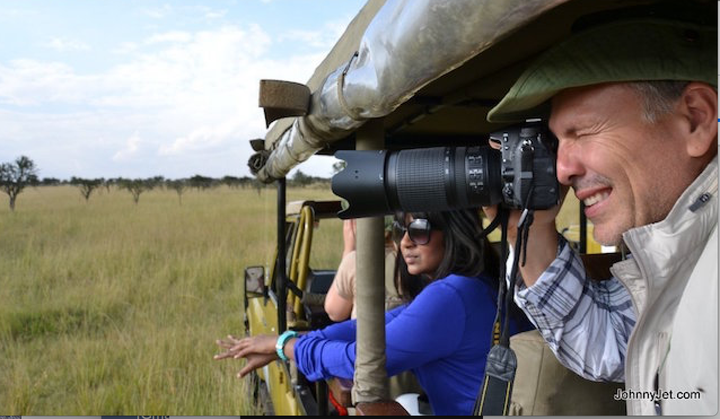 Not only will you be able to take better pictures and videos than with your smartphone, point and shoot cameras won't force you to sacrifice any valuable carry-on space just to take your camera with you.
It doesn't matter if you are a budget traveler or an avid photographer, point and shoot cameras at every price point deliver breathtaking photos that will make your travel memories last a lifetime.
Here are some of the best point and shoot cameras:
Best Camera Under $100: Kodak PixPro FZ53
Best Camera Under $300: Canon PowerShot ZX30
Best Camera Under $500: Panasonic Lumix ZS60K
Best Camera Under $1000: Sony RX100V
Best Waterproof Camera: Nikon Coolpix AW130
Best Point and Shoot Camera Under $100
The Kodak PixPro FZ53 is priced below $100 and offers a wide array of photo and video capabilities. This can be an ideal camera for budget travelers, casual photographers, and even as a child's first camera.
Here are some of the highlights of the PixPro:
16 Megapixel
5x Optical Zoom
720p HD Video
7" LCD Screen
Rechargeable Lithium-Ion Battery
The PixPro also makes it easy to record video with its top-mounted record button.
Its auto-detection features will also help to optimize your photos by detecting faces, smiles, and blinking so you get it right the first time.
To take a picture, all you need to do is look at the 2.7" LCD screen and what you see is what the picture will be. If it's been a few years since you've last looked at point and shoot cameras, only the high-end cameras offer manual viewfinders. Since you'll most likely use the big screen anyways, this makes the camera lighter and smaller.
Best Point and Shoot Camera Under $300
If you are even halfway serious about taking stellar pictures for your photo album or to share on your travel blog, you need to consider investing in a camera worth at least $300.
With a 40x optical zoom, wi-fi and NFC technology, and 1080p HD video recording capability, this camera offers a large punch at the $300 price point.
When you need to go many shots between recharging your battery, the SX720 has an "Eco Mode" that can extend your battery life from 250 shots to 350 shots.
Canon has also been intentional to make the SX720 as user-friendly as possible with a top-mounted video recording button, a 2.7" LCD screen, and smartphone app that syncs with your camera for hands-free operation.
Canon PowerShot SX720 Specs:
20.3 megapixels
40x optical zoom
1080p HD Video at 60p with stereo sound
Battery Life: 250 shots (350 shots with ECO mode)
Built-in Wi-FI and NFC technology
Best Point and Shoot Camera Under $500
You might expect to pay $1000 for a camera that shoots 4K video. That's no longer true!
The Panasonic Lumix ZS60K records 4K video Ultra HD video. You can also create 4K photos from your video recordings too.
Even though the Lumix ZS60K is a compact pocket-sized point and shoot camera, it comes with two features that are almost exclusive to DSLR cameras:
Manual viewfinder
Lens-mounted control ring for manual focus
Now, you don't have to lug around your bulky DSLR camera anymore because of these two features. Unless you need to still travel with the various telescopic lenses, you can truly get professional-quality videos with a point and shoot camera with the 30x optical zoom.
Other travelers like the ZS60K because of its small and compact size. This camera weighs approximately 10 ounces and measures 1.5 x 4.4 x 2.6 inches. You can still carry it around your neck and not feel sore at the end of the day when you don't put it in your pocket, purse, or backpack in between pictures.
Panasonic Lumix ZS60K specs:
18 megapixel sensor
30x optical zoom
Manual Viewfinder
3" Touch-enabled LCD screen
Wi-Fi and NFC capability
Best Point and Shoot Camera Under $1000
The Sony RX100V is the best overall point and shoot camera for traveling.
It's currently priced right below $1000, but the RX100V is the ultimate camera for taking pictures and recording video.
Avid photographers will thoroughly enjoy the Zeiss 20.1 megapixel and 3.6x optical zoom. It also has the industry-leading autofocus rate of 0.05 seconds that lets you take the best action and wildlife pictures possible. The RX100V also has the world's fastest continuous shooting speed at 24 fps too.
As a top-notch camera, you can also take 4K video and the 3" OLED screen flips 180 degrees so you can see exactly what's being recorded when you take selfie pictures and selfie videos.
To help take the best pictures possible, the RX100 also has a 1" sensor with 315 different autofocus spots.
Underwater photographers can also purchase underwater housing that makes the camera waterproof up to 130 feet (40 meters).
20.1 megapixels with 1" RS stacked back-illuminated CMOS sensor
3.6x optical zoom
4K Video with capability to record at 960 FPS
Battery Life: 220 shots
Best Waterproof Point and Shoot Camera
Underwater photographers need to put the Nikon Coolpix AW130 on their short list. The AW130 is priced near the $300 range and can be a good alternative to the Canon Powershot SX720 (our recommendation for a $300 point and shoot) when you need a camera that works on land and in the water too.
The Coolpix AW130 is waterproof up to 100 feet and shockproof up to 7 feet; it's also freezeproof.
In addition to the AW130s durability to the elements, you will also enjoy the additional capabilities:
16.0 megapixels
5x optical zoom and 10x digital zoom
1080p HD Video at 30 FPS
Battery Life: 370 shots
Built-in wifi, NFC, and GPS
While you won't get 4K video, 1080p HD is the next best alternative. The AW130 also has an awesome battery life with 370 shots between charges.
You will also have a 3" LCD screen for your digital viewfinder to easily see what you're recording. The AW130 also comes with built-in GPS in addition to wi-fi and NFC capability so you know exactly where you were when you took that picture or video.
Summary on Best Point and Shoot Camera for Traveling
You no longer need a DSLR camera to take good pictures when you travel. Regardless of your budget, you can easily find a point and shoot camera that does everything you need and still fit in your pocket.
Popular in the Community