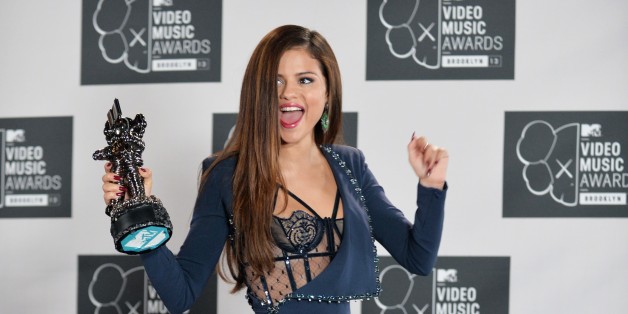 Five of the year's biggest hits were up for Best Pop Video at this Sunday's MTV Video Music Awards, with Selena Gomez taking home the Moonman for the category.
Selena Gomez won the award for the visuals to her hit single "Come & Get It." The music video shows the 21-year-old star in various picturesque scenes, including a flower field, a mountain range, and a body of water. "Come & Get It" is the lead single off of Gomez's 2013 album, "Stars Dance."
Gomez's "Come & Get It" topped the category, beating out Miley Cyrus' "We Can't Stop," fun.'s "Carry On," Bruno Mars' "Locked Out of Heaven," and Justin Timberlake's "Mirrors." Gomez, who was a presenter at the awards show, was also nominated for Best Song of the Summer.
Live updates from the show are available below.
PHOTO GALLERY
Video Music Awards 2013
08/25/2013 11:26 PM EDT
That's It For The VMAs
The 2013 MTV VMAs were something else. Thanks for joining!
08/25/2013 11:26 PM EDT
No, Boo!
YOU'RE GONNA HEAR ME SNORE!!! AM I RIGHT????

— bobby finger (@bobbyfinger) 4 years ago
08/25/2013 11:20 PM EDT
Here's Her Roar
Katy Perry performed "Roar" for the first time, and it was glorious.
08/25/2013 11:18 PM EDT
The Video Of The Year Winner Is ...
08/25/2013 11:15 PM EDT
Joseph Gordon-Levitt Announces The MTV VMA For Video Of The Year
With a silly voice.
08/25/2013 11:12 PM EDT
In Case You Blinked During The VMAs
Ladies and gentlemen, the reunited NSYNC. http://t.co/vsH4DT5Yb2

— Hunter Schwarz (@hunterschwarz) 4 years ago
08/25/2013 11:08 PM EDT
So True
The perfect time for a Bruno Mars performance is totally TWO HOURS into the #VMAs.

— Jesse Fox (@JesseDavidFox) 4 years ago
08/25/2013 11:07 PM EDT
lolz
it would be amazing if nsync reappeared right now by lowering down from the ceiling on marionette strings

— kalkutta (@djkalkutta) 4 years ago
08/25/2013 11:07 PM EDT
Because This Bruno Mars Performance Is Boring
Let's remember this:
Me during Justin Timberlake's performance http://t.co/0IKZ3MXGMy

— things in life (@ItsThingsInLife) 3 years ago
08/25/2013 11:00 PM EDT
Lena Dunham Checks In
VMAs: Stop all this "what's up Brooklyn!!!" What's up is I'm 10 blocks away in my nightgown trying to keep my dog from drinking his own piss

— Lena Dunham (@lenadunham) 4 years ago
Calling all HuffPost superfans!
Sign up for membership to become a founding member and help shape HuffPost's next chapter
BEFORE YOU GO