For the past year, Food52.com readers have been voting in weekly showdowns of reader-submitted recipes on a given theme. The winning recipes of each week will end up in Food52's upcoming cookbook, along with bios of the people who submitted them (Food52 explains the process in simple detail here).
Food52 and its co-founders Amanda Hesser and Merrill Stubbs have invited HuffPost Food readers to vote on week 13's contest (of the second year, and the second book).
This week's showdown is for the best potato pancakes.
Golden Panko Latkes with Sour Cream and Chives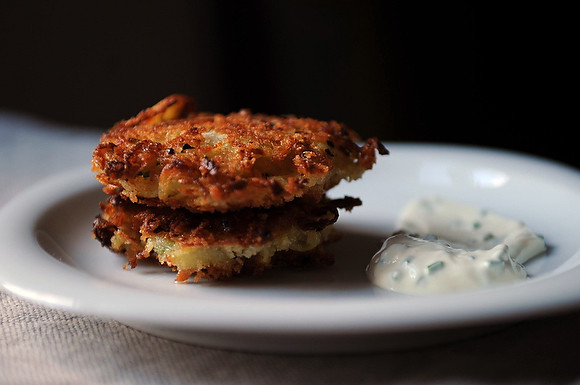 Photo: Sarah Shatz
Amanda and Merrill's notes on Golden Panko Latkes with Sour Cream and Chives on Food52.com:
We have a soft spot for cooks who tinker with classic recipes, retooling the periphery without over-altering the core. That's what Micki Barzilay did with her latkes. The panko coating amplifies the dry-leaf crispness you want in a latke. And Yukon Golds have plenty of moisture and sugar so once they're fried up, they toast handsomely on the edges, while at the center of the pancake, the potato strands remain silky and discreet. We discovered three tips: add the white pepper to taste -- unless you love white pepper, you might want to start with a teaspoon. Once the potatoes are mixed with the eggs and flour, they will continue to weep liquid, so squeeze them out as you shape them, and make sure you also fluff up the strands after squeezing or the pancake will be too dense. Lastly, if you don't have pastry flour, substitute 1 tablespoons all-purpose flour plus 1 tablespoons cake flour. - A&M
View the Golden Panko Latkes with Sour Cream and Chives recipe here.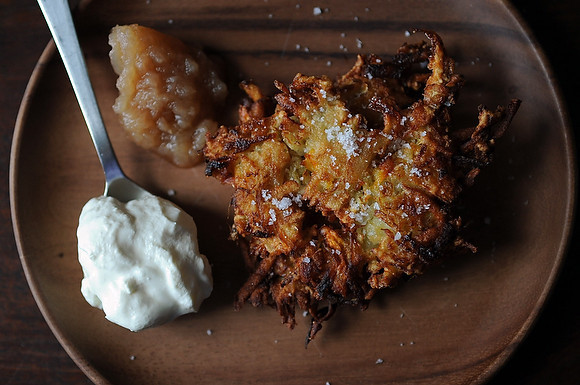 Photo: Sarah Shatz
Amanda and Merrill's notes on Variegated Spiced Latkes on Food52.com:
We love the lacy, tangled appearance of these deep golden latkes. The mix of sweet potato, unpeeled Russets and parsnip keeps the pancakes from being stodgy, and the fennel and fresh ginger tickle your tongue in the most pleasant of ways. It may seem like Sagegreen calls for an awful lot of flour, but there's no trace of that raw flour taste once these guys are fried. These latkes are great with sour cream and applesauce, but they're also pretty addictive with nothing more than a shower of fine sea salt. - A&M
View the Variegated Spiced Latkes recipe here.