There's no "right" way to navigate this coronavirus pandemic — everyone lives and copes differently. That being said, fostering a sense of community may make getting through this time a little bit easier.
Enter this weekly guide. Every Sunday, we'll bring you a short list of products, routines, workouts, recipes, apps and other things we tried the previous week that are making life easier during this universally stressful time. Take a look at this week's suggestions below:
Activity Recommendations
Support local restaurants and get groceries at the same time.
This week, I did a bunch of research on local restaurants doing food and grocery delivery and picked up a bounty of eggs, sourdough (since I'm one of the few people refusing to make it myself, sorry internet), chicken, an aioli I want to put on everything and more. They had contactless pickup so it forced me out of the house for a walk, and it felt awesome supporting a local business. I will definitely be doing way more of this in the coming weeks. ― Jamie Feldman, personal & lifestyle reporter
Recipe Recommendations
A protein-rich muffin that also satisfies a sweet tooth.
I, too, have hopped on the baking train and made a chocolate protein muffin recipe recently. It's a nice change from banana bread (not that I don't love banana bread), and I don't feel like I'm overindulging since there's not a ton of sugar and the extra protein helps curb my desire to eat all the things. ― Casey Bond, money reporter
A perfectly low-brow ramen upgrade.
Several years ago, chef Roy Choi made the ultimate version of what I lovingly refer to as "comfort food trash." He takes a packet of instant ramen and does little more to it than add an egg, scallions, butter and sesame seeds. (I like to cook mine in chicken stock instead of water, and I toss in some soy sauce, sesame oil and lots of fresh bok choy. You can do whatever you want to it.)
But the best part is the biggest shocker ― you put a big old slice of processed American cheese on top. There's something about the way it melts into the broth that gives the entire bowl of ramen a velvety texture. If anyone turns their nose up at you for using American cheese, you'll be too deep in your ramen bliss to notice. Here's the recipe. ― Kristen Aiken, senior editor, food & style
The perfect Friday night (or any night, honestly) cocktail.
I'm a massive fan of espresso martinis, but now that I can't enjoy one out at a cocktail bar, I've had to figure out how to make my own. The perfect marriage of vodka, coffee and liqueur gives you exactly the sweet, boozy, caffeinated kiss that you need after a long week. And in these trying times, don't they always seem to be long? Recipe below. ― Will Tooke, supervising video producer
Espresso Martini — Serves 2

Ingredients

4 shots of chilled vodka
2 shots of espresso (don't cheat by using decaf)
2 shots of Kahlúa or similar coffee liqueur
2 coffee beans to garnish

Method

Stir all of the ingredients together in a cocktail shaker, with lots of ice.
Pour into two chilled coupe or martini glasses, leaving the ice behind, and garnish by floating a coffee bean on the surface. It should have a nice layer of rich white foam on top, like an espresso would.
Be classy: Sip it, don't down it.
Try to chill your glasses in the freezer for around 30 minutes before making, so they are nice and frosty.
Product Recommendations
A candle that makes your home feel like a luxurious escape.
I bought a Diptyque candle last fall and have used it sparingly ('cause they are NOT cheap) until now. But now I'm lighting it nearly every day. It's soothing and instantly makes the house smell like a sunny beach escape. ― Kate Auletta, senior editor, culture & parenting
Pants that look nice but feel like pajamas.
I started off this lockdown getting dressed as I normally would for work each day. That all lasted about one week before my uniform became leggings, a sports bra and a T-shirt. I miss the ritual of picking out an outfit, but I also can't be bothered with wearing pants with buttons. Enter joggers, a wardrobe staple I never thought I'd rely on. I like Old Navy's and Aerie's options the best. They're comfortable but still fashionable, so I feel like a semi-real human. But don't get me wrong: There are still plenty of days I don't get out of leggings. And that's OK. ― Lindsay Holmes, senior wellness editor
Workout Recommendations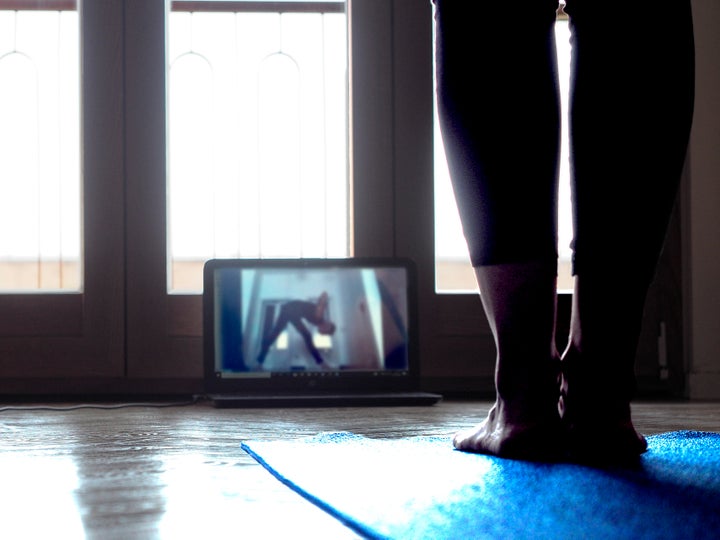 A short yoga class on YouTube with friends.
My friends and I have been doing a 10-minute yoga Zoom in the mornings. One of us plays the clip from YouTube and shares their screen. It's been a great way to start the day, and I always feel more focused and relaxed after. And scheduling it with friends motivates me to leave enough time for it in the morning. ―Sarah Kenien, audience editor
A quick daily challenge that works your core.
I am doing a 21-day core challenge with friends on the Peloton app led by instructor Matty Maggiacomo. It's super doable, only 10 minutes per day, but I definitely feel a burn. Plus, doing it with friends *kind of* holds us more accountable — and the best part is that you don't need any equipment. ― Feldman
A HuffPost Guide To Coronavirus