Making a last-minute salon appointment is something we dread, especially when there's a not-so-friendly receptionist on the other end of the phone line. In these cases, we've been known to simply hang up and try our backup. But what if you have no idea of who to dial next or where to even begin searching?
Fortunately, there are beauty apps and sites to take the stress out of booking salon appointments. Whether your dark roots are in desperate need of a touch-up or you want to squeeze in a 30-minute deep tissue massage after work, confirmation is just one click away. Well, maybe two or three clicks.
Below are seven of the most talked about beauty apps and sites. Read on to find out how these hassle-free search tools rank against each other (in our opinion).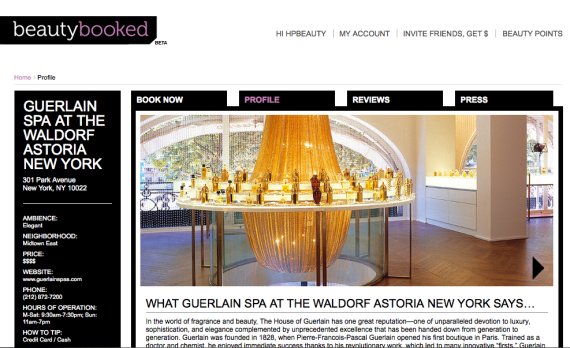 Beauty Booked
Former L'Oreal executives Hillary Hutcheson and Ritika Gill are the brains behind this site that allows consumers to book appointments at premier New York City salons and spas free of charge. The format of Beauty Booked is simple, yet thorough. You can search by your desired time and date, location, service (everything from hair to hydrotherapy) and price range. There's even details about ambiance and whether tip is taken by cash or credit (saving us from awkward deliberation).
While each salon includes a brief profile and press mentions boasting of its excellence, we recommend going straight to the no-holds-barred reviews from fellow Beauty Booked users before actually booking.
Pros: There are amazing photos, you can earn "beauty points" to use towards future services and the insider tips are a chock full of useful information.
Cons: Some of the most essential information about the business (i.e. hours of operation and phone number) is written in very small text. So not good for our eyesight.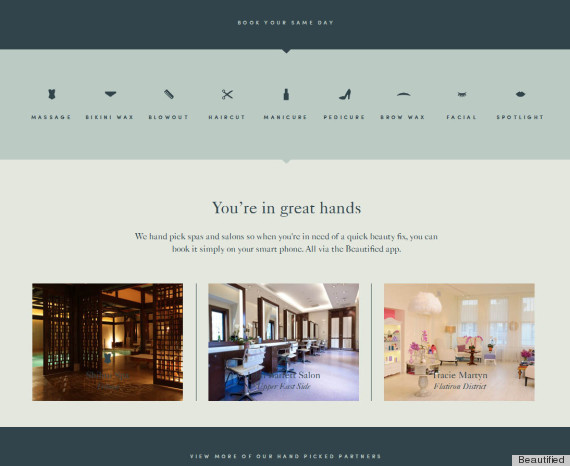 Beautified
It only makes sense that "It girl" Hannah Bronfman would have her well-manicured fingers on the pulse of the Big Apple's best salons. And so can you, thanks to this awesome app she created with Annie Evans and Peter Hananel.
Once you've requested access (it's limited but we got it within a few hours), you'll be able to select from nine services, peruse pictures, book same-day appointments and pay for it directly through your smartphone. You just show up and get "Beautified." And the app also keeps track of your previous treatments. We can't wait until the options expand to major cities like Miami, Los Angeles and Chicago -- making it even easier while traveling.
Pros: It's an easy-to-use app that safely stores your credit card info and makes booking appointments with famous beauty experts like Tracie Martyn and John Barrett a cinch.
Cons: We've encountered a few glitches where our app unexpectedly closed on us.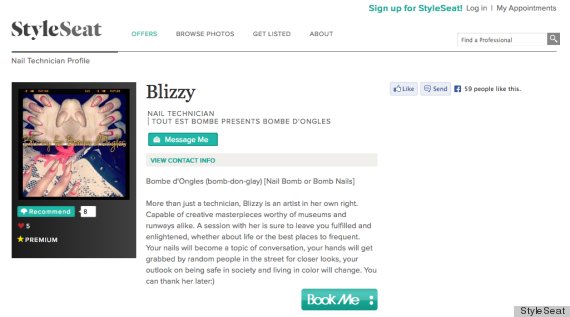 StyleSeat
We've been huge fans of StyleSeat for some time now -- it has introduced us to some talented new hairstylists, makeup artists and manicurists. It doesn't take too long to get mesmerized scrolling through photo portfolios of their work, reading the detailed service descriptions, client reviews and searching for unbelievable offers.
But what really makes StyleSeat stand out is that it helps the beauty expert to better manage appointments. (We have a passion for punctuality.) You can connect with the pros by calling or texting directly from the app, and even have them reschedule your session if necessary.
Pros: Straightforward treatment menus and a messaging system that makes client and professional communication simple.
Cons: Some of the photos looked a bit sketchy, as in stolen off a site that doesn't belong to the original owner.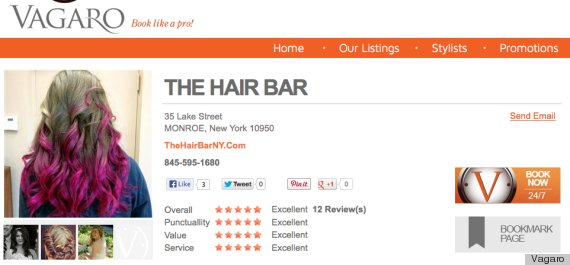 Vagaro
This web-based beauty booking site is one of the most impressive ones we've encountered, as it features 6000 salons and spas located in the United States, Canada, United Kingdom and Australia. Even the small spot in Charlotte, North Carolina that not many people have heard about but few folks know you can get the best blowout is listed.
The iPhone and Android app also includes a breakdown of the services, hours of operation and staff info, allowing anyone to "Book 24/7." And true deal-seekers will appreciate the promotions tab where you can take advantage of current specials in your hometown.
Pros: This salon directory includes big and small businesses, as well as best ranked and kid-friendly categories.
Cons: Most of the staff bios are pretty bare -- we'd want to know more about the individuals we're trusting with our appearance.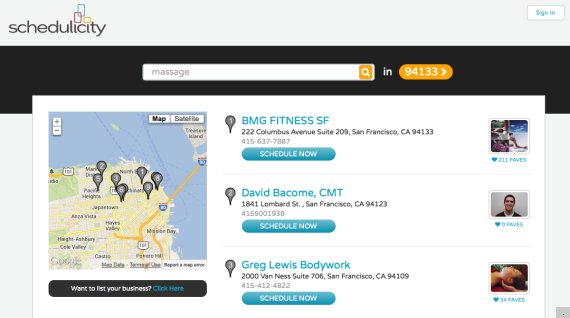 Schedulicity
With aspirations of being the "Expedia or Travelocity of the service industry," we believe Schedulicity is on track with it's web-based scheduling service. Clients can log on at any moment and request hair, makeup and skincare treatments, as well as fitness classes and health workshops.
Got a Facebook account? Of course you do! The integration of this search tool into the popular social networking site onto your favorite spa or salon's fan page adds an entire new meaning to one-click booking. (We actually prefer taking this route, as the presentation is more visually appealing and easy to read than the traditional website.)
Pros: You can book an appointment for just about anything you'd imagine -- from haircuts to acupuncture.
Cons: The format is like a cross between Bing and About.com. With so much access, more funds can be spent in giving this tool a makeover.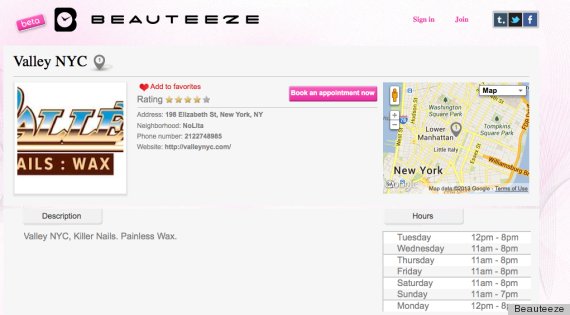 Beauteeze
In a space that is already consumed with salon scheduling apps and sites, Beauteeze co-founders Abby Ziff and Adi Turgeman are making their mark with an online lifestyle planning platform that also gives back through charity. For every appointment made online, the brand is donating funds to an organization focused on empowering women.
While Beauteeze is still in its beta phase (currently limited to NYC-based salons and spas and lacks thorough treatment details), it makes up for this with a concise booking system.
Pros: It's feel good, do good charitable initiative and captivating salon descriptions.
Cons: The dipped-in-pink Excel spreadsheet aesthetic.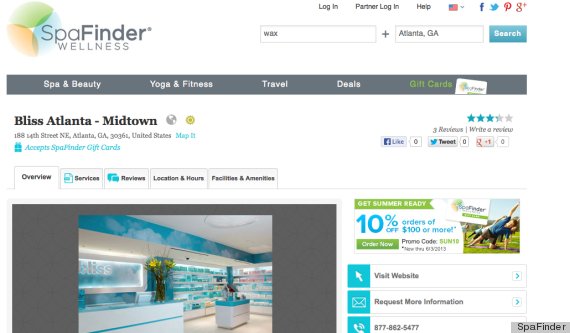 SpaFinder
We consider SpaFinder to be the "mother of online salon booking sites." It's been around for as long as we can remember, however, recent visual upgrades show that it will continue to withstand time and competition.
Clients can search for beauty services in major cities, including New York, San Diego and Denver, book a stay at relaxing spa or resort for major discounts and even purchase gift cards that never expire. And we recommend taking full advantage of the iPhone map feature to avoid getting lost and not arriving on time.
Pros: A salon booking experience that encompasses a total body experience and not just about getting pretty hair and makeup.
Cons: Nearly every review leaned on the perfect side. Either this is a reflection of impeccable service or shadiness.
What's your favorite beauty app or site to book salon appointments?
Meanwhile, check out these apps that make getting dressed less stressful: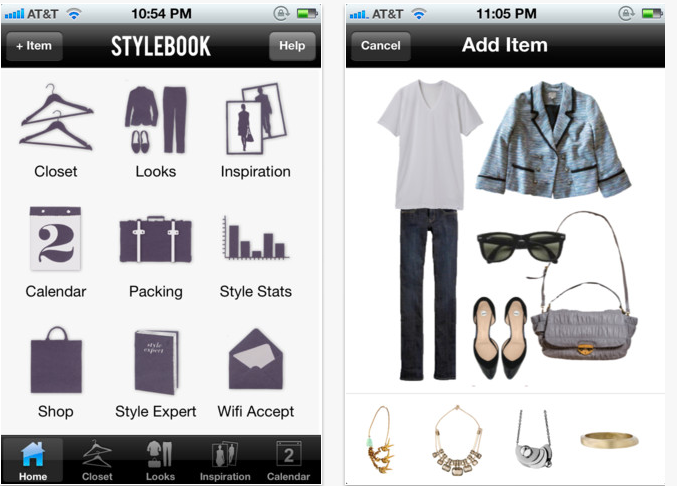 10 Style & Beauty Apps To Make Your Life Easier
Want more HuffPost Style beauty content? Check us out on Twitter, Facebook, Tumblr, Pinterest and Instagram at @HuffPostBeauty. (For everything else check out our main HuffPost Style Twitter, Tumblr, Pinterest and Instagram @HuffPostStyle.)
---
Do you have a beauty story idea or tip? Email us at beautytips@huffingtonpost.com. (PR pitches sent to this address will be ignored.)