Friday, May 8, marks the 70th anniversary of Victory in Europe (V-E) Day.
May 8, 1945, was the day the Allies of World War II formally accepted Nazi Germany's unconditional surrender of its armed forces.
It marked the end of a long, horrible and costly war in Europe, a war where -- in the European theater alone and just between June 1944 and that historic day in May 1945 -- 104,812 Americans were killed in action and more than 400,000 were injured.
It was a war that America entered slowly, cautiously, even reluctantly, but once committed, America and Americans never looked back.
While in 1939, there were 334,473 personnel in all the U.S. armed forces, by V-E Day America had more than 12 million men and women under arms.
Barely recovered from the Great Depression in 1940, America and Americans listened when President Franklin D. Roosevelt called on America to become an "Arsenal of Democracy."
American workers rolled up their sleeves and went on to produce 60,000 tanks, 13 million rifles and carbines...
Perhaps most important, in newly built factories all across the country, American men and women -- remember Rosie the Riveter? -- went on to produce more than 300,000 military aircraft and launch 27 full-size aircraft carriers and 107 escort carriers.
Important because, according to many experts, Allied airpower, especially the "Allied Strategic Air Campaign," controversial as it may still be, hastened the defeat of Nazi Germany and "was the decisive factor in the Germans losing the war."
Well, to honor those heroes who flew those aircraft, to honor all the heroes who fought in World War II and to honor "those on the home front who produced the tanks, ships, and aircraft that enabled the United States and its Allies to achieve victory," on Friday May 8, the 70th anniversary of V-E Day, "one of the most diverse arrays of World War II aircraft ever assembled will fly above the skies of Washington, D.C.
According to DOD, the flyover will feature "more than 50 aircraft representing the evolution of aviation technology throughout the war. The aircraft will fly in historically sequenced formations signifying the decisive battles of the war. Led by trainers, the aircraft will represent battles from Pearl Harbor and Midway to D-Day and Iwo Jima, with a final missing man formation."
The first formation is estimated to be over the Lincoln Memorial? at 12:10 p.m. (EST). The Arsenal of Democracy aircraft will launch their Flights from the Culpeper Regional Airport and from Manassas Regional Airport about 40 minutes before the Flyover begins at 12:10pm. These aircraft will then proceed to a holding point about 10 miles west of Leesburg where they will begin the flight down the Potomac River towards DC. As they approach the Lincoln Memorial, they will turn east and proceed down Independence Avenue. At the completion of the flyover of the WWII Memorial, the aircraft will turn south and begin their flight down the Potomac River and back to their original airports.
It will be the first time since 9/11 that civilian aircraft are allowed to overfly the National Mall.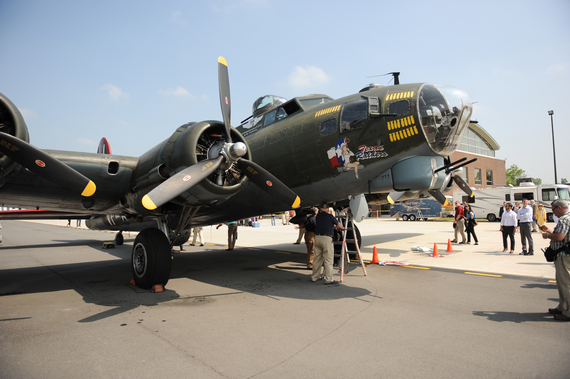 World War II B-17 Bomber aircraft on display at Manassas Regional Airport, Virginia, during "Arsenal of Democracy" media day, May 7, 2015. B-24, B-17, and B-29 aircraft from World War II are taking part in the Washington D.C. flyover to celebrate the 70th anniversary of Victory in Europe Day. (photo DOD)

John Cudahy, president of the International Council of Air Shows, estimates that 400 World War II veterans will be at the World War II Memorial in Washington, D.C., to watch the flyover.
These members of the Greatest Generation will have a place of honor during the flyover. However, so many others will not be there. Nevertheless, the fewer than one million World War II veterans still alive today will have a special place in the hearts of all Americans, just as all 16 million Americans who served in that War have always had.
My good friend, John Tschirhart, a World War II B-17 "Flying Fortress" bombardier who, while assigned to the 305th Bombardment Group in England, flew 35 combat missions over Europe bombing Nazi installations and strategic targets in German-occupied Europe will not be there either.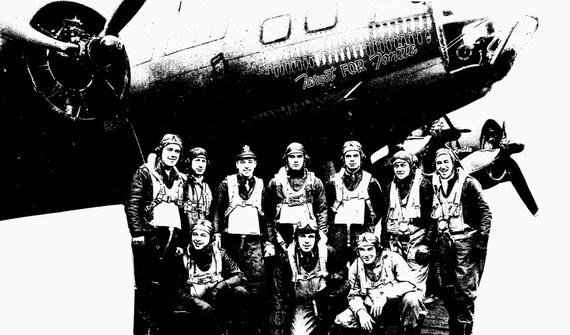 Photo: Courtesy John Tschirhart, bottom row, left.
John is 94 years old now. After suffering a fall and undergoing intensive medical care, he is now in frail health in a rehabilitation center.
But John will certainly have a place of honor and, by being next to him, I too will have a place of honor -- a front-row seat -- watching the flyover and watching John relive those days when he was a young airman flying in the skies of Europe, fighting for the freedom we all enjoy today.
For a live webcast of the World War II Victory Capitol flyover, please click here.
Lead image courtesy Arsenal of Democracy: World War II Victory Capitol Flyover.
Calling all HuffPost superfans!
Sign up for membership to become a founding member and help shape HuffPost's next chapter