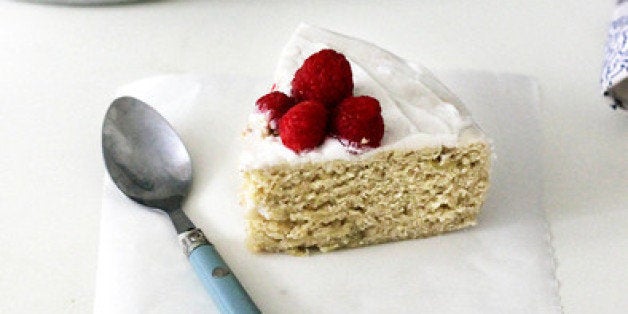 I've made some creative, incredibly indulgent cakes before (vegan mocha cheesecake ice cream cake, anyone?) but sometimes what you want is a simply delicious yellow cake topped with creamy vanilla frosting. This is adapted from the basic vegan cake recipe I learned at the NYC landmark Blossom Bakery, but with my own twist. The original cake uses vegan butter and cream cheese for frosting; I prefer to use less processed ingredients in my cooking and baking, so I chose coconut cream instead, which has a more whipped, fluffy texture than traditional, stiff "icing." I also reduced the amount of oil and sugar for a somewhat healthier cake.
The resulting cake is incredibly moist and rich with vanilla flavor, topped with the most addicting vanilla cream--this is one basic cake that is far from boring, that even die-hard chocoholics will love. It makes the perfect choice for birthdays or celebrations. Feel free to double the frosting recipe to make this a layer cake: just put the cake on a plate, place the plate on a bowl, and carefully use a knife to go around the cake horizontally once through, until you get two even layers. Frost one layer, then add the second layer on top, and repeat.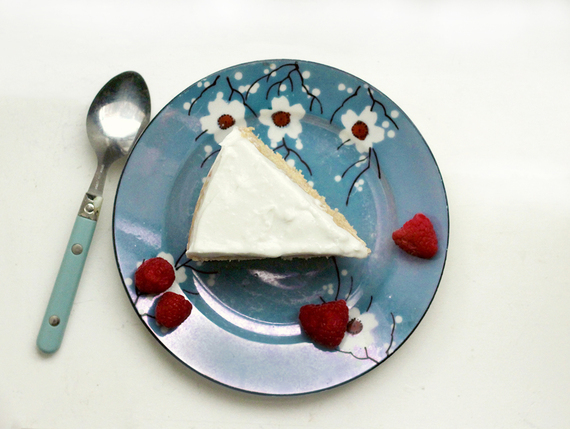 Best Simple Vegan Cake Recipe
3 cups flour
1 1/2 cups raw sugar
1 1/2 tsp baking powder
1/2 tsp kosher salt
1/2 large banana
1 tbsp natural vanilla extract
2 cups almond milk
1/2 cup canola oil
1 tsp vinegar
Vanilla cream frosting (enough for one layer)
1 can full-fat coconut milk, chilled overnight in the fridge
1/3 cup powdered sugar
1/2 tsp vanilla extract
1. Heat oven to 325 degrees F. Line a 9" cake pan with parchment paper. (This is easiest if you trace the pan on the paper and make a perfect circle cut-out.)
2. In a large bowl, combine flour, sugar, baking powder, and salt. Whisk together with a fork.
3. In a medium bowl, thoroughly mash the banana until no lumps remain. Add almond milk, oil, vanilla extract, and vinegar, and let sit for 30 seconds to one minute.
4. Add the liquid mixture to the large bowl. Combine quickly with a wooden spoon until just mixed. Pour the batter into the cake pan and bake for 50-60 minutes, checking for doneness with a toothpick. If the toothpick comes out clean, take it out and set it aside to cool.
5. In the meantime, take out the coconut milk from the fridge. Do not shake it. Carefully open the can and spoon out the top cream part. Save the liquid at the bottom for another recipe.
6. Using a mixer or your hands, whisk together the coconut cream, powdered sugar, and vanilla extract. If it feels too thick, add a tablespoon or two of the coconut milk liquid.
7. When the cake is completely cool, frost with the vanilla cream. Enjoy!