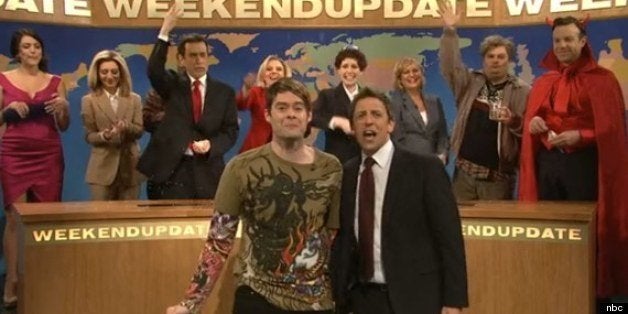 Quite a bit changed for "Saturday Night Live" since 2012 ended. Putting together this "Best of 2013" list, it almost feels like more than just four months separated the two seasons that comprised the year, because watching clips from early 2013 is so different from what aired over the last few months. Anyway, these 10 sketches represent the best of "SNL" from this past calendar year (the pool from the last half of the 38th season and the first half of the 39th). Like all lists, you will agree with some choices and disagree with others.
10. "4th Grade Talent Show"
It's a shame John Milhiser hasn't gotten much of a chance with this overly bloated cast (at least Brooks Wheelan gets to joke about his lack of air time). Here, however, on one of his few occasions, he took a simple concept of parents watching their child's talent show and turned it into something that will still be funny 20 years from now.
In one calendar year, we got the perfect Wes Anderson parody and the perfect Quentin Tarantino parody. And who would have guessed that Christoph Waltz was going to host the best "SNL" of 2013?
I wish Jason Sudeikis had thought of "Maine Justice" a few years ago instead of during his final season at "SNL." Then we'd have had -– who knows? -– seven, eight, maybe even nine installments? Instead, we have two. This is officially the last time I will ever get to write about "Maine Justice" (until Sudeikis comes back to host, I suppose), so ... goodbye, old friend. I will miss you.
Over the holidays, my friend from home (St. Louis) set his phone out on the table at a local chain restaurant and waited for someone to call it. Nobody did because nobody other than my mother makes phone calls any longer. Finally he asked me to call his phone, which is an odd request, but I was four pints in so I didn't ask any questions. His ringtone was "I Don't Want To Know" by Fleetwood Mac. He knew I would laugh. I did laugh. I will always laugh from this point forward when I hear that song because it reminds me of Paul Rudd and Vanessa Bayer dancing to their ringtones. (It actually pains me that I can't find this sketch online anywhere due to song rights issues.)
The Kyle Mooney-Beck Bennett team is an interesting one to watch. They almost serve has a new-guard version of Lonely Island, only with a little more odd, less in-your-face-I'm-on-a-boat attitude. "Beer Pong" has been their best effort so far, I just wish "SNL" would give these guys the room to do more (but, alas, there are, like, 37 people in the cast right now).
I've lamented before about the loss of Tim Robinson from the "SNL" cast (he's still on the show as a writer), and his greatest gift to us was "Z Shirt." First, Robinson nailed the weird energy of a mid-'90s "hip" commercial. Second, the seemingly never-ending "Is it an A Shirt?" payoff in a completely different sketch was a precursor to what we'd eventually see with "Darrell's House." (And then never again, unfortunately.)
4. "(Do It On My) Twin Bed"
It's nice to see the ladies of "SNL" band together like this. After the Fey, Poehler, Rudolph, Dratch era of "SNL" ended, Kristen Wiig dominated the show. For whatever reason, there wasn't much room for collaboration during this era. It seems that we just may be headed toward another golden age for the women of "SNL."
From a technical standpoint, this is the best thing "SNL" has produced all year. I mean, this might as well be a Wes Anderson movie, because it sure looks like one.
I had a love/mildly-annoyed relationship with Bill Hader's Stefon. He's one of the most popular characters to ever be on "SNL," but there was some overuse here along the way. Stefon sort of became like The Fonz, in the fact that he could just show up and people would start cheering. Regardless of all that, Stefon's last appearance was about as perfect of a farewell as there can be. Not to even mention the lucky coincidence that Ben Affleck was hosting -- Affleck played Stefon's brother in Stefon's first ever "SNL" appearance an resurrected that relationship for Stefon's last appearance.
This is by far the most innovative sketch of the year. I wish "SNL" would try more stuff like this. Sure, it made zero sense before we saw the second half of the sketch -- which did not air back-to-back-- but, boy what a payoff.
Mike Ryan is senior writer for Huffington Post Entertainment. You can contact him directly on Twitter.
REAL LIFE. REAL NEWS. REAL VOICES.
Help us tell more of the stories that matter from voices that too often remain unheard.
BEFORE YOU GO
PHOTO GALLERY
Celebrity News & Photos